For a chance to see and touch Bappi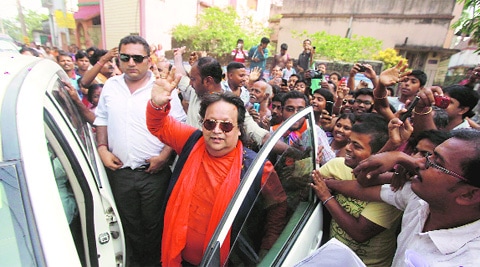 'They love me so much': Bappi Lahiri with fans in Sreerampore. Subham Dutta
Sandhya Biswas, 35, runs after the campaigner, literally dragging her four-year-old daughter over the narrow street. "I don't want to miss seeing him. We waited three days for him after being told he would come to our locality any day, and today he finally did," she says breathlessly, still running after the car. "Had I known he would come today, I would have dressed better and waited on the road."
As Chirodini tumi je amar plays from the air-conditioned SUV, more and more run out of their houses at the semi-urban locality of Prabhas Nagar in Sreerampore. As the vehicle stops, an audience ranging from a schoolchild returning home to an 80-year-old gathers in front of it.
Bappi Lahiri steps out and waves at them. His shirt is saffron, the colour of his party, his trousers black, and there is not an ounce of gold on his person.
"I have been waiting on the road for two hours after my son told me he would be coming," says Manasa Roy, 80. "My husband was in the CPM and my son is in the Trinamool Congress, so I have voted for both parties in the last 50 years. This time, I will make my own choice."
The crowd is no less enthusiastic at the next stop, Naya Basti, a settlement of workers of a jute mill. Everyone runs to the crowd and shake hands with Lahiri. "Who would have thought we would get to see Bappi Lahiri?" says Raja Das, a mill worker. "We have to make sure he wins."
"They are fighting one another just for an opportunity to touch my fingers. One of my fingers is swollen because someone pulled at it. At times I fear a stampede," Lahiri says. "But you know, their madness is justified. They love me so much."
Lahiri once planned to bring Salman Khan and Asha Bhonsle on campaign but dropped the idea. "When they break down barricades to see me, I fear what would happen should I bring anyone else."
His primary opponent, sitting Trinamool MP Kalyan Banerjee, too is well-known, a lawyer who has represented the government in the Calcutta High Court and the Supreme Court, including in the Singur case. But compared to Lahiri's crowds, Banerjee's audience has comprised largely party workers. The others in the four-cornered contest are veteran Congressman Abdul Manna and first-time CPM candidate Tirthankar Roy, a professor.
Lahiri says, "Some leaders are terming me an outsider, but I want to say the current MP, though a resident of the area, has a house in Kolkata too. What has he done for the constituency? Most areas are still rural. I want to take this area to the national tourism map."
Calling himself a Golden Man, Lahiri says, "I am not a retired musician like some in the industry. I have …continued »