Food security lost on UP farmers, loan waiver only a fond memory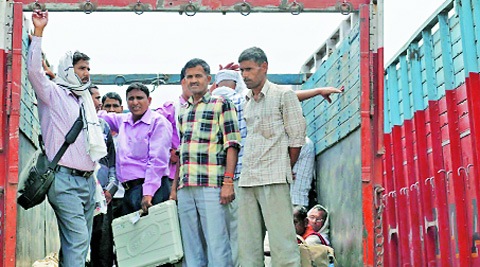 Poll officials find transport for their EVMs in Faizabad. PTI
says Jay Prasad Singh, a Thakur at Laluhi village in Bahraich.
If it was the party that secured its candidates' victories last time, the current candidates will need to fall back on local caste arithmetic. "Last time, people voted not for candidate Vinnu Pandey but for the Congress because of its loan waiver scheme," says Lalmani Pandey of Rampur-Pandeypurva in Shrawasti. He says he will not vote for the Congress's Brahmin candidate, whom he sees as weaker than the BJP's Brahmin opponent.
Even Muslim beneficiaries of that scheme are weighing their options as they seek to identify who is best placed to defeat the BJP candidates. "Last time, I had voted for the Congress because of the loan waiver," Mohammed Ibrahim of Faizabad's Haleem Nagar echoes many others elsewhere. "This time it is a toss-up between the Congress and the SP depending on who is ahead."
Not only has general goodwill for the Congress waned but farmers also seem influenced by a general impression that the party has gone out of the race. This has set the stage for them returning to their traditional voting ways. "I will vote for the BSP's Lalji Verma because if I vote for any other party or candidate, no one will believe it," says Tej Narain Verma of Kakandhu village in Shrawasti who, too, claims he voted Congress last time. The BSP candidate is a Kurmi like he is. That is also the reason why Kurmi villagers in Gonda are still rooting for Verma.
About the SP government's selective loan waiver scheme, Khateeb Ansari of Beria village in Bahraich constituency says, "The Congress debt waiver created a wave in favour of the party across villages, but the SP scheme has not had a similar effect as it does not cover all scheduled commercial banks' farm loans. It has benefited the very few who took loans from the government's Land Development Bank."