Food security lost on UP farmers, loan waiver only a fond memory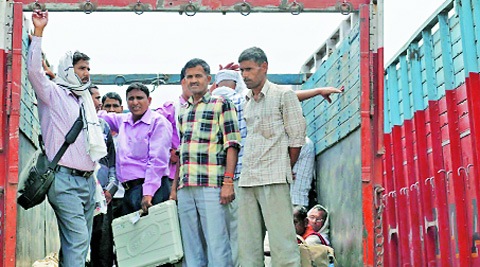 Poll officials find transport for their EVMs in Faizabad. PTI
They say the waiver made them elect Congress MPs last time, but caste is what counts now.
Sonia Gandhi pushed the Food Security Bill through the Lok Sabha; Rahul Gandhi keeps flaunting it at his election rallies. On the ground, however, it seems to have not registered with villagers across constituencies held by the Congress. And the other grand public scheme introduced by the Congress, NREGA, appears to have generated public resentment against corruption rather than offer vote security to the Congress.
While the politics of these permanent institutions finds no resonance, the one-time relief towards farmers' loans does. Introduced ahead of the last elections, this is what many villagers say made them vote Congress last time, leading to the party's surprise victories in many seats. At the same time, they add, the waiver since expired doesn't mean they will necessarily vote for the Congress again.
The Samajwadi Party government's attempt to replicate the loan relief in UP after its assembly election success, incidentally, has failed to impress. This is because the waiver up to Rs 50,000 applies not to farm loans from scheduled commercial banks, but only to loans from Land Development Bank.
In villages of Barabanki, Faizabad, Bahraich, Shrawasti and Gonda (all held by the Congress), farmers across castes — Brahmins, Thakurs, Kurmis, Koeris, Yadavs, Muslims — assert it was because of the loan waiver that they voted for the Congress last time. They make no mention of NREGA or the National Food Security Act unless one brings these up.
At Haleem Nagar village in Faizabad, Nishad Khan says, "My loan of Rs 44,000 was waived, so I voted for the Congress." At Udhauli village in Barabanki, Ram Shanker Verma, a Kurmi, cites the same reason and also mentions Kurmi leader Beni Prasad Verma's association with the Congress.
The waiver is something they bring up of their own. Any mention of NREGA agitates them. They say the money under the scheme is being siphoned by village pradhans and has made no impact on their voting choice.
"NREGA is a fraud. If 10 people go for work, the pradhan collects money for 20," says Dev Prasad Maurya of Rampur village in Shrawasti. He too claims to have voted for the Congress because of the waiver.
"We haven't heard much about the Food Security Act. I don't think anyone has benefited from it. Anyway, it will benefit the kotedaar (fair price shop-owner) more than anyone else," says Setu Ram Chaudhary of Sisaur Andupur in Gonda. He will vote for Beni Prasad Verma because he belongs to the same community.
No voter The Indian Express met in these Congress-held constituencies, however, said they would vote again for the party because of the waiver. "The loan waiver helped several farmers and did not differentiate on the basis of caste or religion. I voted for the Congress, but not this time," …continued »