Fifth phase of Lok Sabha elections in 121 seats on Thursday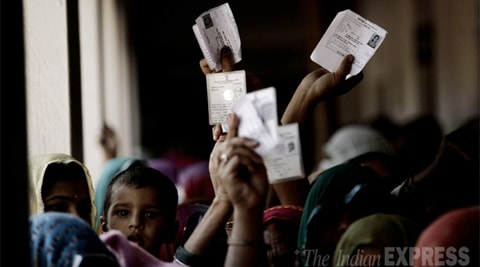 Tomorrow, an electorate of 16.61 crore have the right to exercise their franchise. (IE Photo)
India will witness elections in the maximum number of seats in a single phase on Thursday when polling will be held in 121 seats across 12 states as Lok Sabha elections will cross the half-way mark in the more than a month-long exercise.
Nandan Nilekani (Cong), Maneka Gandhi, former Prime Minister H D Deve Gowda (JD-S), Union Minister Veerappa Moily (Cong) and Srikant Jena, Supriya Sule and Lalu Prasad's eldest daughter Misa Bharti figure among the 1,769 candidates in the fifth of the nine-phased elections.
Tomorrow, an electorate of 16.61 crore have the right to exercise their franchise.
Of the total seats, Congress has 36 seats while its main challenger BJP has 40 seats.
Polling will take place in 28 seats in Karnataka, followed by Rajasthan (20), Maharashtra (19), Uttar Pradesh and Odisha (11 each), Madhya Pradesh (10), Bihar (7), Jharkhand (6), West Bengal (4), Chhattisgarh (3), Jammu and Kashmir and Manipur (1 each).
Karnataka witnessed intense campaign by both national as well as state bigwigs for a sharply bipolar fight. Prominent candidates in the fray include Nandan Nilekani (Cong), former Prime Minister H D Deve Gowda (JD-S) and Union Minister Veerappa Moily (Cong).
So far polling has been held in 111 constituencies in four phases. In the last substantial round 91 seats went to polls on April 10.
Out of 28 seats in Karnataka, BJP has 18 sitting MPs, Congress 8 and JDS 1.
In Maharashtra, 358 candidates including stalwarts like Union Minister Sushilkumar Shinde, ex-Chief Minister Ashok Chavan, BJP leader Gopinath Munde and NCP leaders Supriya Sule and Nilesh Rane will test their electoral fate.
Nineteen seats are going for elections in this phase where Congress has six sitting MPs, BJP two, Shiv Sena 4, NCP 3 and SWP -1. There is also an independent MP.
In Bihar, 117 candidates are in the fray including Lalu's daughter Misa Bharti and her two uncles Ramkripal Yadav and Ranjan Yadav. Out of the seven seats going to poll tomorrow, JDU has four sitting MPs, BJP and RJD have one each.
In 11 Lok Sabha seats in Uttar Pradesh, over 1.8 crore voters will decide the fate of 151 candidates, including stalwarts like former Union minister Maneka Gandhi, who is back to her traditional seat Pilibhit on BJP ticket. In these seats, SP has four sitting MPs, BJP 2, Cong 1 and BSP and RLD have one each.
In 11 Lok Sabha and 77 Assembly seats in Odisha, the fate of 98 candidates, including 11 women would be decided in the Lok Sabha elections.
Prominent LS candidates are Congress stalwart and Union Minister Srikant Jena and former Union Minister Arjun Sethi of BJD.
Six Lok Sabha seats figure in the second phase of polling in Jharkhand. Among the 106 nominees, prominent are Lok Sabha Deputy Speaker Karia Munda of BJP as also Jayant …continued »