Faizabad Muslims carry indecision to booth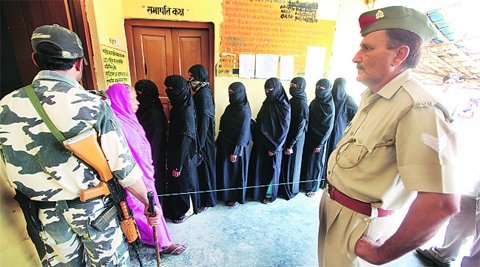 Voters outside a booth in Bhadarsa area of Faizabad Wednesday. Vishal Srivastav
Nearly 18 months after riots broke out in the Muslim-dominated Chowk area of the city and Bhadarsa of Bikapur assembly segment in Faizabad Lok Sabha constituency, voters found themselves divided between the Congress and the Samajwadi Party, and to an extent the BSP, at the polling booths Wednesday.
A number of Muslim voters claimed to have voted for the Congress as, according to them, it alone was capable of defeating the BJP and stopping Narendra Modi from becoming prime minister. Another section said they voted SP because the state government had provided financial assistance to Muslim families whose shops at Chowk and Bhadarsa were torched during the October 2012 riots.
"Narendra Modi ko harana hai aur yeh keval Congress hi kar sakti hai," said an aggressive Inamul Haq, 41, near a mosque in Chowk that was attacked during the riots.
"Muslim voters are divided between those who want to stop Modi and those who think the SP will give them undue favour," said Nizamuddin, 48, whose grocery shop at Chowk had been torched. He used the compensation to renovate his shop and expand his business.
Nearly 3,885 voters of Chowk area are registered at the polling station in Anguribagh primary school, 500 metres from Chowk. At 7.30 am Wednesday, Muslims dominated the queue at the booth.
"I voted for the Congress because Nirmal Khatri has a clean image and helps the people. The Congress is the only secular party that can defeat the BJP," said Abdul Hamid, 70, outside the polling station.
For Manzar Mehndi, editor of weekly newspaper Aapki Taqat, the riots were not an issue even though his office inside the mosque campus at Chowk had been set on fire.
"That incident is not an issue and I am not blaming the BJP or the RSS for that. Administrative failure in controlling the incident led to the riots spreading," Mehndi said, at his Imambade Wali Gali residence.
At a polling booth close to Bhadarsa police outpost, Abdul Rab said, "Hindus and Muslims have lived in equal numbers here with no communal dispute in 70 years. The October riots were the first. My shop of school bags and stationery near Jamia Milia school was torched." He added that Muslims in the village only wanted to defeat the BJP.
Asked why he did not vote for the SP, Mohammad Naeem, a carpenter, said he had voted for the party in the assembly elections to defeat BSP. "The SP could not control the riots here or in Muzaffarnagar," he added.
Vijay Shankar Tiwari, a BJP leader, is not worried about the large turnout of Muslim voters. He said the polarisation would help the BJP because the turnout of Hindus too was high.
At her residence in Bhadarsa village, Anamkia, wife of Durga Prasad Gupta who was killed in the riots, did not vote. She said she …continued »