Exchange goes on: Modi asks why 'sherni' changed; Mamata wonders if he is a 'fool' or a 'donkey'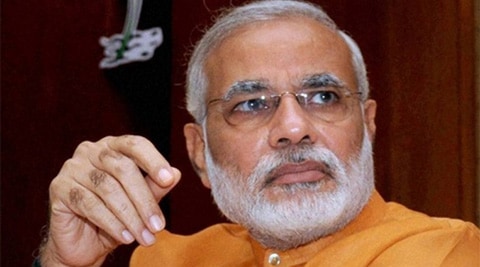 Narendra Modi in Barasat, one of three rally venues. Reuters
Addressing three back-to-back rallies Wednesday Narendra Modi attacked the "maa-bete sarkar" at the Centre and "Didi sarkar" in West Bengal and said "there is no power this time to stop Modi from coming to power". The "nateeja" (result) was declared the day the Election Commission announced the polls, he added.
Addressing meetings at Krishnanagar in Nadia, Kankurgachi in Kolkata and Barasat in North 24-Parganas, Modi hit out at Chief Minister Mamata Banerjee. He said she was a sherni (lioness), but is now "getting glued to the kursi". He said, "in 2005 Didi was my garv (pride), as she single-handedly took on the Communists. But what has hapened to her in the past three years after she came to power on the slogan of change? Nothing has changed in Bengal, except herself."
He added: "Whenever I come to Bengal, Didi ko gussa kyun aata hai? Didi ko gussa kyun aata hai whenever I raise the issue of Saradha? Is it not the duty of a government to protect cheated investors? Instead of doing that she gets angry with me. At times I feel with such rising tempers, she may catch a fever. I appeal to doctors of Kolkata to take care of her."
He said the mere "mention of Saradha gives Mamataji an electric shock… Why does she react like that. Didi, why don't you say point blank, you have no connection with Saradha?"
Modi also put TMC, Congress and Left on the same platform saying their only agenda is to stop Modi. "Nobody is talking of price rise, unemployment and how the problems can be solved. All of them, Maa-Beta, Mamata, Buddhadeb have one agenda, stop Modi."
He again attacked Priyanka Gandhi Vadra for her "neech rajneeti" remark. "The people of India know what is neech rajneeti. Actual neechi rajneeti happens when the Congress government invites the Pakistani Prime Minister for chicken biryani bhojan even as the widow of an India sepoy sits on a hunger-strike demanding the beheaded torso of her husband. Neech rajneeti happens when the Congress government takes cut on toilet papers for the Commonwealth Games," he said.
He targeted Mamata also over the Bangladeshi infiltrator issue. "Didi had raised a toofan in Parliament that infiltrators were a threat to West Bengal in 2005. She demanded that infiltrators from Bangladesh be stopped from entering India. Now, Didi has fallen victim to votebank politics and threatens to arrest me for raising the issue," he said.
Mamata wonders if he is a 'fool' or a  'donkey', calls him 'Haridas Pal'
Mamata Banerjee continued to attack Narendra Modi Wednesday, saying she would not have allowed Modi to enter West Bengal had she known he would try to trigger tension and instigate unrest by raising the issue of Bangladeshis.
"It was our courtesy that we had allowed Modi here, otherwise we would not …continued »