Ex-R&AW chief Sanjeev Tripathi sees no conflict of interest as he joins BJP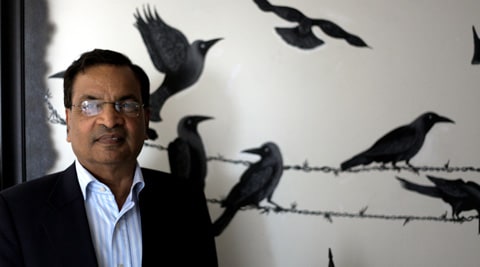 Tripathi, who served the R&AW, says the "past chapter" of his life is now a closed book. (IE Photo: Ravi Kanojia)
A small picture frame shows him seated with former Prime Minister Atal Behari Vajpayee. In the room, there's also a huge cardboard lotus mounted on a pedestal. 
That's what you would expect at the home of a BJP worker. But Sanjeev Tripathi is no ordinary party member — until a little over a year ago, he was a top spook, chief of the Research and Analysis Wing (R&AW), the country's external intelligence arm.
On February 25, barely a week before elections were announced, BJP president Rajnath Singh welcomed him to the party fold.
"Many of my former colleagues in the intelligence fraternity have congratulated me for what they think is a bold decision. Some said we too have been thinking of joining politics, but you have actually done it," he says.
Tripathi, who served the R&AW, says the "past chapter" of his life is now a closed book and no one should think that just because he has joined the Opposition ranks, he will disclose operational secrets.
"In joining politics, there is no conflict of interest… a cooling-off period should not be connected to his handling of sensitive assignments in government. In fact, there is no co-relation between holding a sensitive position and joining politics," he says.
But Tripathi does reveal an unknown nugget: a two-member committee had been formed during the UPA years to examine service conditions of officials of the Intelligence Bureau (IB) and the R&AW.
One of the suggestions of the panel was that officials of these agencies should be barred from taking up "gainful employment", say, for two years, during which they should be paid their full salary as pension. "But this remained only a recommendation and was never formally accepted by the government," he says.
He feels he still has many more working years ahead, that he can contribute significantly to national security and diplomacy.
It was Laxmikant Bajpai, chief of the BJP Uttar Pradesh unit, who first reached out to him on behalf of the party. Tripathi took a week to say yes and made it known he was ready to run for Lok Sabha.
"Nothing has been indicated to me yet… since I belong to Bareilly and have studied in Allahabad, some such seat may be considered by the party. But even if I do not contest, I can make a serious contribution given my experience."
Without naming the Congress, Tripathi says the "unfortunate" trend of indulging in vote-bank politics in the name of caste and religion can be unhealthy for democracy.
"Both the 1984 riots and the Godhra riots were tragic incidents and both the BJP and the Congress should get over playing one incident against another and move on. Politicians should try and heal wounds, not exploit unfortunate incidents."
Cautious …continued »