End of the campaign: Rahul Gandhi, Akhilesh Yadav hit roads of Varanasi ahead of voting tomorrow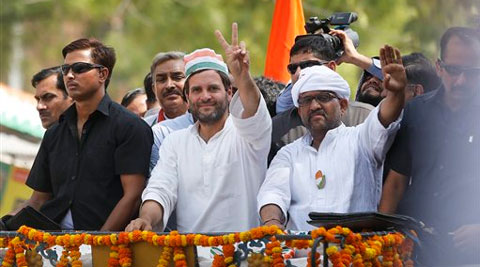 India's ruling Congress party Vice President Rahul Gandhi, center, displays the victory symbol as the party's candidate Ajay Rai, right, waves to supporters during an election campaign rally in Varanasi. AP
Campaigning for the final phase of the marathon Lok Sabha elections, which stretched into 10 polling days over five weeks, drew to a close on Saturday, leaving behind memories of a bitterly-fought battle that saw some of the most acrimonious statements by political leaders across parties.
In a final show of strength on Saturday, both Congress vice-president Rahul Gandhi and Uttar Pradesh Chief Minister Akhilesh Yadav hit the streets of Varanasi, the seat from where BJP prime ministerial candidate Narendra Modi is contesting. The temple town has emerged as the nucleus of the 2014 elections, with Modi fighting a symbolic battle to seize the Hindu centre of Kashi, challenged by AAP leader Arvind Kejriwal and Congress MLA Ajay Rai.
In a symbolic move, relatives of shehnai maestro Ustad Bismillah Khan performed at the Congress roadshow, signalling their support. Khan's son Mehtab Hussain had earlier refused to be a proposer for Modi's candidature. On the other hand, Akhilesh was accompanied by a Muslim at his roadshow. The two parties seemed to indicate that they enjoy the support of the Muslims who account for about 3 lakh votes in the constituency.
Rahul's roadshow seemed to be a tit-for-tat move, after Modi's recent rally in Amethi. Rahul, accompanied by Rai in an open vehicle, hit the road at about 9 am. The Congress show lasted for about three hours. An hour after it ended, Akhilesh began his roadshow with a similar cavalcade of vehicles.
The route of both the cavalcades crossed Beniya Bagh, where the BJP wanted to hold a Modi rally but was denied permission by District Magistrate Pranjal Yadav. This prompted the BJP to step up its attack on the Election Commission.
Terming it as a "blot on democracy", senior party leader Arun Jaitley said the EC cited security reasons for the BJP, but allowed the other parties.  "The Congress is holding a rally at the same venue… This blot will remain on the electoral process of the country that the prime ministerial candidate was not allowed to conduct a rally in his constituency," he said.
However, while the Congress and SP only held roadshows, with the cavalcade passing through the outer road of Beniya Bagh, the BJP wanted the Modi rally to be held at a venue inside the area that could have accommodated just one-third of the estimated crowd. "Zameen aasmaan ka antar hai (there is a huge difference). In a roadshow, you just pass through an area within minutes, but a rally goes for a long time, people start gathering several hours before it and take hours to vacate the …continued »