April 25 elections roundup: Rahul Gandhi campaigns in AP; Union Cabinet recommends extension of President's rule in state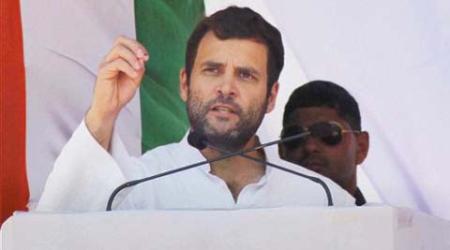 Rahul Gandhi at an election rally. (PTI)
9.10 pm: Accusing TRS of indulging in "politics of bitterness", Congress vice-president Rahul Gandhi today said Congress alone can ensure prosperity for Telangana.
#RahulGandhi's public rally in Secunderabad today pic.twitter.com/pRjEBzwOuG

— INC India (@INCIndia) April 25, 2014
8.20 pm:  Miffed by the incidents of violence aimed at AAP volunteers in Varansai, the party today asked the Election Commission for deployment of more central security forces and senior observers in the temple town from where Arvind Kejriwal is taking on Narendra Modi.
7.58 pm: Netherlands' ambassador to India Alphonsus Stoelinga today said here that he admired the election process in the country.
7.26 pm:   In a bid to canvas for BJP's prime ministerial candidate Narendra Modi, a Gujarat-based fan club launched several merchandise here today, including an animation film and a theme song on Narendra Modi.
7.01 pm: Union Cabinet recommends dissolution of Andhra Pradesh Assembly and extension of President's rule.
6.55 pm: TRS has not only broken promise they made to Congress party, but also the promise they made to the people of Telangana: Rahul Gandhi in Hyderabad.
6.40 pm:
People gathered at Lal Bahadur Stadium,Hyderabad,AP. #RahulGandhi will address a public rally in a short while. pic.twitter.com/UzEbalfUbY

— INC Live (@INCLiveTweets) April 25, 2014
READ: Rahul attacks 'chowkidar' Modi over 'ties' with Adani
6.00 pm: The Election Commission has done "nothing substantial and effective" to prevent paid news, violation of model code by social media ad distribution of hate material, an upset Congress alleged, a day after it accused the poll panel of "inaction".
5.28: In the backdrop of inflow of drugs from Pakistan innto Punjab, Narendra Modi Friday warned India's enemies, who failed to break up the country, have resorted to narco-terrorism as part of their nefarious designs to destroy the youth.
5.21 pm:
The UPA Government has approved India's Biggest Power Plant of 4000MW in Telangana : <a href="http://twitter.com/search?

 5.06 pm: During TDP's tenure in AP, their CM had said India doesn't need farmers: Rahul Gandhi in AP. 

4:55 pm: When we drafted the Telangana bill for the Parliament, TRS never helped in it, it was not a part of it, says Rahul Gandhi in Warangal.

READ: Congress, NGOs running one-point programme to stop me: Narendra Modi

On 2nd June, 29th state of India is going to be formed,Your dream will be fulfilled : #Rahul #Gandhi at Warangal, Andhra Pradesh

— INC India (@INCIndia) April 25, 2014

4:51 pm: Rahul Gandhi announces from Warangal: On June 02, 29th state of India will be formed.

4: 45 pm: The Election Commission let off Samajwadi Party chief Mulayam Singh Yadav with a 'warning' for threatening school teachers appointed on contract by Uttar Pradesh government to either vote for his party in Lok Sabha polls or risk losing permanent status. …continued »