April 20 campaign roundup: FIR filed against BJP leader Giriraj Singh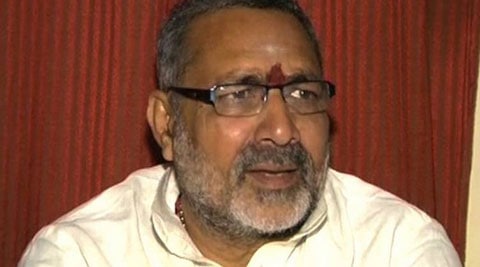 Get the latest election news throughout the day:
9. 48 pm:  NCP chief Sharad Pawar has ruled out the possibility of joining NDA and said it was difficult to "accept" Narendra Modi as the Prime Minister.
9.46 pm: Union Minister P Chidambaram urged the Election Commission to be "vigilant" in the coming days against distribution of cash for votes in Tamil Nadu, which is going for polls on April 24.
9.39 pm: Himachal Pradesh Chief Minister Virbhadra Singh today said there was no scope of the BJP-led NDA coming to power at the Centre and Narendra Modi would remain PM-in-waiting.
9.23 pm: Gujaratis toiled hard, but Modi hogging credit, says Rahul Gandhi
8.40 pm: It would be a "disaster" if Narendra Modi becomes prime minister of the country, Senior CPI(M) leader Buddhadeb Bhattacharjee today said and called for a non-BJP, non-Congress government at the Centre.
8.25 pm: Narendra Modi today described NCP chief Sharad Pawar as a "clever" politician and said the Union Minister decided not to contest the Lok Sabha polls this time as he could sense that he would lose the election.
READ: FIR filed against Giriraj Singh, Gadkari, other BJP leaders
8.07 pm: Launching a blistering attack on Congress President Sonia Gandhi for the first time during the current electioneering, Tamil Nadu Chief Minister Jayalalithaa today charged her with shedding crocodile tears for Tamil Nadu fishermen on poll eve.
7.55 pm:  BJP today distanced itself from the manhandling of Aam Aadmi Party's Prashant Bhushan in Indore by an activist of a fringe organisation led by a party leader.
Modi ji has given 45000 acres, the land equivalent to Thane to Adani ji at Re1 per sqm : #RahulGandhi

— INC India (@INCIndia) April 20, 2014
7.47 pm: FIR filed against BJP leader Giriraj Singh in Mohanpur police station in Deoghar district: Police.
7.37 pm: Congress's star campaigner Priyanka Gandhi's scheduled day-long tour to her mother and Congress president Sonia Gandhi's Rae Bareli constituency on April 21 has been cancelled due to unavoidable reasons.
When we win this election,the poor will go to the hospital and will get free medicine and and 'Right to Health':#RG pic.twitter.com/yonuHyHVd4

— INC India (@INCIndia) April 20, 2014
7.24 pm: Congress candidate Ajay Rai, who is pitted against Narendra Modi, today termed the allegation of illegal gun trade against him by BJP leader Amit Shah as a "conspiracy" to malign his image and said he will quit active politics if the charge is proved true.
7.00 pm:
Sh. #RahulGandhi being presented the Constitution of India by Mumbai Pradesh Congress Committee. pic.twitter.com/Rt2v0JDg85

— INC Live (@INCLiveTweets) April 20, 2014
6.50 pm:
Varanasi me janta AAP k sath @LambaAlka @AamAadmiParty @aartic02 @ashutosh83B @dilipkpandey pic.twitter.com/zxF09wtkmW

— Sanjay Singh (@SanjayAzadSln) April 20, 2014
6.35 pm: BSP supremo Mayawati today said that her party has given maximum number of tickets to Muslims and they should vote unitedly in favour of her party to save the country from the "fascist forces and dynasty rule".
6.20 pm: 
​रुके न तू… थके न तू #AKinAmethi pic.twitter.com/1abtpfYd7v

— Dr. Kumar Vishvas (@DrKumarVishwas) …continued »