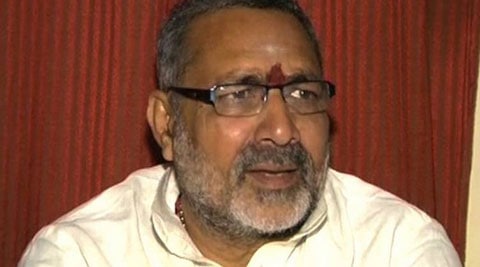 Get the latest election news throughout the day:
9. 48 pm:  NCP chief Sharad Pawar has ruled out the possibility of joining NDA and said it was difficult to "accept" Narendra Modi as the Prime Minister.
9.46 pm: Union Minister P Chidambaram urged the Election Commission to be "vigilant" in the coming days against distribution of cash for votes in Tamil Nadu, which is going for polls on April 24.
9.39 pm: Himachal Pradesh Chief Minister Virbhadra Singh today said there was no scope of the BJP-led NDA coming to power at the Centre and Narendra Modi would remain PM-in-waiting.
9.23 pm: Gujaratis toiled hard, but Modi hogging credit, says Rahul Gandhi
8.40 pm: It would be a "disaster" if Narendra Modi becomes prime minister of the country, Senior CPI(M) leader Buddhadeb Bhattacharjee today said and called for a non-BJP, non-Congress government at the Centre.
8.25 pm: Narendra Modi today described NCP chief Sharad Pawar as a "clever" politician and said the Union Minister decided not to contest the Lok Sabha polls this time as he could sense that he would lose the election.
READ: FIR filed against Giriraj Singh, Gadkari, other BJP leaders
8.07 pm: Launching a blistering attack on Congress President Sonia Gandhi for the first time during the current electioneering, Tamil Nadu Chief Minister Jayalalithaa today charged her with shedding crocodile tears for Tamil Nadu fishermen on poll eve.
7.55 pm:  BJP today distanced itself from the manhandling of Aam Aadmi Party's Prashant Bhushan in Indore by an activist of a fringe organisation led by a party leader.
Modi ji has given 45000 acres, the land equivalent to Thane to Adani ji at Re1 per sqm : #RahulGandhi

— INC India (@INCIndia) April 20, 2014
7.47 pm: FIR filed against BJP leader Giriraj Singh in Mohanpur police station in Deoghar district: Police.
7.37 pm: Congress's star campaigner Priyanka Gandhi's scheduled day-long tour to her mother and Congress president Sonia Gandhi's Rae Bareli constituency on April 21 has been cancelled due to unavoidable reasons.
When we win this election,the poor will go to the hospital and will get free medicine and and 'Right to Health':#RG pic.twitter.com/yonuHyHVd4

— INC India (@INCIndia) April 20, 2014
7.24 pm: Congress candidate Ajay Rai, who is pitted against Narendra Modi, today termed the allegation of illegal gun trade against him by BJP leader Amit Shah as a "conspiracy" to malign his image and said he will quit active politics if the charge is proved true.
7.00 pm:
Sh. #RahulGandhi being presented the Constitution of India by Mumbai Pradesh Congress Committee. pic.twitter.com/Rt2v0JDg85

— INC Live (@INCLiveTweets) April 20, 2014
6.50 pm:
Varanasi me janta AAP k sath @LambaAlka @AamAadmiParty @aartic02 @ashutosh83B @dilipkpandey pic.twitter.com/zxF09wtkmW

— Sanjay Singh (@SanjayAzadSln) April 20, 2014
6.35 pm: BSP supremo Mayawati today said that her party has given maximum number of tickets to Muslims and they should vote unitedly in favour of her party to save the country from the "fascist forces and dynasty rule".
6.20 pm: 
​रुके न तू… थके न तू #AKinAmethi pic.twitter.com/1abtpfYd7v

— Dr. Kumar Vishvas (@DrKumarVishwas) April 20, 2014
5.57 pm: Congress leader and Amritsar candidate Amarinder Singh asked his BJP rival Arun Jaitley to come clean on his alleged defence to Dow Jones against Bhopal gas tragedy victims over denial of compensation.
5.49 pm:  The Election Commission has ordered repolling in six booths spread across four Lok Sabha constituencies in Madhya Pradesh on April 22, after reports of poll-related irregularities, official sources said today.
5.48 pm:  BJP today sought cancellation of Union Minister Beni Prasad Verma's nomination over his allegations against Narendra Modi and said his remarks were in line with the Congress' "desperate" strategy of unleashing personal attacks.
5.33 pm: Trinamool Congress supremo Mamata Banerjee today asserted that her party would not leave an inch to any opposition candidate in any seat, including Jangipur Lok Sabha constituency where President Pranab Mukherjee's son Abhijit is the Congress candidate.
Jalgaon (Maharashtra): Narendra Modi addressing a rally pic.twitter.com/yUeJVcNCya

— ANI (@ANI_news) April 20, 2014
5.18 pm: Maharashtra Chief Minister Prithviraj Chavan's vehicle hit the pilot car, which halted suddenly, after two vehicles ahead of it abruptly applied breaks on the Western Express Highway in suburban Malad last night, police said here today.
5.10 pm: Three Congress workers were arrested from Aul area of Odisha's Kendrapara district today in connection with post-poll violence that left a man dead and four injured even as prohibitory orders remained in force in the district.
4.45 pm: BJP President Rajnath Singh today attacked Rahul Gandhi over alleged land deals involving his brother-in law Robert Vadra, saying just like the 2G scam there is also a "jija ji scam" during the Congress' rule.
READ: Defiant Giriraj stands by his remark, says Pakistan trying to stop Narendra Modi from becoming PM
4.30 pm: AAP convener Arvind Kejriwal and his supporters were today heckled by a group of women protesters during a road show in Ayodhyanagar here.
4.20 pm: Dismissing suggestions that she would leave 'Braj Bhoomi' after elections, BJP Mathura nominee and actress Hema Malini today said that she was close to "buying a house" in the constituency.
4.10 pm: Claiming that the "wave" in favour of BJP and its Prime Ministerial candidate Narendra Modi is getting stronger, senior party leader M Venkaiah Naidu today said the "Congress era" is coming to an end.
3.45 pm: Apparently wary of BJP's advertisement blitz, Congress general secretary C P Joshi today asked voters to keep their televisions switched off till April 24, when election will held in remaining five seats in Rajasthan.
3:20 pm: Sharpening his attack on Narendra Modi, Rahul Gandhi today said the BJP leader would have "ousted" even Atal Bihari Vajpayee like party veterans Jaswant Singh and L K Advani had the former PM continued being in public life.
RT @AAPSMumbai: @meerasanyal in Mumbai with @AapYogendra #YYInMumbai pic.twitter.com/Pf43CyWT1o

— AAP – Mumbai (@AAPMumbai) April 20, 2014
3:18 pm: BJP calls Congress leaders hypocrites.
3:10 pm: Re-polling will be held tomorrow at three polling booths in Barmer and one in Churu constituency for the Lok Sabha elections in Rajasthan.
2:42 pm: CPI (M) General Secretary Prakash Karat today claimed there is a strong "anti-Congress wave" in the country which would benefit the Third Front and not the BJP.
2:30 pm: The NCP today condemned as "anti-constitutional" Bihar BJP leader Giriraj Singh's 'back Narendra Modi or go to Pakistan' remark.
2:14 pm: Ghats and galis of Benaras have always been familiar with hordes of locals and tourists, but presence of over 50,000 political volunteers — working for various parties — seems to have made this city the 'poll capital' of the country.
2:00 pm: Sonia Gandhi to skip today's rallies in Maharashtra due to health reasons.
1:39 pm: A case has been registered against hardline Hurriyat Conference leader Syed Ali Shah Geelani under the Unlawful Activities (prevention) Act for allegedly calling for a boycott of elections.
1:30 pm: BJP Prime Ministerial candidate Narendra Modi now has another contender for the Varanasi Lok Sabha seat – a look-alike of Osama Bin Laden called Meraj Khalid Noor.
1:20 pm: There are promises galore for voters in Ahmedabad East constituency with fringe political parties and Independent candidates promising justice for "aggrieved husbands" and "lavish" lifestyle for the poor in their manifestos.
1:15 pm: Some of the top business leaders and trade associations today came out in support of the Union Minister of State for Telecom and sitting MP from Mumbai South, Milind Deora, who is seeking a third term from the constituency.
1:08 pm: Arwind Kejriwal today reached Congress bastion Amethi to campaign for AAP's Lok Sabha candidate Kumar Vishwas, and said both Narendra Modi and Rahul Gandhi must be "defeated" in the country's interest.
12:50 pm: 
Congress asked EC to take cognizance of #BJP leader #GirirajSingh's comment that people opposing Narendra Modi should go to Pakistan.

— All India Radio News (@airnewsalerts) April 20, 2014
12:07 pm: BJP leader Venkaiah Naidu says Congress era is coming to an end as Narendra Modi will surely become the Prime Minister of India. 
12:00 pm: Only Narendra Modi will be the Prime Minister of an NDA government irrespective of its tally in the new Lok Sabha, BJP President Rajnath Singh made it clear today.
11:51 am: Congress Vice President Rahul Gandhi's public meeting in Lalganj which was scheduled to be held today has been cancelled.
11:45 am: Modi hits out at Rahul and says, reports on crime against women show who is concerned about women safety. 
11:41 am: An FIR has been lodged against Yoga guru Ramdev for alleged violation of the model code of conduct and prohibitory orders by holding a press meet without the permission of the administration.

11:37 am: Narendra Modi lashes out at Rahul and says, "Shehzada talks of women safety, but open the news and you read about rapes in Delhi."
11:35 am: Narendra Modi takes a jibe at Rahul Gandhi again and says, a son who could not manage Amethi, how will he manage an entire nation?
11:23 am:  In a minor incident during her election campaign here, a portion of the stage on which BJP's Mathura candidate and Bollywood actor Hema Malini was addressing from, collapsed midway, police said today.
11:20 am: 
Listening to one and all. That's #AKinAmethi. pic.twitter.com/2yelB7cLGw

— Dr. Kumar Vishvas (@DrKumarVishwas) April 20, 2014
11:13 am: The clash of titans in this holy city between a battle-scarred veteran fighting for his political survival and a high-profile leader going through a baptism by fire is all set to go to the wire in the April 30 Lok Sabha elections in Punjab.
10:38 am: 
BJP doesn't approve of irresponsible statement given by Giriraj Singh.

— Sushil Kumar Modi (@SushilModi) April 20, 2014
10:38 am: 
EC seeks cancellation of tax benefits to 10 political parties from Central Board of Direct Taxes.

— All India Radio News (@airnewsalerts) April 20, 2014
10:00 am:  Narendra Modi to address three rallies in Chhattisgarh and one in Jalgaon, Maharashtra today. 
9:54 am: An FIR has been lodged against Deputy CM Ajit Pawar for threatening villagers to vote for Supriya Sule, daughter of NCP supremo Sharad Pawar.
9:41 am: Sonia Gandhi and Narendra Modi will be in Maharashtra today to campaign for phase-3 polls. 
9:26 am:
Roadshow starts with #AkinAmethi pic.twitter.com/H0FPRtVBgr

— Dr. Kumar Vishvas (@DrKumarVishwas) April 20, 2014
9:00 am:
Shahzada should tell us about R(haul), S(onia), V(adra), P(riyanka) model. This RSVP model has looted India http://t.co/nNOoPscdPV

— Narendra Modi (@narendramodi) April 19, 2014
For all the latest India News, download Indian Express App