Lok Sabha elections: Polling ends in Nagaland, Manipur, Meghalaya, Arunachal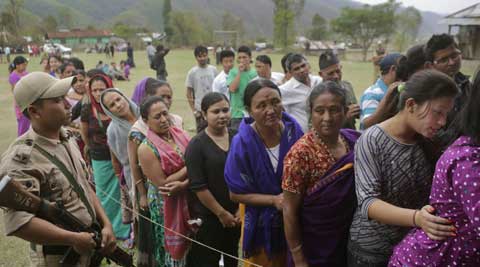 People stand in line to cast their votes at a voting center in Kalapahar, Manipur. (PTI Photo)
Moderate to brisk polling was reported from four North Eastern states of Arunachal Pradesh, Nagaland, Meghalaya and Manipur for six Lok Sabha constituencies till noon.
PHOTOS: VOTING UNDERWAY IN MEGHALAYA
There was 25 per cent polling in Arunachal, 39 per cent in Meghalaya, 38.98 per cent in Nagaland and 40 per cent in Manipur.
Polling was also underway for the 60-member Assembly in Arunachal Pradesh. Congress candidate in Konsa (W) Assembly constituency in troubled Tirap district of Arunachal Pradesh was kidnapped by suspected militants, but was released unharmed later.
Congress, BJP, NCP and Peoples Party of Arunachal (PPA), besides Independents, are in the fray in the Western and Eastern parliamentary constituencies which are traditional Congress strongholds since 1975, except in 2004 when BJP made a dent for the first time.
Union Minister of State for Minority Affairs Ninong Ering of Congress was pitted against BJP nominee Tarir Gao and PPA'S Wangman Lowangcha in the Eastern parliamentary seat.
After casting his vote at Sagalee, about 137 km from Itanagar, Chief Minister Nabam Tuki said the party would emerge winner in both the Lok Sabha and assembly polls. Tuki was among 11 Congress candidates elected unopposed to the 60-member house.
Governor Lt Gen (Retd) Nirbhay Sharma cast his vote along with his wife Jyotsna Sharma. "I congratulate the people of the state for their peaceful participation in the poll process indicating growth of democracy," he said. There was a significant turnout of women and first- timer voters in a majority of the polling booths.
Enthusiastic youth flock polling booths in Arunachal
Arunachal Pradesh wore a festive look with enthusiastic youth and women voters flocking polling booths since early morning to cast their votes for the simultaneous Lok Sabha and Assembly polls.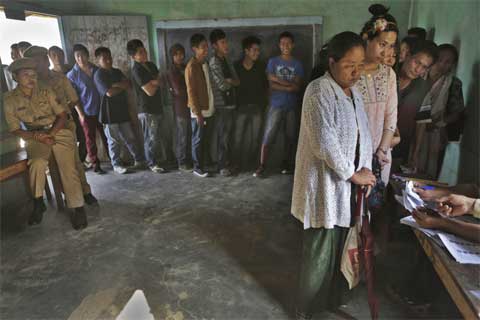 Braving inclement weather after overnight downpour, voters thronged polling booths since 6 AM, an hour before polling, to exercise their franchise in their best outfits. "We want to be a part of the democratic process and prove our importance in decision making," housewife Supriya Majumdar of Chimpu area said.
Long queues of women and youth could be seen in most of the polling stations waiting patiently for their turn to cast their votes.
Simultaneous polls for two Lok Sabha and 49 of the 60 assembly seats of Arunachal Pradesh kicked-off on a peaceful note on Tuesday.
An electorate of 7,53,170, including 3,77,272 women will cast their votes in 2,158 polling stations in the state. An additional 20 companies of central paramilitary forces besides 24 existing companies have been deployed as well as 8000 policemen to maintain law and order during the polls.
…continued »