New Delhi |
Updated: March 28, 2014 9:59:25 pm
Get all the latest updates on Lok Sabha elections throughout the day:
9. 48 pm: Gujarat Congress today filed a complaint with Election Commission against noted actor and BJP candidate for Ahmedabad-East, Paresh Rawal, for using "abusive and unconstitutional language" against the party.
9. 25 pm: BJP patriarch L K Advani's daughter, Pratibha Advani today kick started her father's election campaign from Gandhinagar Lok Sabha seat.
9.20 pm: Samajwadi Party on Friday declared six candidates for the Lok Sabha elections in Gujarat.
9. 15 pm: Addressing an election rally in Chhattisgarh, BJP's prime ministerial candidate Narendra Modi said that people will vote to punish Congress in the upcoming Lok Sabha elections.
9.00 pm: The Aam Admi Party (AAP) today announced its first list of candidates, including a former bureaucrat, for nine Lok Sabha constituencies in Andhra Pradesh.
8.25 pm: The Election Commission will examine Union Minister Sharad Pawar's recent statement urging people to 'vote twice'.
8.15 pm: Confident of a BJP win in the upcoming Lok Sabha elections, party president Rajnath Singh said that Narendra Modi will be the next PM and he will continue as the party chief.
8.00 pm: The Aam Aadmi Party today announced the names of two more Lok Sabha poll candidates from Rajasthan, a party spokesman. AAP named Gopal Pahadia as its candidate from the Bharatpur Lok Sabha seat and Ghanshyam Bairwa from the Karauli-Dholpur seat.
7.40 pm: Senior BJP leader Mukhtar Abbas Naqvi on Friday tweeted his displeasure over the induction of expelled JD(U) minister Sabir Ali into the party.
7.35 pm: Bihar chief minister Nitish Kumar on Friday slammed BJP's prime ministerial candidate Narendra Modi for seeing terrorism through 'communal eyes'.
7.30 pm: Yogaguru Ramdev says he supports BJP, Narendra Modi on the issue of black money.
7.20 pm: Two seats of the National Capital Region are among the five Lok Sabha constituencies in the country with maximum number of electors with Malkagirir of Andhra Pardesh topping the list.
7.12 pm: Former Bihar chief minister Satish Parsad Singh quits BJP, to protest against the 'inadequate' ticket distribution to the backward Kushwaha and Keori castes.
6.34 pm: Show cause notices issued to Haryana Janhit Congress chief Kuldeep Bishnoi, India National Lok Dal, nominee Dushyant Chautala for getting paid news published.
6.32 pm: Asserting that a third front government will be formed at the Centre after the Lok Sabha polls, Samajwadi party leader Shivpal Yadav today said that Narendra Modi, Rahul Gandhi and Arvind Kejriwal are not any kind of challenge for the party in Uttar Pradesh.
6.12 pm: Telugu film star and Jana Sena founder Pawan Kalyan announced that his newly-launched party would not field candidates in the ensuing elections to Lok Sabha and the state Assembly.
Read: Jana Sena won't field candidates in AP polls to avoid vote-spilt
5.25 pm: Aam Aadmi Party (AAP) released its 12th list of candidates for 35 Lok Sabha seats across six states.
5.20 pm: Clashes break out at Congress headquarters in Lucknow, 40 party workers injured
5.17 pm: BJP's Prime Ministerial candidate Narendra Modi will address eight rallies in Rajasthan's first phase of Lok Sabha polls slated for April 17.
4.09 pm: Former JD(U) candidate Sabir Ali joined the BJP on Friday after being expelled from the party for praising Narendra Modi.
3.55 pm: Uma Bharti says she will stick to Jhansi unless asked by the party to fight Sonia Gandhi in Rae Bareli, BJP agrees.
3.45 pm: CPI(M) termed the Congress manifesto as a "list of broken promises" and attacked BJP for not coming out with one even a few days before elections.
 3.15 pm: Naveen Patnaik says BJD will play role in govt formation, describes the Congress and BJP as two sides of the same coin.

2.37 pm: Lashing BJP's prime ministerial candidate Narendra Modi for pursuing divisive agenda, RJD chief Lalu Prasad Yadav said that the Gujarat Chief Minister's dream of becoming the next PM will never be fulfilled.
Read: Modi's PM dream will never be fulfilled says Lalu
2.20 pm: AIADMK is for the first time contesting the Coimbatore Lok Sabha seat, but the party is expected to face resistance in its bid from DMK, Left outfits and a new front led by BJP.
1.50 pm: The banned Garo National Liberation Army (GNLA) has threatened to disrupt poll campaigns of the ruling Congress in Garo Hills region of Meghalaya if the state government does not clarify its stand on the proposed peace talks within three days.
1.45 pm: In Wardha, Rahul Gandhi reiterates that BJP's elections balloon will burst like its India Shining campaign of 20014.
1.42 pm: Expelled DMK leader M K Alagiri met Union Finance Minister P Chidambaram at the Madurai airport on Friday, but refused to clarify what they discussed.
1.17 pm: Bhojpuri superstar and BJP contestant from North-East Delhi Manoj Tiwari is unperturbed by criticism that he is a 'parachuted' candidate and says he would cut down on the number of films to devote more time and ensure development of his constituency.

1.15 pm: SC asks Centre and Election Commission if NRI can vote in general election by way of an efficacious mechanism.
12.48 pm: Congress candidate from Saharanpur Imran Masood booked for anti-Modi hate speech. Masood threatened to chop Modi into pieces at a gathering.
12.35 pm: Firing a salvo against BJP's Prime ministerial candidate Narendra Modi, NCP chief Sharad Pawar has alleged that the senior BJP leader is in a rush to take over the country's top post.
11.40 am:
Addressing constituents in Vengapatta during pariyadanam (or paryadanam as some say I should spell it!) in Kovalam. pic.twitter.com/zqgz6Derlg

— Shashi Tharoor (@ShashiTharoor) March 28, 2014
10.54 am:
Haryana : Arvind Kejriwal's roadshow in Badli pic.twitter.com/0qKZoRS5lW

— ANI (@ANI_news) March 28, 2014
10.24 am: Only 20 per cent of the nearly 50,000 licenced arms existing in Assam have been deposited so far with authorities in the run up to the three-phased Lok Sabha elections in the state.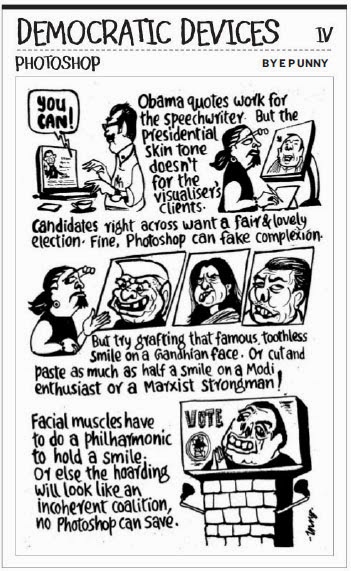 CLICK HERE FOR MORE CARTOONS
10.10 am: Congress candidate  from Saharanpur, Imran Masood, threatened to chop Gujarat Chief Minister Narendra Modi into pieces on camera: TV reports.
9.53 am:
.@ArvindKejriwal's 3-Day campaign tour of Haryana & Chandigarh starts today from Badli. #AK49inHaryana pic.twitter.com/Wd6A5K7ovG

— Aam Aadmi Party (@AamAadmiParty) March 28, 2014
9.48 am: READ: BJP may field Uma against Sonia, Smriti against Rahul
9.30 am:
Will address meetings in Bengaluru on March 30th in support of BJP's Ananth Kumar at his invitation.

— Subramanian Swamy (@Swamy39) March 27, 2014
9.10 am: ALSO READ: Country has decided even before voting, claims Narendra Modi
For all the latest India News, download Indian Express App