May 7 elections roundup: FIR against Ramdev under Atrocities Act for remark on Rahul; AAP demands re-polling in 50 stations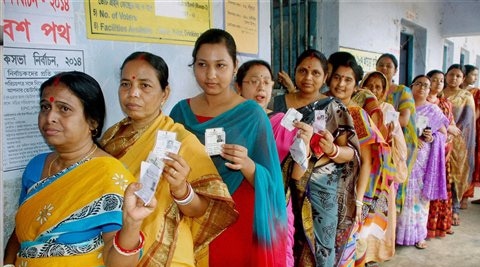 Voters showing their voter identity cards as they wait in a queue to cast their vote at a polling booth in West Bengal on Wednesday. (PTI)
The fate of 1,737 candidates, including Rahul Gandhi (Amethi), his cousin Varun (Sultanpur), Union minister Beni Prasad Verma (Gonda), cricketer-turned-politician Md Kaif (Phulpur-all in UP), Ram Vilas Paswan (Hajipur), Rabri Devi and Rajiv Pratap Rudy (Saran-all in Bihar) is in the hands of 18.47 crore voters who are eligible to cast their franchise.
Here are the latest updates:
10.15 pm: Denied permission for Modi rally based on based on intelligence reports: Varanasi RO.
10.10 pm:  Narrow roads, too much crowd can cause problems for Modi rally: Varanasi RO.
10.00 pm: 4 out 5 permissions given for Modi rally within 24 hours: Varanasi RO.
9.00 pm: An FIR was registered against the yoga guru Baba Ramdev here today for his controversial statement about the Congress vice-president Rahul Gandhi.
8.07 pm: Uttar Pradesh voter turnout 55.52 per cent for 15 seats, Bihar 58 per cent for 7 seats, says EC.
8.06 pm: West Bengal voter turnout 81.28 pc for 6 Lok Sabha seats and Jammu and Kashmir 49.98 pc for 2 seats: EC.
8.05 pm: Senior BJP leader Murli Manohar Joshi called on RSS chief Mohan Bhagwat at the headquarters of the outfit here today and reportedly batted for respectable positions in new government for "sidelined" saffron leaders of his ilk.
7.50 pm: Uttarakhand registers 62 pc polling for 5 Lok Sabha seats, Himachal Pradesh 65 pc for 4 seats: EC.
7.49 pm: Seemandhra registers 76.01 pc voting for 25 Lok Sabha seats: EC.
7.28 pm: Addressing a rally in Kolkata, Modi says the rape cases are increasing in the state where the chief minister is herself a woman.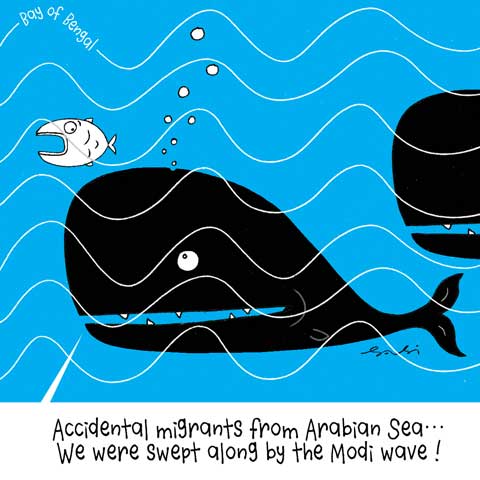 7.25 pm: Didi you yourself were against infiltrators but now that they are giving you votes, you are betraying the nation: Modi to Mamata
7.20 pm: Poll percentage recorded in Bihar today is 58 per cent; the voter turnout in Himachal pradesh is recorded at 65 per cent: EC
6.45 pm: 
Jaitley and BJP should explain why they are disrupting life of Varanasi as on his own words dharna is an act of anarchism ??

— ashutosh (@ashutosh83B) May 7, 2014
6.43 pm: SP leader Ram Gopal Yadav says allegations on Samajwadi Party just shows BJP is frustrated since they know they will lose in Uttar Pradesh.
6.35 pm: 
BJP is good copy cat. AAP started cap , they copied and now they are doing satyagraha. Jaitley Is a good learner.

— ashutosh (@ashutosh83B) May 7, 2014
6.20 pm: We have not got any piece of paper, we were just informed in the afternoon that none of the permissions will be given to us: Jaitley.
6.15 pm:  The RO  is being …continued »