May 5 elections roundup: Modi insulted my 'martyred' father Rajiv, Amethi will never forgive him, says Priyanka Gandhi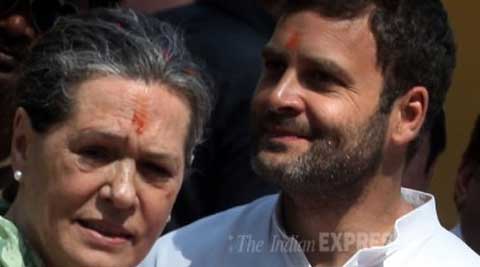 Get all the latest election news throughout the day:
10.00 pm: BSP Hoshiarpur Lok Sabha candidate Bhagwan Singh Chohan has a placed a bounty of Rs 1 crore on yoga guru Baba Ramdev's head for his alleged "anti-Dalit" remarks.
9.40 pm: A call for prayer at a mosque today made Rahul Gandhi to halt his speech for around five minutes, even as anxious party colleagues looked on fearing that the Congress Vice President might run out of time on the last day of campaigning in Allahabad.
9.31 pm: Congress hit hard at Narendra Modi over his attack on the Election Commission saying the whole-scale onslaught, intemperate words were clear signs of losing team attacking the referee.
9.10 PM:
Trinamool Chairperson's campaign schedule for tomorrow (06.05.2014): 2 PM – Basirhat 3 PM – Swarupnagar 4 PM – Kharda

— AITC (@AITCofficial) May 5, 2014
8.56 pm: More than 3.67 crore voters are set to cast votes in elections to 175 assembly seats and 25 Lok Sabha constituencies to be held on May 7 in Seemandhra.
8.27 pm: Seeking to allay any apprehensions among muslims, Narendra Modi today ruled out scrapping any existing constitutional and statutory mechanisms meant for their welfare and said he would instead work to strengthen them.
7.58 PM: Accusing Narendra Modi of using religion for canvassing by putting out Lord Ram's portrait in the backdrop at his Faizabad rally, Congress  approached Election Commission demanding registration of an FIR against him and other party leaders as well as derecognition of BJP.
7.25 pm: Priyanka Gandhi hits out at Modi saying that the people of Amethi will never forget BJP for insulting her father on Amethi soil. "My party workers will avenge this petty politics," says Priyanka. READ FULL STORY HERE
7.10 pm: CPI stalwart A B Bardhan said he is not averse to making TMC led by West Bengal Chief Minister Mamata Banerjee a partner if an alternative government is formed to stall NDA led by Narendra Modi from coming to power.
7.00 pm: Requested EC to take strict action against Modi for using religious symbols for election campaigning: Kapil Sibal READ FULL STORY HERE
6.45 pm:  Targetting Priyanka Gandhi, senior BJP leader Arun Jaitley today said her ignorance about the presence of party candidate Smriti Irani in Amethi showed the Congress star campaigner's "arrogance at its worst". 
PHOTOS: EC SEEKS REPORT ON MODI'S RALLY IN FAIZABAD
6.16 pm: Accusing the BJP Prime Ministerial candidate Narendra Modi of "lecturing" as if he was the "cleanest of them all", Congress President Sonia Gandhi today advised him to read history again to know about the party's contribution in transforming the country since Independence from a poor state to a progressive nation.
6.05 pm:
Development in the back seat and Religious Fundamentalism in the front seat. Nothing unusual but as per Planned Strategy of BJP and Modi.

— digvijaya singh (@digvijaya_28) May 5, 2014
5.20 pm: Even Rahul Gandhi once overruled PM Manmohan Singh as he dubbed cabinet's decision on an ordinance as 'nonsense': Modi.
5.18 …continued »