May 4 elections roundup: Won't allow to touch even one Bengali, Mamata tells Modi over 'Bangladeshi infiltrators' remark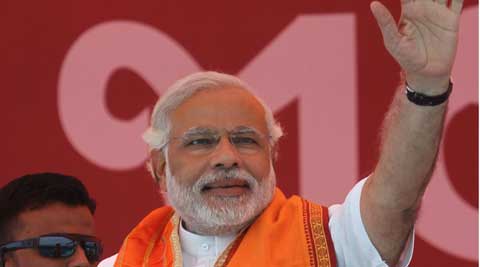 Gujarat Chief Minister Narendra Modi.
Get all the latest election news throughout the day:
9.25 pm:

LIVE from Amethi: #RahulGandhi and Priyanka Gandhi meeting women connected through Self Help Groups pic.twitter.com/oE7GYFAuo4

— INC India (@INCIndia) May 4, 2014
9.00 pm: Attacking SP supremo Mulayam Singh Yadav and Uttar Pradesh Chief Minister Akhilesh Yadav, BSP supremo Mayawati  said that "the son has more venom in him than his father".
20.37 pm: Union Minister for Minority Affairs K Rahman Khan said statements made by Narendra
Modi against illegal Bangladeshi immigrants led to the "massacre" of innocents in Assam and urged the Centre and
state government to take immediate action to help the victims.
20.08 pm:  A high decibel election campaign, marked by vitriolic accusations, for the 175 assembly and 25 Lok Sabha seats in Seemandhra would come to an end tomorrow.
Ensure that the BJP loses its deposit and never dares to divide the people of Bengal: Didi at Krishnanagar

— AITC (@AITCofficial) May 4, 2014
7.45 pm: Odisha Chief Minister and BJD supremo Naveen Patnaik kept people guessing about his
post-poll strategy on a possible Third Front by saying it is still early to discuss the topic.
7.10 pm: 
Refugees from East Bengal stay in India as per Nehru-Liyaqat and Indira-Mujib treaties: Didi at Krishnanagar

— AITC (@AITCofficial) May 4, 2014
READ: Bangladeshi infiltrators must go back, refugees welcome, says Narendra Modi
7.05 pm:
We love Gujaratis. We do not support the man whose hands are stained with the blood of riots: Didi at Krishnanagar

— AITC (@AITCofficial) May 4, 2014
6.35 pm: Senior BJP leader Arun Jaitley said that the relationship of Rahul Gandhi with Amethi is "nominal" and it remains one of the most backward constituencies in the country.
Scenes from #RahulGandhi's Jan Sampark Abhiyan in Amethi today pic.twitter.com/CN4w8kOHnL

— INC India (@INCIndia) May 4, 2014
5.44 pm: Samajwadi Party supremo Mulayam Singh Yadav today alleged that Congress and BJP were working hand in glove and they did not want a Third Front government at the Centre.
5.39 pm: Narendra Modi today hit out at the Trinamool Congress for claiming to be a do-gooder for Muslims, saying the minority community is far better-off in his state Gujarat than in West Bengal.
5.35 pm: 
AAP Amethi volunteers being harassed by police as well as Cong Goons again and again. Seems they hve been given a free hand by their 'aaka'!

— Dr. Kumar Vishvas (@DrKumarVishwas) May 4, 2014
5.11 pm: TMC chief dares Modi, says she will not allow anyone to touch even one bengali.
Bengalis came to India from Bangladesh in 1971. This is legal. Will not allow them to touch even one Bengali: Didi at Ranaghat

— AITC (@AITCofficial) May 4, 2014
5. 09 pm: Mamata Banerjee hits back at Modi over his 'Bangladeshi' remark.
Comrade Modiji says he will throw all Bengalis from India. He thinks he has already become the PM: Didi at Ranaghat — AITC (@AITCofficial) May 4, 2014
5.07 pm: In Ranaghat, TMC supremo Mamata Banerjee says BJP is being hyped …continued »