May 3 elections roundup: Mamata Banerjee rules out allying with BJP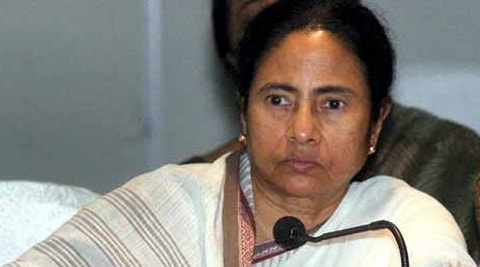 Here are the latest updates on Elections 2014:
21.09 pm: Dismissing claims that Trinamool Congress would ally with BJP, party chief Mamata Banerjee said it "will never happen".
8.35 pm:
Rahul Gandhi smiled & waved at me while his workers were assaulting #AAP supporters. A shameful contrast indeed! pic.twitter.com/oYzj8IsGAn

— Yogendra Yadav (@AapYogendra) May 3, 2014
8.00 pm:
.@AapYogendra meeting those attacked by #RahulKeGundey in Amethi. #CongBjpGoons pic.twitter.com/Fb3muH3tcX

— Dr. Kumar Vishvas (@DrKumarVishwas) May 3, 2014
7.35 pm: Congress Vice President Rahul ruled out the possibility of his party supporting the Third Front to form the government.
7.00 pm: Samajwadi Party chief Mulayam Singh Yadav claimed a Third Front government would emerge as the "strongest possibility" after declaration of Lok Sabha election results.
6.40 pm:  An FIR was today registered against Union Minister Beni Prasad Verma for violating Model Code of Conduct by making "objectionable" remarks on Narendra Modi.
We will emerge as the third largest party in India. We will build Trinamool as a national party: Trinamool Chairperson at Shyambazar

— AITC (@AITCofficial) May 3, 2014
6.25 pm:  BJP today blamed "vote-bank" politics of Congress governments at the Centre and the state for the violence in Assam and alleged that they had not taken adequate timely steps to prevent the riots after two similar episodes earlier.
We have set up 31 new colleges. The Left Front Government set up only 3: Trinamool Chairperson at Shyambazar

— AITC (@AITCofficial) May 3, 2014
6.18 pm: Attacking Samajwadi Party supremo Mulayam Singh Yadav, Bahujan Samaj Party chief Mayawati today alleged he was contesting from Azamgarh Lok Sabha seat only to "please his second wife".
6.05 pm: An FIR was today lodged against Aam Aadmi Party candidate Kumar Vishwas and his 12 unidentified supporters for allegedly assaulting a cameraperson of a Hindi daily here, police said.
5.45 pm: Welcoming Centre's decision to constitute a judicial commission to probe 'snoopgate' issue, Union minister Beni Prasad Verma demanded fast track courts to punish those guilty of demolishing disputed structure in Ayodhya and the post Godhra riots.
5.34 pm:  Modi stands for 'Model of Dividing India', Congress said today, giving the BJP's PM candidate back in the same coin, and accused BJP leaders of playing the "communal card" to garner votes.
5.20 pm: The BJP today said it was against giving refugee status to illegal Bangladeshi immigrants in India.
5.06 pm: Supporters of Samajwadi Party leader Azam Khan today staged a protest here against the Election Commission which has banned the leader from campaigning in Uttar Pradesh.
4.48 pm: Samajwadi Party supremo Mulayam Singh Yadav exuded confidence that a Third Front government will come to power at the Center.
4.20 pm: 
These Amethi volunteers were thrashed by Cong goons. So, this is your 'masterplan', right? Country is watching, sir! pic.twitter.com/62z0pGBb0Z

— Dr. Kumar Vishvas (@DrKumarVishwas) May 3, 2014
4.08 pm: Trashing Arun Jaitley's contention that government's action on snoopgate probe were illegitimate, Law Minister Kapil Sibal said he "should go back to law" before making such statements and insisted that a judge to head the inqury will be named before May 16.
3:33 pm: The BJP doesn't want people to prosper, says …continued »