May 11 campaign roundup: BJP AAP questions EC's clean chit to Rahul; Modi is remote-controlled by the RSS, says Congress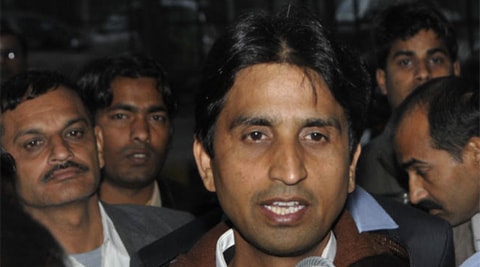 Kumar Vishwas has alleged that a close aide of Rahul Gandhi and Priyanka Gandhi threatened to kill him.
Get all the latest updates on Lok Sabha elections throughout the day:
9:49 pm: After Congress took on Gujarat government over seizure of a drug haul from a ship which "sailed from the state's coast", BJP hit back and put the onus on the Centre saying security along the country's coastline was its responsibility.
9:35 pm: A delegation from Mauritius led by Irfan Abdul Rahman, the president of that country's Electoral Commission, will make a four-day visit to the city from tomorrow for an experience about the Indian electoral system, specially the technology used in counting of votes.
9:20 pm: After raid on its party office in Varanasi, BJP today appealed to Chief Election Commissioner V S Sampath to "exercise his authority" to ensure that no rigging takes place during last leg of polling tomorrow.
8:59 pm: Union Agriculture Minister and NCP chief Sharad Pawar here today met leaders of the ruling NCP and Congress alliance in Maharashtra to discuss the political situation ahead of the Lok Sabha election results, and the
preparations for the Assembly elections.
7:55 pm: A senior Aam Aadmi Party leader today said they may extend issue based support to a Third Front government but the party swiftly distanced itself saying there was "no question" of it backing "any front".
7:23 pm: 
Okay, Dear Dist Administration (Amethi)… Now, let Hon'ble Court of Law to decide how many EVMs (which RG visited) out of 3 were faulty.

— Dr. Kumar Vishvas (@DrKumarVishwas) May 11, 2014
7:05 pm: 
CEO (UP) says Phoola booth EVM was faulty. But, RG crashed into 3 EVMs at different booths. Were ALL of them faulty? pic.twitter.com/mrtI2y99M2

— Dr. Kumar Vishvas (@DrKumarVishwas) May 11, 2014
6:56 pm: A day before Varanasi goes to polls, a clerics' body here extended support to AAP candidate Arvind Kejriwal, who is pitted against BJP's Narendra Modi and Ajay Rai of Congress.
6:20 pm: Senior BJP leader and former Bihar deputy chief minister Sushil Kumar Modi today had a dig at chief minister Nitish Kumar saying that he has turned philosophical after sensing certain defeat in the general elections.
6:00 pm: The Congress today complained to the Chief Electoral Officer and the special observer for West Bengal that the ruling Trinamool Congress was indulging in violence and also alleged that it was terrorising opposition party workers.
5:45 pm: Mafia don-turned-politician Mokhtar Ansari today alleged that Court directives allowing him to campaign in his constituency were not followed by the authorities.
5:30 pm: Congress today took potshots at Narendra Modi over his meeting with RSS leaders saying the BJP prime ministerial candidate was being dictated by the Sangh which it described as the "most unaccountable remote control".
5:15 pm: AAP leader Kumar Vishwas today questioned the clean chit given to Rahul Gandhi by the Election Commission on the allegation that he had violated secrecy of voting by entering the enclosure of EVM in one of the polling booths in Amethi.
4:45 pm: Congress today alleged that heroin worth Rs 1,600 crore seized by Australian maritime force off the Kenya coast last month originated from Gujarat and sought …continued »