May 1 Election round up: Cong demands arrest of Modi for poll code violation; AAP manifesto promises 'spiritual city' status for Varanasi
Priyanka Gandhi Vadra.
Get the latest updates on Lok Sabha Elections 2014:
9.00 pm: Senior Congress leader Rita Bahuguna Joshi today said that Narendra Modi should "display similar candour" over snooping controversy in Gujarat as Congress leader Digvijaya Singh did about his relationship with a TV journalist.
8.00 pm: The Aam Aadmi Party released its manifesto, promising to develop Varanasi as a "spiritual city" of all "religions" and work to make it a world heritage city. The three aspects — river, weaver and sewer– are very crucial in the temple town and transcend religious and caste boundaries.
7.20 pm: Two key Hindu religious leaders will campaign against Narendra Modi in the holy city of Varanasi from where the BJP's prime ministerial candidate is contesting the Lok Sabha election. While Puri Shankaracharya Swami Adhokshjanand Devtirath has blamed Modi for 2002 Gujarat riots, Dwarka Shankaracharya Swami Swaroopanand Saraswati has also been his critic since long and had taken him on recently for 'Har Har Modi' slogan, inspired by a religious incantation, raised by his supporters.
6.55 pm: Bahujan Samaj Party today demanded the Election Commission to ban SP supremo Mulayam Singh Yadav from campaigning in Uttar Pradesh over his remark against Mayawati.
6.50 pm: Congress has demanded arrest of Modi for violation of model code of conduct. Talking to reporters, Congress party legal cell head K C Mittal said: "EC has already registered the complaint against Narendra Modi, Modi should be arrested for his offence."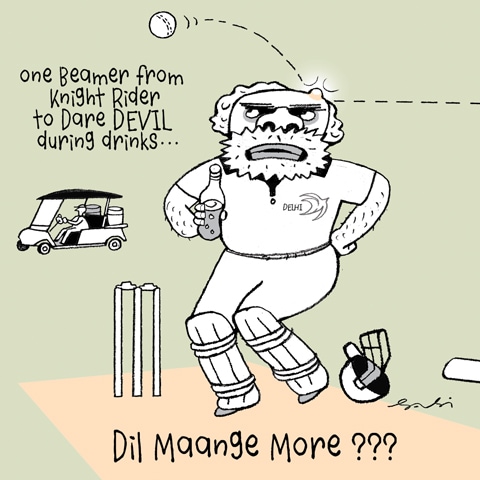 6.25 pm: Senior Samajwadi Party leader Azam Khan yet again hit out at Election Commission saying the poll body cannot behave like 'God' and it should take actions best suited for a democratic setup. "The Election Commission cannot behave like God! Instead it should adopt a line of action best suited for democracy and in the spirit of the Constitution," Khan said. READ FULL STORY HERE
6.05 pm: Congress leader Digvijay Singh today used his acknowledgement of his relationship with a woman journalist to target Narendra Modi, saying he is not a "coward" like the BJP Prime Ministerial candidate to hide his marital status for years.
5.40 pm: Oil Minister Moily hits out at Gurudas Dasgupta and CPI leader's accomplices in his ministry for carrying out malicious campaign.
One Damad of Nehru family Feroz Gandhi exposed scam & then FM TT Krishnamachary had to resign & present Damad Vadra is involved in land scam

— Sushil Kumar Modi (@SushilModi) May 1, 2014
Narasimha Rao broke from the Congress tradition and began the process of economic reforms: Narendra Modi

— narendramodi_in (@narendramodi_in) May 1, 2014
3:40 pm: In a controversial comment Samajwadi Party leader Abu Asim Azmi has said that Muslims who do not vote for his party are not 'true Mulsims'. READ FULL STORY: Muslims who don't vote for Samajwadi Party not true Muslims: Abu Azmi
3.20 pm: BJP leader Arun Jaitley on …continued »