March 31 Campaign roundup: BJP to release party manifesto on April 3; Kejriwal's meeting with the LG a drama to mislead people, says Cong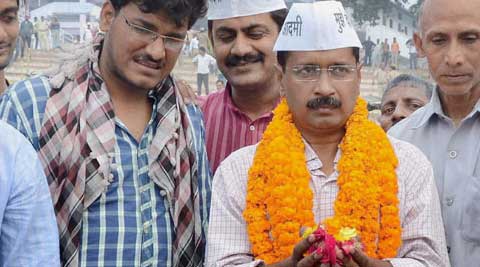 Kejriwal appealed to people to ensure that Modi loses from Varanasi and Rahul Gandhi gets defeated from Amethi so that both the NDA and the UPA receive a jolt. (Express photo)
Get all the latest news on Lok Sabha elections throughout the day:
9:19 pm: BJP is likely to release on April 3 its manifesto for the Lok Sabha polls and it is expected tofocus on reforms, good governance and strengthening of security appartus.
9:16 pm: Jharkhand Vikas Morcha president Babulal Marandi today attacked BJP for "plight" of the people of the state, and said his party would support a non-Congress and non-BJP government in a post-poll scenario.
9:13 pm: Jharkhand People's Party today pledged support to Babulal Marandi's Jharkhand Vikas Morcha in the Lok Sabha polls in Jharkhand, days after snapping ties with Trinamool Congress.

9:05 pm: 
Supreme Court held that one rank one pension must be the norm in respect of a Constitutional Office of judges #airnews

— All India Radio News (@airnewsalerts) March 31, 2014
9:02 pm: BJP accused AAP of having a "hidden understanding" with Congress after its candidates left the poll fray from Ajmer and Farrukhabad seats, from where Sachin Pilot and Union minister Salman Khurshid are contesting.

8:53 pm: BJP today claimed that BJD supremo Naveen Patnaik's appeal to send 21 party MPs to the Lok Sabha would create instability at the Centre.
8:25 pm: Congress won't win more than 75 seats in the country: Badal
7:55 pm: Congress-led UPA government would ensure security of women, especially those from tribal community, if the alliance won in the Lok Sabha elections, Defence minister A K Antony said today.

7:39 pm: Senior BJP leader L K Advani said today that Manmohan Singh has proved to be India's "weakest prime minister".
READ MORE: Manmohan Singh is India's "weakest PM": L K Advani
7:35 pm: BJP's dream is to eradicate poverty and ensure better quality of life by the time India celebrates 75 years of independence, the party's prime ministerial candidate Narendra Modi said today.

7:24 pm: Finance Minister P Chidambaram attacked Narendra Modi saying there are "deep flaws" in his character and warned people against the "danger" from one individual taking over the party, cabinet and government.

7:00 pm: Samajwadi Party supremo Mulayam Singh Yadav today said his party would not let BJP succeed in its agenda of making Narendra Modi the Prime Minister.

READ MORE: Will not let BJP succeed in making Modi PM: Mulayam
6:54 pm: Quami Ekta Dal has written to SP, BSP and Congress, asking them to either lend support to its candidate from Varanasi Lok Sabha seat Mukhtar Ansari or field a joint candidate against BJP's prime ministerial nominee Narendra Modi.

6:33 pm: Accusing BJP-Congress collusion for his resignation as Delhi chief minister, Aam Aadmi Party leader Arvind Kejriwal today said he did not "flee" from his responsibilities and it required a "lot of guts" to give up the post.
6:28 pm: Rahul Gandhi addressing a rally in Chhattisgarh.
6:21 pm: Playing down the absence of RJD chief Lalu Prasad in election meetings of Sonia Gandhi and Rahul in Bihar, the state Congress refuted …continued »