March 30 Elections round up: Sonia hopes people will give Congress a second chance, Modi asks if 'Shahzada' trusts his own mother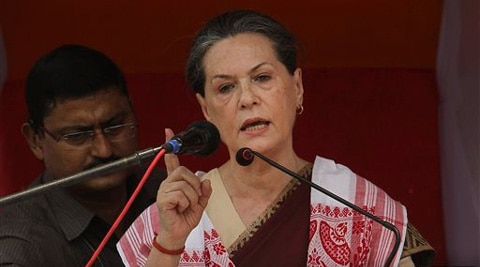 Sonia Gandhi speaks during an election rally in Lakhimpur, Assam on Sunday. (PTI)
Get all the latest updates on Lok Sabha elections throughout the day:
9.58 pm: Gujarat Congress has filed a complaint with the Election Commission against Chief Minister Narendra Modi's printed messages given along with the vehicle RC books and licences, stating that it amounted to breach of Model Code of Conduct.
9.55 pm: In a major boost to BJP in Gujarat, several bigwigs from the co-operative sector today joined the party with the help of former state minister Dilip Sanghani and BJP leader Narhari Amin.
9.38 pm: Union Minister Srikant Jena, former Union Minister Arjun Sethi and and sitting BJD MP Baijayant Panda are among 98 candidates left in the fray for 11 Lok Sabha seats.
9.35 pm: Actor-turned-BJP candidate from North East Delhi Lok Sabha seat Manoj Tiwari today said if he gets elected he will cut down on his film assignments to dedicate more time to the people of his constituency.
9.30 pm: Fed up over official apathy in providing them basic infrastructure, residents of Anbunagar area in Coimbatore and also estate workers of Pannimedu in Pollachi have decided to boycott the April 24 Lok Sabha polls.
9.25 pm: AICC general secretary Digvijay Singh's son Jaiwardhan Singh calls Sushma Swaraj a 'hawa hawai' candidate, says she neglected people of her constituency.
9.20 pm: With anti-nuclear activists plunging into the poll fray as AAP candidates in Kanyakumari, Tuticorin and Tirunelveli districts, Viduthalai Chiruthaigal Katchi, MDMK and Left parties are worried about their prospects in these constituencies.
9.05 pm: Reacting sharply to the expulsion of her husband by BJP, Sheetal Kanwar today said Jaswant Singh was insulted by the party for which he worked for over 32 years.
9.00 pm: The Election Commission cannot ban broadcast and publication of opinion polls, Chief Election Commissioner V S Sampath said today.
8.58 pm: Days after row over his choice of seat, veteran BJP leader L K Advani will address a rally in Ahmednagar on Monday as the star campaigner begins canvassing for Lok Sabha elections.
8.50 pm: BJP has lodged a complaint with Election Commission alleging that defamatory comments had been made against the party's candidate from Mathura Lok Sabha seat Hema Malini on Facebook.
8.33 pm: In yet another jolt to Congress in Madhya Pradesh, its Katni MLA Sanjay Pathak today decided to join BJP ahead of Lok Sabha polls.
8.24 pm: Barring a few incidents, polling in urban local bodies elections in Andhra Pradesh passed off peacefully today with nearly 75 per cent of electorate casting their votes.
8.20 pm: In a bid to attract voters to the polling booths and give a festive look to the electoral exercise, a few model polling stations are planned to be set up in the country for the first time.
8.15 pm: Putting to rest all speculation over his party's joint campaign with Congress top leaders, RJD president Lalu Prasad today said …continued »