March 26 campaign roundup: Modi takes it out on Kejriwal, calls him 'Pak agent', then 'Congress agent'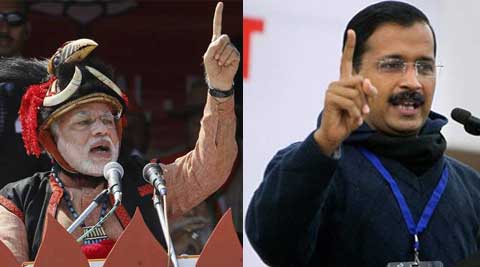 Arvind Kejriwal hit back at Narendra Modi over 'AK 49' jibe.
Get all the latest updates on Lok Sabha elections throughout the day:
8.24 pm: "There is no place for betrayers in politics, people can forgive mistakes but not betrayals
8. 20 pm: Narendra Modi calls Congress manifesto a 'joke'
8.22 pm: Based on their experiences, people of Delhi should decide who should form the next government: Modi
8.18 pm: Modi says AAP betrayed people's mandate in Delhi.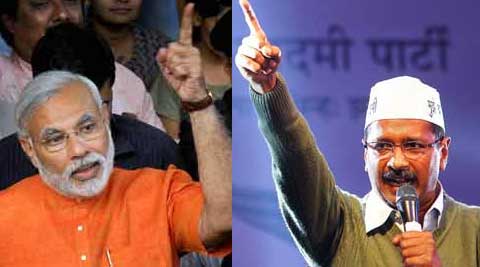 8.15 pm: Modi calls AAP chief Arvind Kejriwal a Congress agent. "AAP first formed government with Cong, then resigned and handed over the government to Congress through LG…they only want to help Congress and are least bothered about the country," says Modi.
8.12 pm: People of Delhi should decided what kind of government they would prefer to rule, says Modi in Delhi.
8.10 pm: After Jammu and Bulandshahr, Narendra Modi addresses 'Bharat Vijay' rally in Delhi.
7.40 pm: Former Chief Minister and Congress candidate from Amritsar Amarinder Singh hit back at his BJP rival Arun Jaitley for questioning Congress giving tickets to some leaders against whom there are criminal allegations.
7.30 pm: DMK chief M Karunanidhi extends support to Congress as he says his party will forgive all that has happened in the past.
7.00 pm: Odisha Chief Minister Naveen Patnaik kicked off BJD's campaigning for the ensuing twin elections from his home turf Hinjli Assembly constituency in Ganjam district, voicing optimism about a good show by his party.
5.50 pm: Pramod Muthalik files nomination as an independent candidate from Dharwad.
5.32 pm: Rajnath Singh hits out at Akhilesh government over SC's verdict on Muzaffarnagar riots.
If the Samajwadi Government had any sense of morality it should resign after the Supreme Court's verdict.

— Rajnath Singh (@BJPRajnathSingh) March 26, 2014
5.00 pm: AAP leader Arvind Kejriwal hit back at Narendra Modi over AK 49 remark saying such comments do not suit a prime ministerial candidate.
READ FULL STORY: KEJRIWAL FROWNS AS MODI CALLS HIM PAK AGENT
Did Modi ji call me an agent of Pakistan and AK 49? Kya PM ke daawedar ko ye bhasha use karna shobha deta hai? …..

— Arvind Kejriwal (@ArvindKejriwal) March 26, 2014
He will not respond on gas prices and false claims of Gujarat development. Why? He refuses to talk abt farmer suicides in Gujarat. Why?

— Arvind Kejriwal (@ArvindKejriwal) March 26, 2014
And he just responds by using foul language against me? Ye to theek nahi hai

— Arvind Kejriwal (@ArvindKejriwal) March 26, 2014
4.40 pm: Arun Jaitley questions Rahul Gandhi's claim on tackling corruption.
Congress has fielded former CM Ashok Chavan (tainted in Adarsh scam), fmr Railway Min Pawan Bansal (family/staff selling Rail Board jobs)…

— Arun Jaitley (@arunjaitley) March 26, 2014
… former CM Capt. Amarinder Singh (a chargesheeted politician) and allied with Lalu Prasad Yadav (convicted in fodder scam) — Arun Jaitley …continued »