March 25 Elections round up: Narendra Modi to face Arvind Kejriwal in Varanasi and Madhusudan Mistry in Vadodara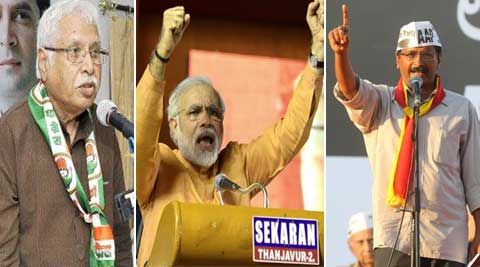 Narendra Modi will face Arvind Kejriwal in Varanasi and Madhusudan Mistry in Vadodara.
Get all the latest updates on Lok Sabha elections throughout the day:
8.20 pm: Former Maharashtra CM Ashok Chavan fielded from Nanded Lok Sabha seat.
8.15 pm: Congress names Sri Himmat Patel against BJP's Paresh Rawal from Ahmedabad East.
8.10 pm: Congress fields party general secretary Madhusudan Mistry against Narendra Modi from Vadodara constituency.
7.52 pm: Manish Tewari not to contest election, Ravneet Bittu is Congress candidate from Ludhiana.
7. 24 pm: Congress LS candidate and Narendra Modi's opponent in Vadodara, Narendra Ravat withdraws his nomination, asks party to put up a strong candidate against Narendra Modi.
READ FULL STORY: CONG CANDIDATE AGAINST MODI WITHDRAWS NOMINATION
7.15 pm: Journalist-turned-politician M J Akbar appointed BJP's new spokesperson of the party.
6.15 pm: Arvind Kejriwal challenges Narendra Modi for a debate.
I and Narendra Modi, both will be fighting elections from Benaras, so I invite him fr debate – .@ArvindKejriwal! #KejriwalinVaranasi

— Aam Aadmi Party (@AamAadmiParty) March 25, 2014
6.10 pm: Ready to accept the challenge to contest against Narendra Modi in Varanasi, says Kejriwal.
READ FULL STORY: KEJRIWAL ACCEPTS CHALLENGE TO CONTEST AGAINST MODI
6.01 pm: Kejriwal addresses crowd in Varanasi, says if Modi comes to power he will bring Walmart.
5.58 pm: If you vote for Narendra Modi, you will be left without your land, Kejriwal tells farmers.
5.57 pm: Modi took farmers' lands and sold them to Ambanis and Adanis: Kejriwal.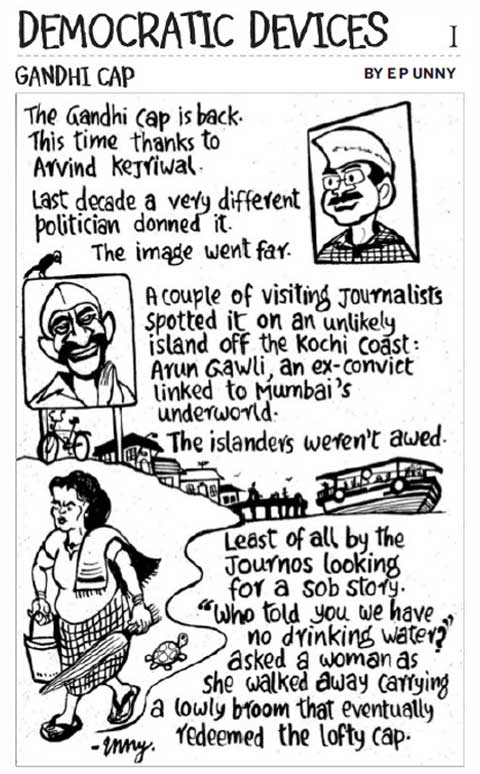 5.54 pm: Arvind Kejriwal attacks media again, says media has been harping about Modi.
5.52 pm: BJP and Congress never showed black flags to each other, but they are showing it to AAP. Both BJP and Congress are hand in glove: Kejriwal.
5.51 pm: I don't desire to be an MP. If I wanted to be an MP I would have searched for a safe seat, says Kejriwal in Varanasi.
5.49 pm: Took a dip in river Ganges..it has become very polluted: Kejriwal.
ALSO READ: BJP, CONG OR AAP? 10 SEATS THAT WILL SEE BIG FIGHTS
5.48 pm: Kejriwal claims men hired by Narendra Modi threw black ink at him.
5.45 pm: AAP leader Arvind Kejriwal addresses a rally in Varanasi. He is expected to announce his candidature against Narendra Modi.
4.50 pm: Aam Aadmi Party releases 11th list of 11 candidates for the Lok Sabha elections.
4.45 pm:
After Today's Varanasi crowd – no longer Har Har Modi – it's – Dar Dar Modi !!!

— ashutosh (@ashutosh83B) March 25, 2014
4.40 pm: Reports claim that Commonwealth Games scam accused Suresh Kalmadi announced unconditional support Congress candidate from Pune Vishwajeet Kadam.
4.30 pm: Delhi Election Commission issues showcause notice to Ramdev for "violation" of model code of …continued »