New Delhi |
Updated: March 25, 2014 10:18:19 pm
Get all the latest updates on Lok Sabha elections throughout the day:
8.20 pm: Former Maharashtra CM Ashok Chavan fielded from Nanded Lok Sabha seat.
8.15 pm: Congress names Sri Himmat Patel against BJP's Paresh Rawal from Ahmedabad East.
8.10 pm: Congress fields party general secretary Madhusudan Mistry against Narendra Modi from Vadodara constituency.
7.52 pm: Manish Tewari not to contest election, Ravneet Bittu is Congress candidate from Ludhiana.
7. 24 pm: Congress LS candidate and Narendra Modi's opponent in Vadodara, Narendra Ravat withdraws his nomination, asks party to put up a strong candidate against Narendra Modi.
READ FULL STORY: CONG CANDIDATE AGAINST MODI WITHDRAWS NOMINATION
7.15 pm: Journalist-turned-politician M J Akbar appointed BJP's new spokesperson of the party.
6.15 pm: Arvind Kejriwal challenges Narendra Modi for a debate.
I and Narendra Modi, both will be fighting elections from Benaras, so I invite him fr debate – .@ArvindKejriwal! #KejriwalinVaranasi

— Aam Aadmi Party (@AamAadmiParty) March 25, 2014
6.10 pm: Ready to accept the challenge to contest against Narendra Modi in Varanasi, says Kejriwal.
READ FULL STORY: KEJRIWAL ACCEPTS CHALLENGE TO CONTEST AGAINST MODI
6.01 pm: Kejriwal addresses crowd in Varanasi, says if Modi comes to power he will bring Walmart.
5.58 pm: If you vote for Narendra Modi, you will be left without your land, Kejriwal tells farmers.
5.57 pm: Modi took farmers' lands and sold them to Ambanis and Adanis: Kejriwal.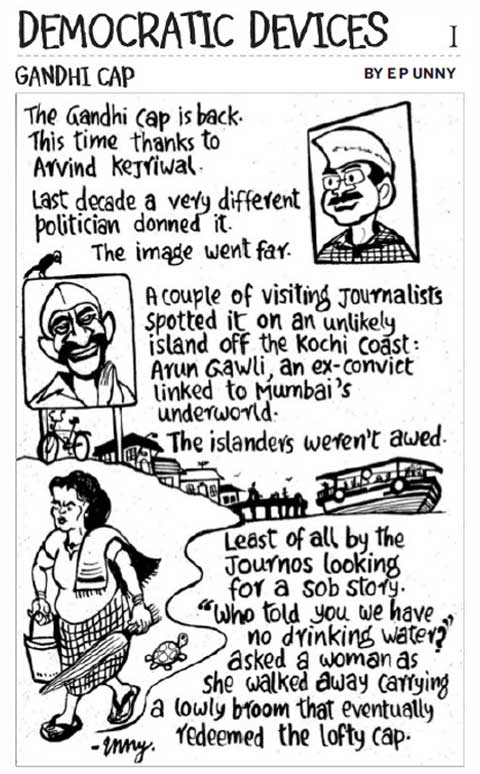 5.54 pm: Arvind Kejriwal attacks media again, says media has been harping about Modi.
5.52 pm: BJP and Congress never showed black flags to each other, but they are showing it to AAP. Both BJP and Congress are hand in glove: Kejriwal.
5.51 pm: I don't desire to be an MP. If I wanted to be an MP I would have searched for a safe seat, says Kejriwal in Varanasi.
5.49 pm: Took a dip in river Ganges..it has become very polluted: Kejriwal.
ALSO READ: BJP, CONG OR AAP? 10 SEATS THAT WILL SEE BIG FIGHTS
5.48 pm: Kejriwal claims men hired by Narendra Modi threw black ink at him.
5.45 pm: AAP leader Arvind Kejriwal addresses a rally in Varanasi. He is expected to announce his candidature against Narendra Modi.
4.50 pm: Aam Aadmi Party releases 11th list of 11 candidates for the Lok Sabha elections.
4.45 pm:
After Today's Varanasi crowd – no longer Har Har Modi – it's – Dar Dar Modi !!!

— ashutosh (@ashutosh83B) March 25, 2014
4.40 pm: Reports claim that Commonwealth Games scam accused Suresh Kalmadi announced unconditional support Congress candidate from Pune Vishwajeet Kadam.
4.30 pm: Delhi Election Commission issues showcause notice to Ramdev for "violation" of model code of conduct by holding 'yoga mahotsav' in the city.
4.28 pm: Congress leader Digvijaya reiterates that Narendra Modi will never become Prime Minister.
To all those who keep asking me,India has overwhelming number of sensible persons & fanatics can never rule India. Modi will never become PM

— DigvijaySingh (@DigvijaySingh__) March 25, 2014
3.50 pm: Union Home Minister Sushilkumar Shinde filed his nomination papers for the Solapur Lok Sabha constituency.
3.38 pm: BJP leader Arun Jaitley officially releases BJP's campaign anthem 'Mein desh nahi jhukne dunga'. The lyrics of the anthem have been written by Prasoon Joshi and sung by Sukhwinder Singh, says Jaitley.
3.35 pm: Bharatiya Janata Party officiallly releases its campaign anthem ahead of the Lok Sabha elections.
3.15 pm: Congress to release its poll manifesto tomorrow.
3.11 pm: Congress leader Sachin Pilot has filed his nomination papers from Ajmer Lok Sabha seat in Rajasthan.
3.05 pm: After eggs, ink thrown at Aam Aadmi Party leader Arvind Kejriwal in Varanasi.
READ FULL STORY: EGGS, INK THROWN AT KEJRIWAL
2.30 pm: Some Bollywood potboilers will pale in comparison to the mouth-watering high-profile clashes lined up this poll season.
2.10 pm: Eggs were thrown at AAP leader Arvind Kejriwal's car outside the Kashi Vishwanath Temple in Varanasi on Tuesday.
1:58 pm: Launching an attack on BJP's Prime Ministerial candidate, Congress leader M Veerappa Moily said Narendra Modi will not become the Prime Minister because he has become an "untouchable" for NDA partners and an "autocrat" within BJP.
1:56 pm: BJP dubbed Arvind Kerjriwal as a "pawn" in the hands of Congress and slammed both the parties for indulging in "baseless insinuations" against its Prime Ministerial candidate Narendra Modi.
1:50 pm: Sri Ram Sene's Pramod Muthalik to contest against Karnataka BJP chief Prahlad Joshi in Dharwad who had welcomed him to BJP.
1:45 pm: Sadhu Yadav to contest against sister Rabri Devi from Saran in Bihar.
1.23 pm:
Rally starts at 3 PM. People pouring in already! RT @ratanmaitra: Testing … 1 2 3 4 …. #KejriwalInVaranasi > pic.twitter.com/79AHNFtJjd

— Aam Aadmi Party (@AamAadmiParty) March 25, 2014
1.17 pm:
Kickstarting the day with Shri Lalchand Kataria at Shahpura #Jaipur Rural to interact with eager @INCIndia workers. pic.twitter.com/xx6v79Voc1

— Dr. C.P. Joshi (@drcpjoshi) March 25, 2014
1.06 pm: Jammu and Kashmir has become the first state to declare all election booths in the Lok Sabha polls as no smoking zones.
1.01 pm: DMK patriarch Karunanidhi to hit campaign trail of his party for the Lok Sabha elections from tomorrow.
12:41 pm: Congress on Tuesday took a swipe at Narendra Modi latching on to divisions and squabbles within his party over tickets distribution among senior leaders.
12:00 pm: Rahul Gandhi slams TMC govt, says funds are sent to West Bengal from Delhi but don't reach the people.
11:24 am: The fight for the Ajmer Lok Sabha seat has taken on an interesting prospect after the ruling BJP in Rajasthan decided to field a state minister and local Jat leader to challenge Union Minister and sitting MP, Congress' Sachin Pilot.
SACHIN PILOT LOOKS TO SAIL THROUGH
11:20 am: In West Bengal's Raigunj Lok Sabha seat, sitting Congress MP Deepa Dasmunshi is contesting against brother-in-law
Satyaranjan Dasmunshi of Trinamool Congress.
READ: Family members pitted against each other in election
11.00 am: Finance Minister P Chidambaram on Tuesday rejected media analysis that the "hope" of a stable government after elections is bringing in investments and driving up the capital market and the value of Rupee.
10.53 am:
"यह ईमानदारो का संघर्ष है और हम ईमानदारी से लड़ेंगे" – गुलकीरत कौर पनाग @GulPanag #HallaBol #gul4chandigarh http://t.co/jzgyeazLOt

— Gul for Chandigarh (@gul4change) March 25, 2014
10.36 am: The government has decided to consult the Solicitor General on the issue of Election Commission asking government to defer gas price hike.
10.31 am: Congress vice president Rahul Gandhi is slated to visit West Bengal and Tripura today.
10.15 am:
May Neelkanth give us the strength to take on the Bhasmasur of corruption and crony capitalism. #KejriwalInVaranasi

— Arvind Kejriwal 4 PM (@AKForPM) March 25, 2014
10.00 am: The Aam Aadmi Party has complained to the Election Commission against NCP chief Sharad Pawar's vote-twice remark
For all the latest India News, download Indian Express App