New Delhi |
Updated: March 24, 2014 10:06:40 pm
Get all the latest updates on Lok Sabha elections throughout the day:
9.40 pm: AAP leader Arvind Kejriwal thanks Election Commission for saving the people by deferring the gas price hike.
After elections, if cong comes to power, gas price wud be 8 dollars. If BJP comes to power, it wud be 16 dollars. AAP wants 4 dollars

— Arvind Kejriwal (@ArvindKejriwal) March 24, 2014
Thank u election commission for saving the people of India from huge price rise that wud have happened if gas prices had increased frm 1 Apr

— Arvind Kejriwal (@ArvindKejriwal) March 24, 2014
8.30 pm: EC asks Pawar to explain by 5 pm on Thursday failing which it will take a decision without further reference to him.
8.25 pm: NCP chief Sharad Pawar has prima facie violated the Model Code of Conduct by his 'ink' remark, says Election Commission.
READ FULL STORY: EC ASKS PAWAR TO EXPLAIN 'INK' REMARKS
8.20 pm: Election Commission takes note of Arvind Kejriwal's complaint on RIL, asks Oil Ministry to defer notification of new gas price from April 01.
7.30 pm: BJP flayed Lalu Prasad for calling L K Advani a "Pakistani refugee" and said the RJD leader would himself become a "political refugee" after his party's "humiliating" defeat in the upcoming Lok Sabha polls.
READ: CONGRESS MAINTAINS SUSPENSE OVER MODI RIVAL
7.00: Ravi Shankar Prasad appointed BJP chief media coordinator for Lok Sabha election campaign.
6.35 pm: Congress fields Namo Narain Meena from Dausa, Rajasthan
CLICK HERE FOR FULL LIST OF CONGRESS CANDIDATES
6.30 pm: Congress releases sixth list of candidates for the Lok Sabha elections
5.03pm: Union Minister Salman Khurshid has been booked for alleged violation model code of conduct in Farrukhabhad.
FULL STORY: KHURSHID BOOKED FOR VIOLATION OF POLL CODE
5.01 pm: JD(U) expels Sabir Ali, Rajya Sabha MP and Delhi unit chief for praising Narendra Modi.
4.55 pm: Jaswant Singh formally quits BJP, says no one in party addressed his concerns.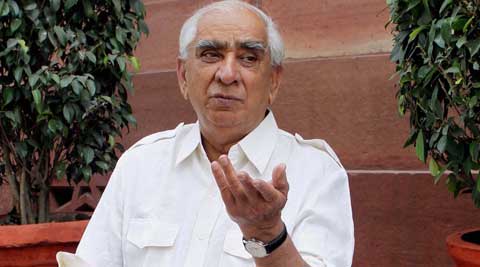 4.32 pm: Jaswant says he now has doubts about the BJP. "I am sad that people have lost trust in the party," says Singh.
ALSO READ: JASWANT SINGH QUITS BJP
4.30 pm: No one tried to stop me not to leave the party: Jaswant Singh
4.28 pm: 'Betrayed' BJP veteran Jaswant Singh hits out at party, says: "Nowadays, we see two faces of BJP; one real and the other fake."
3.52 pm:
The interests of the common man in the country cannot be safe in the hands of those who remain insensitive during riots – Sharad Pawar

— NCP (@NCPspeaks) March 24, 2014
3:30 pm: Narendra Modi to address 185 'Bharat Vijay' rallies across the country beginning March 26
3.06 pm: Congress leader Digvijaya Singh has said he is ready to contest Lok Sabha election from Varanasi against Narendra Modi, if the party nominates him.
3.00 pm: The BJP on Tuesday said the Centre was not doing enough to secure its leaders citing reports that four Indian Mujahideen militants arrested by Delhi Police had plans to target Narendra Modi and accused Congress of "emboldening" terrorists with its statements aimed at vote bank politics.
2.45 pm: Thousands took to the streets of Aizawl Monday to protest the Election Commission of India, which recently decided to continue granting voting rights within Mizoram to more than 11,000 Bru refugees lodged at relief camps in Tripura.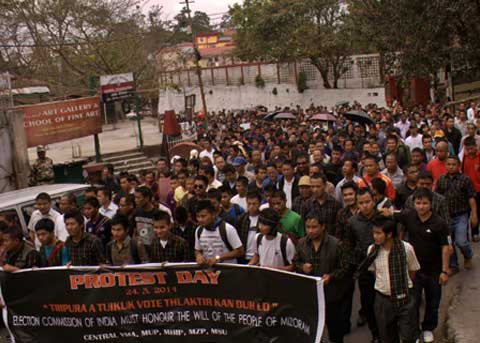 2.35 pm: Jaswant Singh says Vasundhara Raje and Rajnath Singh have betrayed him.
2.31 pm: Jaswant Singh has hit out at the BJP leadership, saying he has been betrayed by the party. Charging the BJP leadership of betraying the values of the party, the veteran leader said that the fight was between the old and the new of the party.
2.22 pm: The Supreme Court has asked Election Commission to register armed forces personnel posted at peace stations as general voters of that constituency to enable them vote from places of posting in 2014 Lok Sabha elections.
2.15 pm: Former Infosys CFO V Balakrishnan has filed nomination papers from Lok Sabha polls as an AAP candidate from Bangalore. He has declared assets worth Rs 190 crore.
1.50 pm: Poll authorities in Maharashtra have taken cognisance of NCP leader Sharad Pawar's remarks asking party workers to vote twice in the multi-phase polling in the state by rubbing off the indelible ink and have sought details of his speech in Navi Mumbai on Sunday.
1.39 pm: Congress general secretary Digvijaya Singh has said the present state of affairs in BJP gave an impression that only their prime ministerial nominee Narendra Modi prevails over everything in the party.
1.19 pm: Union minister Veerappa Moily hits out at the BJP saying there is no consistency in the party.
1.00 pm: According to reports, veteran BJP leader Lal Muni Chaubey has decided to campaign against his party in the Lok Sabha elections.
12.40 pm: Jaswant Singh has filed his nomination as an independent candidate from Barmer in Rajasthan.
12.30 pm: Rajasthan Chief Minister Vasundhara Raje has asked BJP members in Barmer to support the party candidate.
12.15 pm: Maoists have called for boycott of ensuing polls in Rayagada district in Odisha, after issuing the same diktat in nearby Malkangiri and Koraput.
12.12 pm:
Satara Loksabha Candidate Udayan Raje Bhosale will file nomination form today pic.twitter.com/CjrffSvzZt

— NCP (@NCPspeaks) March 24, 2014
11.59 am: There are protests outside the residence of BJP president Rajnath Singh over ticket distribution.
11.51 am: According to reports, around 50 Aam Aadmi Party (AAP) members have quit the party to join the BJP in Thiruvananthapuram.
11:40 am: Watch video: BJP's Rajkot candidate Mohan Kundariya walks over school children
WATCH VIDEO: BJP's Rajkot candidate Mohan Kundariya walks over school children
10.50 am: Veteran BJP leader Lal Muni Chaubey has said that though he is not against any individual, but wants to know the criteria for ticket distribution by the party.
10.47 am: Amrita Rawat, wife of Satpal Maharaj who has left the Congress to join the BJP, has said that she is a part of the Congress and will continue to be in the party
10.29 am: "If people have no jobs, if they remain half-starved and if their children are not getting proper education, they are bound to fill the streets and agitate," said Baichung Bhutia, Trinamool Congress Candidate.
Real issue in Darjeeling is lack of development: Baichung Bhutia
10.23 am:
Back after morning round of campaigning.4 hours on foot.Great response.Also,good low intensity #cardio .Off to DC office for scrutiny. Yes.

— Gul Panag (@GulPanag) March 24, 2014
10.16 am:
I know #Chandigarh, I know its strengths, I know its weaknesses, I don't need to be tutored:)There is change in the air #Change4Chandigarh

— Gul Panag (@GulPanag) March 24, 2014
10.03 am: The Congress has decided to focus on its strongholds in Gujarat – the central and the tribal belt – in the Lok Sabha polls, to deny BJP's PM candidate Narendra Modi a clean sweep in the state.
Congress to focus on strongholds to deny maximum seats to Modi
9.46 am: A complaint has been filed against BJP MP Shripad Naik, who is a candidate for the North Goa seat, for posing with a copy of the Bible in a church while starting his election campaign.
9.25 am: Jaswant Singh is likely to file his nomination papers on Monday as an independent candidate from Barmer. According to reports, Jaswant has said that though he wants to stick with the BJP, his supporters want him to quit the party.
Jaswant Singh likely to file nomination as independent from Barmer today
9.00 am:
8:41 am:
#AndhraPradesh: Talks between BJP and TDP over political alliance during upcoming general elections remain inconclusive.

— All India Radio News (@airnewsalerts) March 24, 2014
8:41 am: Veteran BJP leader Jaswant Singh announced here today that he will file his nomination papers from Barmer as an Independent on Monday, asserting that he is "not a piece of furniture" to be "adjusted" after polls.

READ MORE: JAITLEY DEALS ANOTHER SNUB AS JASWANT STICKS TO DECISION TO CONTEST

For all the latest India News, download Indian Express App