Elections LIVE: Muthalik shown the door by BJP hours after his appointment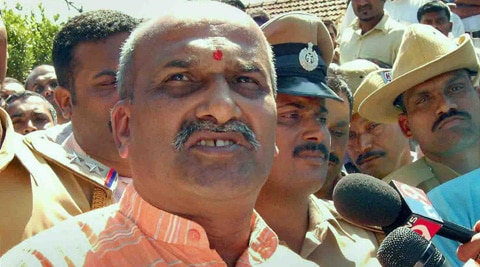 Sri Ram Sene founder Pramod Muthalik joined the BJP earlier on Sunday.
Get all the latest updates on Lok Sabha elections throughout the day:
BJP NOT SIDELINING LEADERS: NAIDU
9.00 pm: Aam Aadmi Party candidate from Ghonda, Data Ram Baisla, today rejoined BJP.
8.30 pm: Gurgaon District Returning Officer R C Verma today issued a show cause notice to AAP's Gurgaon Lok Sabha candidate Yogendra Yadav for alleged violation of the Model Code.
7.20 pm: Upset over denial of the Lok Sabha ticket, JD(U) MP Vishwa Mohan Kumar today resigned from his party and joined the BJP.
6.30 pm: 
In 1 hour membership will be cancelled, party has informed the state unit: Nirmala Sitharaman on Pramod Muthalik

— ANI (@ANI_news) March 23, 2014
6.30 pm: Jammu and Kashmir Chief Minister Omar Abdullah today hit out at BJP saying there was more democracy in "family-run" parties like his National Conference than in "parties with a difference".
5.45 pm: Pramod Muthalik's membership put on hold after Goa CM objects his inclusion into the BJP: TV reports.
5.20 pm: Congress President Sonia Gandhi and Vice President Rahul Gandhi will begin their Lok Sabha election campaign in Bihar from Sasaram and Aurangabad constituencies next week.
5.00 pm:
Some enthusiastic supporters are using slogan "Har Har Modi…" I respect their enthusiasm but request not to use this slogan in the future.

— Narendra Modi (@narendramodi) March 23, 2014
4.30 pm Dwarka Peeth Shankarachayra Swaroopanand Saraswati has raised objection to "Har Har Modi" slogan in favour of BJP PM nominee Narendra Modi and registered a strong protest with RSS chief Mohan Bhagwat asking him to stop such "vyakti puja" (eulogising of individual).
4.00 pm:: Union Minister and NCP chief Sharad Pawar on Sunday asked his party workers to take advantage of the multi-phase polling in the state by voting twice, first at their hometowns and then at places of work.
2.45 pm: With veteran party leaders unhappy over denial of ticket for Lok Sabha polls, BJP leader M Venkaiah Naidu stressed there were no differences in the party and no question of sidelining any senior leader. "I respect Jaswant Singh. I do not want to join issue with him. And secondly, if somebody does not get a ticket and makes such a statement, it is understandable."
2.25 pm: With a sulking Jaswant Singh set to contest from Barmer as an Independent after being denied a party ticket, BJP leader Arun Jaitley said leaders should sometime accept "no" after being showered with privileges and that his loyalty is at test.
READ FULL STORY: LEADERS SHOULD LEARN TO ACCEPT 'NO', SAYS JAITLEY
2.00 pm: Sri Rama Sena chief Pramod Mutalik, involved in the Mangalore pub attack, joins Bharatiya Janata Party.
1:40 pm: BJP MP Pathak hurt over ticket denial; to consult party workers.
12.50 pm: Jammu and Kashmir Chief Minister Omar Abdullah slams Narendra Modi for sidelining senior leaders of …continued »