Elections 2014 LIVE: Local Congress chief to take on Narendra Modi in Vadodara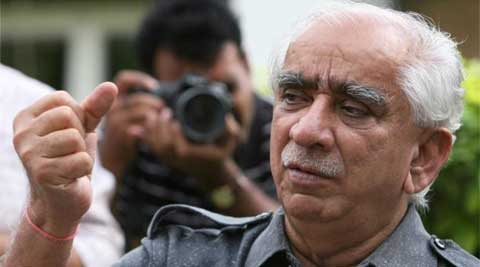 BJP leader Jaswant Singh. (PTI)
Get all the latest updates on Lok Sabha elections throughout the day:
9.20 pm Senior leader and BJP's Lok Sabha candidate from Jhansi, Uma Bharti, on Friday denied reports that she had written to party president Rajnath Singh and asked for a ticket from Bhopal.
8.50 pm: Congress' city unit chief Narendra Rawat will take on Narendra Modi in Vadodara Lok Sabha constituency but the party is still undecided on a nominee to be fielded against the Bharatiya Janata Party's prime ministerial candidate in Varanasi.
8.30 pm: Telugu actor Pawan Kalyan, Congress leader K Chiranjeevi's brother, today met Gujarat Chief Minister Narendra Modi and declared support to him for the Prime Minister's post.
8.00 pm: Continuing his tirade against Narendra Modi, RJD President Lalu Prasad today called him a 'sinner' and said he will not be able to "wash his sins" at Varanasi.
7.38 pm: In an apparent dig at the Bharatiya Janata Party prime ministerial nominee Narendra Modi, West Bengal Chief Mnister Mamata Banerjee on Friday said she loved the people of Gujarat, but not 'NaMo' and termed the BJP as "communal".
6.45 pm: Downplaying Shiv Sena's decision to field candidates in UP and other states, BJP on Friday asserted that the two parties are "inseparable" and any "shortcoming" can be resolved through talks.
6.13 pm: Aam Aadmi Party candidate Ashutosh Srivastava today filed his nomination papers from Chandni Chowk Lok Sabha constituency.

6.08 pm: Former Punjab chief minister Captain Amarinder Singh against BJP's Arun Jaitley in Amritsar
6.02 pm: I am grateful to Rajnath ji to trust me enough to give me this ticket: Colonel Sonaram Choudhary (BJP) on his LS ticket from Barmer.
5.58 pm: Hemlal Murmu, who joined the BJP recently, put in his papers from the membership of Jharkhand Assembly today.  "Hemlal Murmu has resigned from Assembly membership," Speaker Shashank Sekhar Bhokta said.
5.29 pm: MP Shivanand Tiwari today pledged his support to AAP and said he would campaign for AAP candidates in three Lok Sabha seats including Varanasi where Arvind Kejriwal may take on BJP's Prime Ministerial candidate Narendra Modi.
4.58 pm:
Accompanied Dr.Harshvardhan to file his nomination from Chandni Chowk. Confident of winning this seat which BJP won twice when I contested.

— Vijay Goel (@VijayGoelBJP) March 21, 2014
4.42 pm: Congress leader Ajay Maken and BJP spokesperson Meenakshi Lekhi today filed their nomination papers from the high-profile New Delhi Lok Sabha constituency.
4.35 pm: Infosys co-founder and Congress candidate Nandan Nilekani today filed his nominations for the Bangalore South Lok Sabha constituency, where he is locked in a tough battle against five-time MP BJP's Ananth Kumar.
4.28 pm: Congress defector Sonaram to contest from Barmer after the BJP denied veteran party leader Jaswant Singh the opportunity.
03.59 pm: Jaswant Singh denied BJP ticket from Barmer, Rajasthan, Congress defector Sonaram choudhary to contest from there.
03.40 pm: Vice President Mukhtar Abbas Naqvi hits out at opposition, says Narendra Modi …continued »