Elections LIVE: BJP fields Advani from Gandhinagar despite resistance, Modi to contest from Vadodara too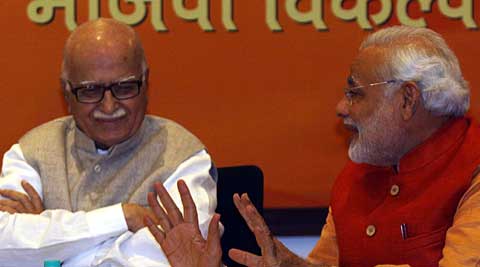 BJP decided to field L K Advani from Gujarat's Gandhinagar constituency despite his resistance. (Express Archive)
Get all the latest updates on Lok Sabha elections throughout the day:
9.00 pm: Congress leader Anand Sharma says he is willing to take on Narendra Modi in Varanasi Lok Sabha constituency.
8.35 pm: Olympian shooter Rajvardhan Rathore fielded from Jaipur (Rural).
8.30 pm: Jagdambika Pal to contest Lok Sabha elections from Domariaganj.
8.28 pm: Narendra Modi to contest LS polls from Vadodara.
8.25 pm: BJP decides to field L K Advani from Gujarat's Gandhinagar constituency despite his resistance.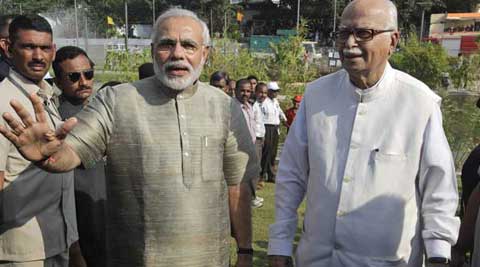 8.23 pm: Hema Malini to contest from Mathura, Vasundhara Raje's son Dushyant Singh from Jhalawar.
8.20 pm: Ashwini Kumar Choubey to contest from Buxar (Bihar).
8.17 pm: BJP finalises 67 candidates its fifth list for Lok Sabha elections.
8.15 pm: BJP announces its fifth its of candidates for the Lok Sabha elections shortly.
7.50 pm: AAP releases 8th list of 19 candidates for six states. Former JD(U) Minister Parveen Amanullah to contest from Patna Sahib, Bihar, against BJP.
7.30 pm: Reports suggest BJP Parliamentary Board and CEC has finalied Gandhinagar seat for L K Advani
7.20 pm: BJP CEC meeting ends.
6.14 pm: Reports suggest Congress considering fielding Digvijaya Singh against Narendra Modi from Varanasi.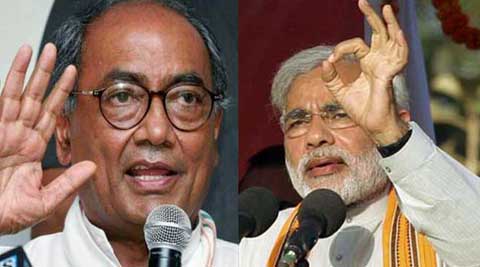 3:52 pm: Advani wants to shift from Gandhinagar, contest from Bhopal.
READ: ADVANI WANTS TO SHIFT TO BHOPAL
3:38 pm: BJP likely to announce candidates from Gujarat, Rajasthan, Punjab, MP and other constituencies in UP.
3:30 pm: No role of Ramdev in party's ticket distribution: BJP.
READ: NO ROLE OF RAMDEV IN PARTY'S TICKET DISTRIBUTION, SAYS BJP
3:27 pm: RSS moves court against Rahul Gandhi over his remarks linking the saffron organisation to the assassination of Mahatma Gandhi.
READ FULL STORY: RSS DRAGS RAHUL TO COURT
2:54 pm: Congress MP Hemananda not to contest LS polls.
2:43 pm: Congress dares Modi for an open debate, Anand Sharma says: "We are ready to debate against Modi on any platform on any subject."
2:42 pm: Notifications were on Wednesday issued for Lok Sabha election to 125 constituencies across 16 states which will go to polls on April 12 and April 17.

2:40 pm: Anand Sharma takes a dig at Modi, says: "Unlike BJP we don't annoint people as PM candidates so that they can climb on a horse and pretend like they have won."
2: 31 pm: Subhashree Panda, wife of wanted Maoist Sabyasachi Panda, on Wednesday joined Ama Odisha Party along with over 100 of her women supporters.
Read: Wanted Maoist Sabyasachi Panda's wife joins Ama Odisha Party.
2:30 pm: Election Commission of India on Wednesday issued notification for the second phase of polls in 11 Lok Sabha …continued »