New Delhi |
Updated: March 12, 2014 3:26:22 pm
Get all the latest updates on Lok Sabha election throughout the day:
3.16 pm: Nitish takes a jibe at Modi, says "A few people are dreaming of being PM. They should have their facts and data right about Bihar."
3.15 pm: Bihar is asking for its rights, not donation. We will fight for special status: Nitish Kumar
3.10 pm: Nitish Kumar hits back at Narendra Modi as he says 'we are proud to be Bihari, we are not arrogant'.
3.08 pm: Bihar Chief Minister Nitish Kumar slams BJP saying that the saffron party never supported when they sought special status for Bihar.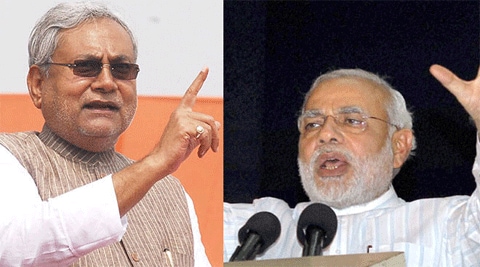 3.05 pm: Can't compare Gujarat and Bihar as Gujarat has been ahead of Bihar for decades: Nitish Kumar
2.40 pm: No word from stage on Anna giving rally a miss, simple announcement on rally having concluded. Many in crowd dissapointed.
2.38 pm: we didnt get people frm outside because its a working day" says mamata. Many frm UP, bihar, kolkata, howrah came by trains last night present.
2.35 pm: Mamata takes on Gujarat model, says "Their leaders have communal face."
2.34 pm: Mamata takes stage, says came here at Anna's invite. "If there's nobody, I will fight alone kept promise to come here," she says.
2.00 pm: Trinamool Congress not to announce names of Lok sabha Candidates during their rally at Ramlila Maidan today: Derek
1.40 pm : Fresh announcements at TMC-Anna rally. Didi, Anna to arrive 'soon'. Time for rally was 10 AM.
1.30 pm: Small group of Bengali traders from Karol Bagh, Chandni Chowk at Ramlila maidan say TMC only hope for "bangla cause" in Delhi.
1.00 pm: Speculation at TMC rally that Anna Hazare may not turn up at Ramlila Maidan since he is not well.
12.20 pm: TMC workers in Ramlila maidan say trains from Bengal bringing TMC supporters to Delhi.
12.15 pm: At Trinamool-Anna rally, Vinod Kumar Binny says, "I have just come to meet Anna, take his blessings".
12.10 pm: Kripal Yadav says he is pained to see the condition of Bihar, where family is given preference over work.
12.07 pm: Yadav says Modi is giving a new direction to the nation.
12.06: RJD is moving away from its principles.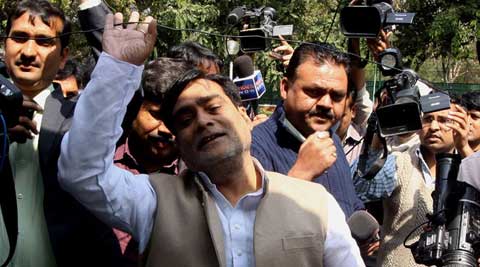 12.05 pm: Ram Kripal Yadav thanks BJP for giving him an opportunity, praises Narendra Modi.
12.00: Dissident Rashtriya Janata Dal (RJD) MP joins Bharatiya Janata Party.
Full story: Ram Kripal Yadav joins BJP
11.30 am: Ahead of Mamata Banerjee's rally, Ramlila Maidan wears a deserted look with just empty chairs and a few 100 people. Mumbai band is doing its best to create noise.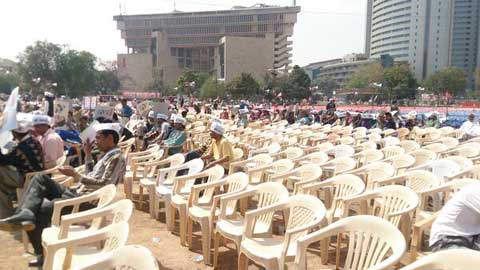 11.15 am: Kejriwal travels by an autorickshaw during a roadshow in Mumbai.
Read full story: Kejriwal takes auto in Mumbai to board local train
10.45 am: Aam Aadmi Party leader and former Delhi Chief Minister Arvind Kejriwal reached Mumbai as part of his election campaign on Wednesday.

He will be travelling a local train to reach South Mumbai for a fund raising programme. During his visit, Kejriwal will also be doing a road show for AAP South Mumbai candidate Meera Sanyal, which will be followed by a road show for Mumbai North East AAP candidate, Medha Patkar.
10.00 am: Trinamool Congress supremo Mamata Banerjee will hold a rally along with anti-corruption crusader Anna Hazare in Delhi's Ramlila Maidan on Wednesday.
The TMC chief is expected to reveal her poll agenda for the upcoming Lok Sabha elections.
9.30 am: Tamil Nadu Chief Minister J Jayalalithaa rebuked arch rival DMK's attempts to target "two leaves" and claimed her party's symbol had been instilling fear among the Karunanidhi outfit.     In her remark laced with sarcasm at an election rally, the AIADMK supremo came down heavily on DMK petitioning Election Commission and the state High Court seeking to "mask" any sign or object that resembles "two leaves" in the run up to the April 24 Lok Sabha polls.
Full story: Jaya mocks at DMK on symbol issue
Having offers from political parties to contest the Lok Sabha elections, veteran actress Moushumi Chatterjee said she will soon announce whether she is joining politics.
With every fifth voter being a Gujarati or a Marwari, the Narendra Modi wave is most evident in the Mumbai North Lok Sabha constituency. And the BJP is banking heavily on this to reclaim this seat, once considered its fortress.
The party, however, has its task cut out, with even ardent supporters acknowledging that the sitting Congress MP Sanjay Nirupam, dubbed an "outsider" in 2009, has consolidated his base after trouncing BJP's five-time MP and former petroleum minister Ram Naik in 2009 by 5,779 votes.
Read full story: Will Modi wave help BJP reclaim lost bastion?
For all the latest India News, download Indian Express App