April 9 Campaign roundup: Gujarat model "balloon" will burst the same way as 'India Shining', says Rahul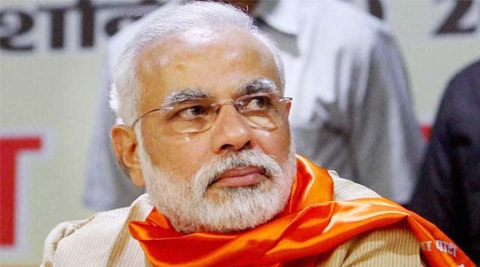 Modi is declaring that he would deal with the menace of black money when he becomes the Prime Minister.
Get all the live updates on the Lok Sabha elections throughout the day:
10:00 pm: Rahul Gandhi today said the "balloon" of Gujarat model of development will burst the same way as 'India Shining' did in 2004.
8:50 pm: Rajnath demands apology from CM for "narhantak" jibe at Modi.
8:25 pm: BJP's Prime Ministerial candidate Narendra Modi today compared the conditions under the "dynastic politics" to those during the Mughal era.

6: 33 pm: BJP spending crores on campaigning, said Akhilesh Yadav.
6: 18 pm:  Fight for Muslim votes challenging Indian nationhood, said BJP.
6: 01 pm: Arvind Kejriwal on Thursday met Police Commissioner B S Bassi and asked him to track down the mastermind behind the recent attacks on him.
5: 42 pm: BJP manifesto aims all-round development, says Radhakrishnan.
5: 35 pm: Arvind Kejriwal enacting drama to hog attention, sympathy, said V K Malhotra.
5: 27 pm: No wave in favour of BJP or Narendra Modi, says senior Congress leader.
5: 10 pm: Country does not trust Congress: Narendra Modi.
5: 01 pm:  BJP on Thursday expressed hope that it will win all the seven Lok Sabha seats in the national capital if voting percentage increases in the election.
4: 24 pm: Voting in 7 high-voltage Lok Sabha seats in Delhi on Thursday.
4: 20 pm: Stage set for polling in 10 LS seats of Uttar Pradesh on Thursday.
4: 17 pm: Congress MLA joins BJP ahead of LS polls in MP.
4: 10 pm: Congress withdraws candidates from two Assembly seats in Bihar.
3:49 pm: Narendra Modi addresses a rally in Solapur, Maharashtra.
3: 46 pm: Chandrababu Naidu to re-contest from Kuppam Assembly seat.
3.16 pm: There are many questionable decisions & deals of the Gujarat government for the exploration of oil and gas, says Congress.
3.04 pm:
Soniaji in Kolar Karnataka pic.twitter.com/2fwVqn918F

— digvijaya singh (@digvijaya_28) April 9, 2014
2.49 pm:
RSS hates us, as we are only force of honesty that can stop BJP. If their internal survey can give us 140seats, what is reality?

— Mayank Gandhi (AAP) (@mayankgandhi04) April 9, 2014
2.39 pm:
BJP's Gen VK Singh alleges 2.6 Lakh fake voters in Ghaziabad on the last day of campaign.Genuine concern or alibi in case of adverse result?

— Shakeel Ahmad (@Ahmad_Shakeel) April 9, 2014
2.34 pm: The Election Commission seeks report from Uttar Pradesh poll authorities on controversial remarks made by Azam Khan.
DID YOU MISS THIS? Google has announced the launch of a new tool as part of its elections portal offering 'google.co.in/elections', called 'Know Your Candidates'. The new tool will allow citizens to get easy access to relevant information about political candidates contesting from their constituency and their incumbent Member of Parliament. This tool integrates publicly available information sourced from Indian organizations such as the Association for Democratic Reforms, PRS Legislative …continued »