New Delhi |
Updated: April 8, 2014 10:25:18 pm
Get all the live updates on Lok Sabha elections throughout the day:
10:00 pm: Alliance partners Telugu Desam Party and BJP continued to grapple with the contentious issue of seat sharing till late tonight.
8:40 pm: Bollywood actress Raveena Tandon today campaigned in favour of Congress candidate and sitting MP from the Kurukshetra Lok Sabha seat Naveen Jindal.
8:36 pm: Mamata Banerjee relents. Agrees to transfer all the seven officers as directed by Election Commission.
8:05 pm: Congress today said good sense will prevail on the West Bengal government and the Election Commission over the issue of transfer of eight officials from poll duty in the state, which has brought them on a collison course.
8:01 pm: Rubbishing CM Nitish Kumar's criticism of its manifesto for ignoring Bihar's special status demand, the BJP today reminded him that Narendra Modi has categorically committed to providing special package to the state to tide over economic backwardness.
7:20 pm: A Gujarat government report which concluded that people have not benefited from economic progress under Narendra Modi's rule was latched on to by Congress to puncture "the balloon of lie" being projected by the BJP's PM candidate and the "crony capitalists" around him.
6:38 pm: Bihar Chief Minister Nitish Kumar today described the Congress' move of not inviting its alliance partner RJD chief Lalu Prasad to its rallies as a 'smart strategy' and said that the love between the two associates was intact.
6:10 pm: CPI today asked the Election Commission to take urgent steps to stop 'WhatsApp' messages carrying "communal" content and seeking votes for BJP and Narendra Modi.
6:05 pm: Tearing into the claims of UPA about its flagship employment generation programme MNREGA, BJP's prime ministerial candidate Narendra Modi today alleged it had only "filled the pockets of Congress" and sought to debunk the much-touted RTI.
6:04 pm: Terming the SAD-BJP alliance "unholy and opportunistic", Congress candidate from Amritsar, Amarinder Singh today asked his BJP rival Arun Jaitley to explain what he meant by "social alliance" between the two.
5:40 pm: Popular actor and BJP's Lok Sabha candidate for Ahmedabad-East constituency, Paresh Rawal, is the richest contestant in Gujarat with a total family wealth of Rs 79.40 crores, pipping his party colleague from Navsari, C R Patil.
5:23 pm: I have come with a good intention, says Narendra Modi.
5:21 pm: "Which watchguards do you want to give power to?" asks Modi.
5:10 pm: Narendra Modi addresses a rally in Mysore.
5:00 pm: Deriding the BJP manifesto for bringing controversial issues like Ram Temple, Article 370 and Common Civil Code "into focus" again, Bihar Chief Minister Nitish Kumar today justified JD(U)'s decision to part company with it.
4:50 pm: Maharashtra Chief Minister Prithivraj Chavan, in a searing attack on Narendra Modi, today said BJP PM nominee's style of functioning has left Corporate India worried as it leaves no room for debate and dissent.
4:48 pm: Thousands of private vans carrying cash for Automated Teller Machines (ATMs) across the country have come under the scanner of revenue intelligence agencies to check flow of black money during ongoing Lok Sabha polls.
4:30 pm: Ajay Rai is a grassroot worker who can ably lead people in Varanasi, says Congress spokesman Randeep Singh Surjewala.
4:20 pm: Congress fields local MLA Ajay Rai as candidate against Narendra Modi in Varanasi.
3.55 pm:
UPA is more interested in Defence Deals rather than Defence Power & this explains why we are facing so many problems today.

— Narendra Modi (@narendramodi) April 8, 2014
3.45 pm:
#slap a day is a drama orchestrated by #AAP itself. Its a publicity gimmick.

— Prakash Javadekar (@PrakashJavdekar) April 8, 2014
3.44 pm:
#slap a day is a drama orchestrated by #AAP itself. Its a publicity gimmick.

— Prakash Javadekar (@PrakashJavdekar) April 8, 2014
3.40 pm:
Finished our Roadshow in Kaithal. Roadshow moves to Pundri. Last hour& half of campaign left. pic.twitter.com/0OyGDQEj7F

— Naveen Jindal (@MPNaveenJindal) April 8, 2014
3.34 pm: An FIR has been registered against Congress leader Beni Prasad Verma for calling Narendra Modi the "biggest goon of the RSS".
3.30 pm:
Kitne Arvind ko maaroge? Hum sub Arvind hai. #MeinArvindHon #IamArvind.

— Mayank Gandhi (AAP) (@mayankgandhi04) April 8, 2014
2.10 pm: Meanwhile in Amethi, AAP leader Kumar Vishwas tweets:
रामनवमी हार्दिक शुभकामनाएं…… http://t.co/LO5HTHUwJb

— Dr. Kumar Vishvas (@DrKumarVishwas) April 8, 2014
2.00 pm: AAP leader Arvind Kejriwal smells conspiracy behind the attack.
I am just thinking – why am i being repeatedly attacked? Who r the masterminds? What do they want? What do they achieve?

— Arvind Kejriwal (@ArvindKejriwal) April 8, 2014
Is violence an answer to country's problems? let them tell me place n time. I will come there. Let them beat me as much as they want……

— Arvind Kejriwal (@ArvindKejriwal) April 8, 2014
1.43 pm: BJP leader Vijay Goel has said that the attacker may possibly be a disgruntled AAP workers, who was fed up the Arvind Kejriwal's false promises.
1.37 pm: According to reports, an autorickshaw driver attacked Kejriwal, following which the attacker was carried away by the police.
1.35 pm:
Public Rally Manimajra, Chandigarh.:)@KirronKherBJP pic.twitter.com/EuPgiRhDTn

— Anupam Kher (@AnupamPkher) April 8, 2014
1.21 pm: Aam Aadmi Party leader Arvind Kejriwal slapped again in Sultanpuri area of Delhi during roadshow.
1.10 pm: BJP leader Jagdambika Pal, who recently moved from the Congress, has asserted that Congress, SP and BSP would be wiped out from Uttar Pradesh as it's "Modi everywhere in UP".
1.05 pm:
Met activists of @IYC at Congress bhawan and then begun my Roadshow wid @TandonRaveena in Pehowa.On way 2 Kaithal now pic.twitter.com/B10ayImRxd

— Naveen Jindal (@MPNaveenJindal) April 8, 2014
12.46 pm: The West Bengal government has written to Election Commission urging it to reconsider its decision on transfer of five SPs and one DM. READ STORY
12.26 pm:
Superb rally with Rahul Gandhi yesterday! Grateful to him for coming to Bengaluru to share @INCIndia's vision pic.twitter.com/SX5OqYwObr

— Nandan Nilekani (@NandanNilekani) April 8, 2014
12.24 pm: TRS president K Chandrasekhar Rao will contest from Medak Lok Sabha constituency in Telangana region in the general elections.
12.01 pm: Narendra Modi poses tough questions to Defence Minister on the Armed Forces. "Why did Naval Chief resign? What is happening to the Navy ships?"
11.55 am: I have one question, which jail have the Italian Marines who killed our fishermen from Kerala been kept in?
11.50 am: There are many fishermen in Kerala, who are suffering. But the Centre has done nothing for them….the CM, Defence minister or the PM does not have any answers to my questions: Modi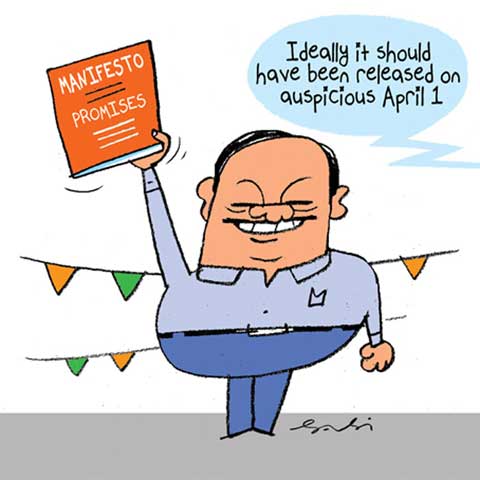 11.40 am: In the list of states with crimes against women, there is no BJP state. There are UPA states and one of them in Kerala: Modi.
SEE MORE PHOTOS IN POLLS APART
11.32 am:  Reason of Kerala decline is the friendly match between UDF and LDF: Modi in Kasaragod rally.
11.31 am: What is forcing the youth in Kerala to leave the state and go to other parts of the country, questions Modi in Kasaragod.
11.30 am: The enthusiasm of the people is reflecting the winds of change in the political atmosphere, says Modi.
11.28 am: Narendra Modi addresses rally in Kasaragod, Kerala
10.50 am: Defence Minister Antony terms BJP manifesto as communal agenda camouflaged in glossy paper.
10.30 am: Lok Sabha polls in Mizoram postponed to April 11 from April 9 as three-day Bandh continues in state.
10.16 am:
Naxals hand in glove with ruling politicians give boycott call in area of opponents & allow polling in other areas.But people will defy .

— Sushil Kumar Modi (@SushilModi) April 8, 2014
10.08 am:
@IndianExpress: "Same new-BJP's manifesto 2014 is not the sharp, aggressive statement of a challenger.

— Salman Anees Soz (@SalmanSoz) April 8, 2014
10.00 am: Uttar Pradesh Chief Minister Akhilesh Yadav has said that the state government did whatever it could to prevent the Muzaffarnagar riots.
9.48 am: The Congress is likely to announce its candidate against Narendra Modi from Varanasi today.
9.45 am: BJP PM candidate Narendra Modi is slated to address a rally in Karnataka today.
9.34 am: The Election Commission has said that it might cancel the Lok Sabha elections in West Bengal if the state government doesn't comply with its order. This comes after The Indian Express reported about the defiance of West Bengal Chief Minister Mamata Banerjee. READ STORY: Mamata defies EC, refuses to transfer eight SPs and DMs
9.29 am:
We can all send our best wishes to @KirronKherBJP for the last day of campaigning in Chandigarh.:)

— Anupam Kher (@AnupamPkher) April 8, 2014
9.25 am: The Aam Aadmi Party has replaced its candidate against Sonia Gandhi from Rae Bareli, Justice Fakhruddin, with Archana Srivastav.
For all the latest India News, download Indian Express App