April 5 Campaign roundup: BJP playing divisive politics ahead of polls, alleges Congress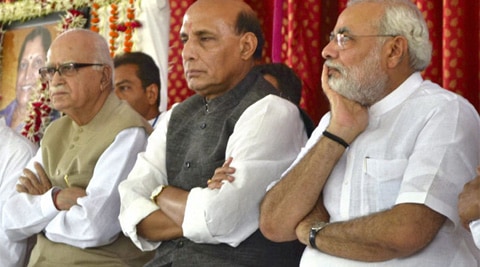 Accompanied by Narendra Modi, L K Advani files nomination from Gandhinagar Lok Sabha seat on Saturday.
Get all the latest updates on Lok Sabha elections throughout the day:
10: 07 pm: Mamata Banerjee today claimed that if her party so desired it could pull down the Hemant Soren government in Jharkhand.
9: 52 pm: Madhusudan Mistry declares assets worth over Rs 3 crore.
9: 51 pm: Sharad Pawar today took a dig at Narendra Modi saying the BJP's PM nominee is a 'groom in hurry' who has declared himself victorious even before the people's mandate is out.
9: 45 pm: Sonia Gandhi today said the upcoming LS elections is a clash between ideologies of hatred propagated by the BJP-led opposition and that of secularism championed by Congress.
9: 38 pm: Prahlad Modi today said the BJP prime ministerial candidate will not leave the people unhappy after winning.
ALSO READ: Narendra Modi won't leave Varanasi people unhappy after winning: Prahlad Modi
9: 10 pm: Gautam Gambhir today sought votes for senior BJP leader Arun Jaitley who is contesting the Lok Sabha election from Amritsar.
ALSO READ: Gautam Gambhir bats for Arun Jaitley in Amritsar
9: 04 pm: BJP, SP trying to create communal discord in UP: BSP.
8: 59 pm: Tamil film actor and chief of Naadaalum Makkal Katchi, Karthik is all set to hit the campaign trail for Congress.
8: 37 pm: Bengal-model is better than Gujarat's, claims Mamata Banerjee.
8: 33 pm: Narayan Rane today said that the 'Modi wave' in the country has subsided and will not be seen in the next few days.
8:30 pm: Congress re-assures special status to Goa if voted to power.
8: 22 pm: Sonia Gandhi today attacked the ruling BJD in Odisha accusing it of indulging in large-scale corruption in mining sector and social welfare schemes.
8:21 pm: People fed up with UPA govt: Sushma Swaraj.
8: 16 pm: Narendra Modi today alleged the only agenda of Congress is to any how establish Rahul Gandhi 'at the cost of the nation'.
8:13 pm: BJP represents theocratic, majoritarian vision of India, said Congress.
8: 06 pm: Parkash Singh Badal today said Arun Jaitley would be the voice of the people of Punjab in Parliament.
8: 01 pm: Vasundhara Raje today said the Lok Sabha results will clearly show who will be cut to size and who will be the winner.
7: 53 pm: '3D' Modi to hit the campaign trail on April 7.
ALSO READ: Narendra Modi to use 3D technology in 185 'Bharat Vijay' rallies
7: 50 pm: 29 candidates file nominations in Punjab.
7: 49 pm: Congress party today released its Goa-specific manifesto in addition to the national one, re-assuring the long-pending promise of special status to the coastal state to preserve its identity.
7: 38 pm: By meeting Imam, Sonia Gandhi committed blunder, said Ram Jethmalani.
7: 37: Rita Bahuguna files nominations for Lucknow.
7: 36 pm: 86 file nominations for third phase polls in Assam.
7.15 pm: Karti P Chidambaram, son of Union …continued »