April 30 Elections round up: EC censures Giriraj Singh for Pak remarks, issues notice to Badal for seeking funds from people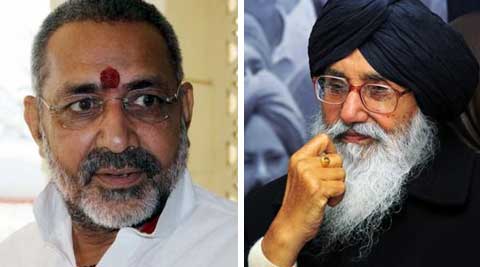 EC censured Giriraj Singh for his Pak remarks while it issued notice to Parkash Singh Badal for asking people to secretly fund his party.
Get all the latest election news throughout the day:
8.15 pm: EC show cause notice to Punjab CM Parkash Singh Badal for allegedly asking people to secretly give funds for
campaign.
7.25 pm: CPI demands disqualification of Congress candidate Thokchom Meinya  from Inner Manipur seat alleging large-scale rigging and proxy voting.
7.20 pm: Election Commission censures BJP leader Giriraj Singh for his Pakistan remarks during Lok Sabha poll campaign in Bihar.
7.00 pm: Kapil Sibal says Election Commission should be commended for taking action against Modi.
6.50 pm: Welcoming the FIR registered against Narendra Modi for violating the election law, the Aam Aadmi Party today called BJP's Prime Ministerial candidate a habitual offender who has been consistently violating poll norms and model code of conduct.
"Gujarat Chief Minister and BJP candidate from Varanasi Lok Sabha constituency, Narendra Modi has been consistently violating the election laws and the model code of conduct during the ongoing campaigning. READ FULL STORY HERE
6.20 pm: Two FIRs registered against Narendra Modi for violation of model code for elections, says Gujarat police chief.
6.07 pm: Hours after BJP's Prime Ministerial candidate Narendra Modi made a political speech, displaying his party's symbol lotus, after having cast his vote, an FIR was lodged against him for violating model code of conduct.
5.30 pm: Continuing her tirade against Narendra Modi, Priyanka Gandhi today hit out at Narendra Modi over his 'dil maange more' remark. Addressing a rally, Priyanka said: "I read in the morning that an opposition leader said 'yeh dil mange more'. Congress does not want anything from you, just recognize your strength and be empowered." READ FULL STORY
5.15 pm: Congress leader Manish Tewari backs action against Modi. "BJP's PM candidate flaunts party symbol on polling day, it is incumbent for Election Commission to take action."
4.15 pm: The National Commission for Women has issued a notice to yoga guru Baba Ramdev for his 'honeymoon remarks' against Congress Vice President Rahul Gandhi that has triggered a major controversy. Taking a suo-moto congnizance of the media reports, the Commission sent a notice to Ramdev seeking a explanation for his remarks within three days.
3:45 pm: Narendra Modi will not be able to realise his dream of becoming prime minister despite his "marketing gimmicks", says Uttar Pradesh Chief Minister Akhilesh Yadav and claims that the BJP strongman's candidature from Varanasi will not affect Samajwadi Party or its votes.
3:09 pm: Targeting Sonia and Rahul Gandhi, Narendra Modi today said nobody can save the government of the "mother and son" from "certain defeat" even as he accused them of adopting double standards by "shying" away from sharing stage with fodder scam convict Lalu Prasad.
3:05 pm: The …continued »