April 3 elections roundup: AAP releases party manifesto, Imran Masood out on bail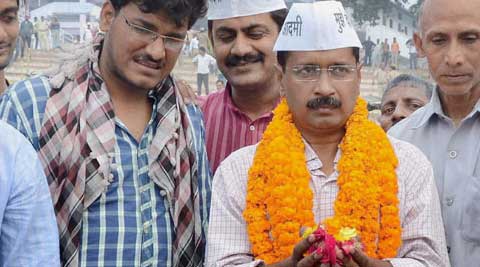 Jan Lokpal Bill should cover everyone from peon to PM: AAP manifesto. (Express photo)
Get all the latest updates on Lok Sabha elections throughout the day:
9.46 pm: Actress Sonakshi Sinha has made it clear that she won't be campaigning for her father Shatrughan Sinha who is contesting the Lok Sabha election.
9.40 pm: Jammu and Kashmir Congress on Thursday said there is no Modi factor visible in the State ahead of the Lok Sabha polls.
9.35 pm: Police on Thursday filed a chargesheet in a local court against a former Jammu and Kashmir Minister in connection with a molestation case filed against him by a lady doctor in February this year.
9.09 pm: The Election Commission on Thursday directed district magistrates and police officers to initiate prompt action against reports of poll code violations, following political parties' complaints of slow response.
9.03 pm: Union minister Salman Khurshid, former cricketer Mohammad Azharuddin, UP Chief Minister's wife Dimple Yadav and PMK president G K Mani were among the notable candidates who entered the fray today as filing of nominations for 6th and 7th phases of Lok Sabha polls gathered steam.
8.51 pm: BJP moves EC on Sonia Gandhi's meeting with Jama Masjid Shahi Imam; says meeting aimed at polarising elections.
READ: Time to get rid of corrupt people from politics: Bhupinder Singh Hooda
8.31 pm: Accusing the Narendra Modi government in Gujarat of misusing the state machinery, Congress on Thursday approached the Election Commission, saying the administration was denying its candidates an equal footing in poll campaigning.
 8.26 pm: BJP Prime Ministerial candidate Narendra Modi will be addressing an election rally in Chandrapur on Friday in the third leg of his campaign in Vidarbha region of Maharashtra.
READ: Suniel Shetty campaigns for BJD minister in Odisha
8.17 pm: Congress President Sonia Gandhi on Thursday hit out at the BJP by saying that it had no right to talk about corruption, as the malaise was deep-rooted in Madhya Pradesh, a state ruled by the saffron party.
 8: 05 pm: Hooda said the time has come to get rid of corrupt people from politics by casting vote in favour of responsible and development-oriented leaders.
7: 55 pm: Arun Jaitley said the country was not in a position to compete in the international market in view of declining industrial growth and enhanced production cost.
7: 53 pm:  Modi said if elected to power, he would take all the necessary steps, including framing a law or signing pacts, and vowed to take action against anyone who has 'looted the country.
ALSO READ: Narendra Modi vows to bring back blackmoney
7: 50 pm:  Suniel Shetty added colour and glitz to electioneering as he participated in a roadshow and campaigned for ruling BJD candidates in Odisha's Koraput district.
7: 45 pm: Atal Bihari Vajpayee's wishes good luck to Rajnath Singh.
7.35 pm: Having sewn up an alliance for the Lok Sabha elections in Bihar with the RJD, the Congress has decided …continued »