Get all the latest news throughout the day:
9.00 pm: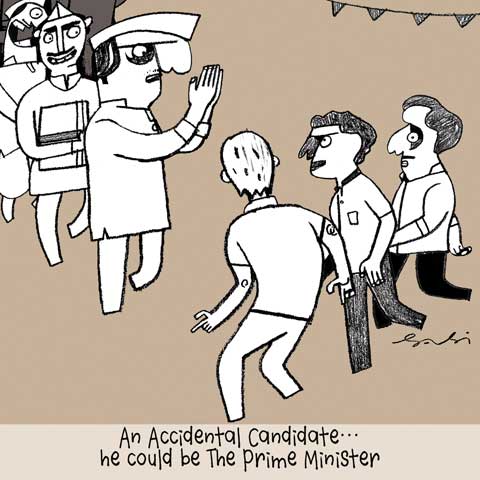 8.43 pm: BJP candidate for Pauri Lok Sabha seat, B C Khanduri, and his Congress rival in the election, Harak Singh Rawat, were served notices by the Election Commission for alleged violation of the model code of conduct.
READ: Congress claims Narendra Modi has links to alleged hawala operator
8.11 pm: BSP supremo Mayawati today hit out at the BJP alleging that the saffron party opposed the Mandal Commission recommendations for the uplift and reservations for Dalits.
8.09 pm: Election Commission seeks CD and transcript of Narendra Modi's attack on Mamata at election meeting in West Bengal.
READ: Baba Ramdev faces action in more states; Shankaracharya joins criticism of yoga guru
7.17 pm: A hectic campaigning for the 26 Lok Sabha constituencies of Gujarat, where polling will be
held in a single phase on April 30, ended today, with BJP aiming for a clean sweep banking on the Modi factor and Congress fighting back to deny it a walk-over.
6.36 pm: Campaigning by political parties came to an end today in Telangana, where 2.82 crore electorate are eligible to exercise their franchise on April 30.
He indulges in divisive politics. He wanted to separate Darjeeling. Now he wants to divide Hindus and Muslims in Bengal: Mamata Banerjee

— AITC (@AITCofficial) April 28, 2014
6.27 pm: Over 500 stone-pelters and trouble-mongers have been arrested across Kashmir to ensure peaceful voting in the remaining two phases of Lok Sabha polls in the valley, police said.
Mr Modi does not know history. He does not know that speaking in Bangla does not make one a Bangladeshi: Mamata Banerjee

— AITC (@AITCofficial) April 28, 2014
6.13 pm: Altogether 90.14 per cent polling was recorded during fresh voting in one polling station in Assam's Gauhati Lok Sabha constituency today, Election Commission sources said.
Mr Modi wants to divide Bengalis and non Bengalis. This is deplorable. This is nonsense: Mamata Banerjee

— AITC (@AITCofficial) April 28, 2014
6.00 pm: BJP leader Nitin Gadkari challenged Sonia Gandhi to lodge a case against the party if she believes that the information given in the CD and booklet on alleged land deals of Robert Vadra is false.
5.45 pm: After slamming Narendra Modi as "Butcher of Gujarat", a furious Trinamool Congress demanded a public apology from him for doubting the integrity of Mamata Banerjee over the sale of her paintings and also complained to the Election Commission against him.
5.20 pm: Kashmiri Pandits held a demonstration to express their resentment over not being able to vote in the Ananatnag Lok Sabha constituency as their names did not allegedly figure in the voters list.
In 1947 when Hindu Muslim violence swept the country as far north as Jammu Kashmir was a beacon of tolerance, an example to the rest.

— Omar Abdullah (@abdullah_omar) April 28, 2014
5.15 pm: Bihar Chief Minister Nitish Kumar accused rival RJD supremo Lalu Prasad of taking the state back to the 'dark days of lantern'.
5.10 pm: Two Independent candidates from Korba parliamentary constituency of Chhattisgarh were booked for not providing details of their poll expenses to the Election Commission, a poll official said here today.
5.00 pm:
If there is one thing Kashmir & Kashmiris don't need from Modi it's a lecture on secularism. Kashmir gave the world Kashmiryat & tolerance.

— Omar Abdullah (@abdullah_omar) April 28, 2014
4.10 pm:
The last time I asked him to debate on Article 370, Modi chickened out: Omar Abdullah.

— The Indian Express (@IndianExpress) April 28, 2014
4.03 pm:
Kashmiri Muslims want Pandits to come back. They left Kashmir when BJP was in power: Omar Abdullah.

— The Indian Express (@IndianExpress) April 28, 2014
4:00 pm:
Modiji you don't have the courage to come to Kashmir. You will come to Jammu, Srinagar…to seek votes but not Kashmir: Omar Abdullah.

— The Indian Express (@IndianExpress) April 28, 2014
3:17 pm: Farooq Abdullah chose to keep secularism outside the Constitution, but it's convenient to talk about communalism anytime he wishes, said BJP.
3:16 pm:  Why instead of coming out clean in Haryana, harrasment of whistleblower happened under Congress? asks BJP.
3:15 pm: "On the issue of Vadra, BJP is asking questions on documents available, says BJP.
3:05 pm: Congress alleges Modi has Hawala links.
3:04 pm: Shouldn't Narendra Modi and BJP disclose the nature of relationship with the Hawala operator Afroz Patta with India? asks Congress.
2:43 pm: Senior BJP leader Sushma Swaraj today lauded the leadership quality of Narendra Modi and said only her party could pull out the country from 'hatashaa aur Nirashaa' due to the "misrule of Congress".
2:40 pm: Amid the bitter war of words between Congress and BJP, Rahul Gandhi today accused Narendra Modi of being discourteous to his opponents, adopting double standards on corruption and favouring select industrialists.

2:35 pm: With Srinagar parliamentary constituency set to go to polls on Wednesday, authorities today beefed up security to instill confidence among the voters and foil any attempt by militants to disrupt exercise.
2:20 pm: Protesting against yoga guru Ramdev for his "honeymoon and picnic" remark, BSP party workers burnt his effigy in Shahpur town of the district. 

2:15 pm: I haven't insulted Dalits, Sonia Gandhi has, says Baba Ramdev.
2:00 pm: Congress General Secretary Digvijay Singh today backed erstwhile UPA ally Mamata Banerjee as Narendra Modi and Trinamool Congress sniped at each other with the later calling the BJP's the Prime Ministerial candidate "butcher of Gujarat".
1:40 pm: Questioning the "silence" of  Sonia Gandhi and Rahul Gandhi over allegations involving Robert Vadra, BJP today wondered if the internal politics of Congress does not allow them to speak about them or "defend" Vadra.
1:20 pm: Farooq's family has harmed secularism, says Modi.
1:18 pm: Secularism is in our blood, says Modi.
12:50 pm: A day after slamming Narendra Modi as "Butcher of Gujarat", the Trinamool Congress today demanded that the Gujarat Chief Minister should apologise publicly or face a defamation case for questioning the sale of Mamata Banerjee's painting.
12:30 pm: BJP leader Giriraj Singh's bail plea rejected by Bokaro court.
12:21 pm: TMC is rattled by Narendra Modi's rally in Kolkata that they are talking about non-nonsensical things, says BJP.
12:10 pm:  It was by a narrow margin of 366 votes that Congress had snatched this seat from BJP in 2009 and now, five years later, candidates from the two parties are once again set for a tight contest here in this SC reserved constituency when polling takes place on April 30.
12:03 pm: An interesting fight appears to be on the cards between BJP strongman B C Khanduri, who enjoys a clean image of an apolitical leader, and Uttarakhand minister Harak Singh Rawat of Congress who is known for his connect with locals in this Lok Sabha seat.
11:56 pm: TMC hits back at Narendra Modi, saying he should apologise for the 'painting' comment.
11:30 pm: Narendra Modi violated decency at Kolkata rally, says TMC.
10:25 am: Single greatest failure of secularism was in Farooq's own state, said Arun Jaitley.
10:20 am: Arun Jaitley lashes out at Farooq Abdullah and said if India witnessed ethnic cleansing it is only in Kashmir.
9:49 am: The Bhavnagar Lok Sabha constituency in South-East Gujarat is witnessing a three cornered contest amongst the Congress, BJP and AAP even as both the main parties are battling hard to reach out to the decisive Koli community votes in a bid to combat increasing AAP factor here.
9:25 am: 
#SushmaSwaraj: Inflation, corruption, atrocities against women have increased during the UPA rule.

— All India Radio News (@airnewsalerts) April 28, 2014
For all the latest India News, download Indian Express App