April 27 campaign roundup: Modi targets Mamata on votebank politics; TMC calls him 'butcher of Gujarat'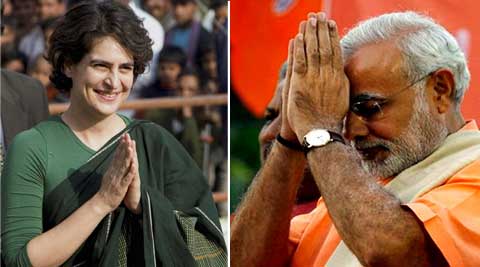 After Priyanka Gandhi's jibe at Narendra Modi over '56-inch' chest remark, BJP released a video targeting Robert Vadra.
Get all the latest news throughout the day:
9.50 pm: In a series of tweets attacking Narendra Modi, Trinamool Congress calls him 'The Butcher of Gujarat' who could not take care of his wife.
The Butcher of Gujarat could not take care of his own wife. How will he take care of this great nation?

— AITC (@AITCofficial) April 27, 2014
9.40 pm: Under fire for his "honeymoon" slur, yoga guru Ramdev said he never insulted Dalit community and the particular word in his remark was latched onto by "some people" only to serve their vested political interests.
9.25 pm: Congress dismissed BJP's allegations of corruption against party president Sonia Gandhi's son-in-law Robert Vadra saying it was an "act of desperation" by the opposition party which was "panicked" by Priyanka Gandhi's campaign in Rae Bareli and Amethi.
9. 13 pm: Irked over alleged derogatory remarks by Yoga guru Ramdev, a Dalit organisation lodged a complaint him and demanded strict action.
8.15 pm: Narendra Modi takes on TMC supremo Mamata Banerjee as he says the Bengal chief minister is more worried about the her chair than the state. "People from Odisha, Bihar are outsiders for you (Mamata) but Bangladeshis come and see the shine on your face…
Mamata ji times have changed…now you are CM, time of Andolan has gone…You cannot use police to make cases against people. This is not the right path: Modi.
Vote bank politics has put the future of our youth in darkness, says Modi. 
7.16 pm: Altogether 73.34 per cent polling was recorded during fresh polling in 15 polling stations today in Assam's Kokrajhar, Gauhati, Nowgong and Mangaldoi Lok Sabha constituencies, Election Commission sources said.
7.05 pm: In a frontal attack, Congress president Sonia Gandhi today said TRS played opportunistic politics over the formation of Telangana state, and had joined hands with communal forces in the past.
ALSO READ: Repolling peaceful in Bihar
6.55  pm: Repoll at 30 booths in Bihar passed off peacefully today with 57.3 per cent voters turning out to exercise their franchise.
As Railway Minister I initiated so many projects. After we left UPA, all the projects have been stopped: Trinamool Chairperson at Howrah

— AITC (@AITCofficial) April 27, 2014
6.49 pm: Congress star campaigner Priyanka Gandhi today said she will not keep silent on the personal attacks made against her and her husband Robert Vadra by Narendra Modi and BJP.
TRS Chairman was part of the UPA too, but he did not fulfill his promises, and ditched the people of #Telangana : Smt. Gandhi

— INC India (@INCIndia) April 27, 2014
6.26 pm: Terming BJP prime ministerial candidate Narendra Modi and Congress vice president Rahul Gandhi as "corrupt monsters", AAP leader Manish Sisodia today said it was necessary that they were defeated in the Lok Sabha elections.
TRS …continued »