April 26 elections roundup: AAP lodges complaint against Narendra Modi, alleges BJP spent over over Rs 1000 crore in Varanasi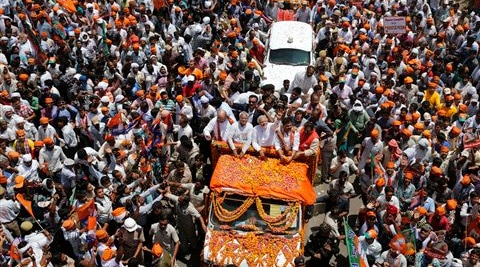 Narendra Modi's roadshow in Varanasi. (AP)
Get all the latest updates on Lok Sabha elections throughout the day:
9.38 pm: Rahul Gandhi on Saturday said Narendra Modi would have been in jail had Lokayukta and RTI Commissioners been in place in Gujarat and accused BJP's PM nominee of distributing huge tracts of land to Adani "for a pittance".
9.20 pm: BJP prime ministerial candidate Narendra Modi is contesting two Lok Sabha seats in Gujarat and Uttar Pradesh because he is 'afraid of losing', Trinamool Congress chief Mamata Banerjee claimed today.
9.10 pm: BSP's Etawah candidate arrested for assaulting bus driver
8.40 pm: Prime Minister Manmohan Singh's nephew Mandeep Singh Kohli today said the entire family was "saddened" by Daljeet Singh Kohli's move to join BJP and accused the saffron party of trying to drive a wedge between two brothers.
We have come here 70 times, and lived here for 140 days: Priyanka Gandhi in Amethi pic.twitter.com/0DpidDAnJp

— ANI (@ANI_news) April 26, 2014
8.14 pm:  BJP today attacked Priyanka Gandhi for her repeated criticism of Narendra Modi alleging she has benefitted a lot whenever the Congress government was in power and that is why she was campaigning for the party.
7.50 pm: Bringing glamour to Gurdaspur Lok Sabha seat, Bollywood actor Akshaye Khanna today campaigned for his father and BJP candidate Vinod Khanna, telling people that the former MP had always treated the constituency like his fifth child.
7.35 pm: An official of Election Commission was assaulted by unidentified persons while on duty at
Shalboni area of West Midnapore district today, EC officials said.
7.20 pm: An FIR has been lodged by police here following a complaint by former Delhi Law Minister and AAP leader Somnath Bharti, in connection with an alleged assault on him by some persons in the city.
7.05 pm: Congress today sought transfer of Amritsar's Senior Superintendent of Police (Rural) for
allegedly working in favour of BJP candidate Arun Jaitley.
6.58 pm: The Aam Aadmi Party has lodged a complaint with the Returning officer of Varanasi against
Narendra Modi, alleging that the BJP has spent over over Rs 1000 crore for its campaigning in the temple town and that people were "bribed".
6.40 pm:
RT @ANI_news: Nalgonda (AP): PM Manmohan Singh addressing a rally pic.twitter.com/b8jiZIl95k

— INC Live (@INCLiveTweets) April 26, 2014
6.08 pm: Terming as "shameful and despicable" Ramdev's controversial remarks against Rahul Gandhi, Congress today demanded an unconditional apology from him as well as BJP's prime ministerial candidate Narendra Modi alleging the yoga guru is part of his coterie.
5.55 pm:
The PM weakens the UPA yet somehow we are to believe that his unknown brother will strengthen the BJP. Mind boggling logic at work here.

— Omar Abdullah (@abdullah_omar) April 26, 2014
5.50 pm: 
@shaziailmi with supporters at charminar pic.twitter.com/Naxr4ML7oe

— Preethi Dumpala (@preethidb) April 26, 2014
5.38:  The district administration of East Singhbhum has issued a showcause notice to BJP candidate, Bidyut Baran Mahato for distributing money among fire victims in Punasia village, officials said.