April 24 elections roundup: Four policemen, two polling officers killed in Maoist attack
for victory and I am confident about Shri Narendra Bhai Modi's landslide victory from both the seats.
— Rajnath Singh (@BJPRajnathSingh) April 24, 2014
12.10 pm: After filing nomination papers, Narnedra Modi will directly go to Purnea from Varanasi and thereafter he will address three rallies at Saharsha, Madhubani and Darbhanga.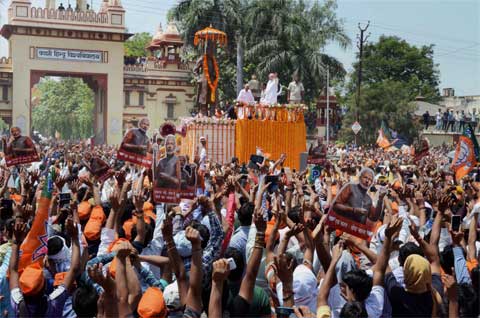 READ FULL STORY: MODI SET TO FILE NOMINATION FROM VARANASI
11.55 am: Aam Aadmi Party founder Arvind Kejriwal has won Time magazine's readers' poll of most influential people in the world, beating heavyweights including BJP's Prime Ministerial candidate Narendra Modi, a survey that turned out to be a "competition" between the two. Kejriwal, 45, took the first place in the readers' poll for the '2014 TIME 100′, the annual list of people who influenced the world this past year for better or worse.
11.40 am: 
Kejriwal is much more richer then Narendra Modi.Kejriwal declared 2.14 cr whereas Modi has 1.5 cr.

— Sushil Kumar Modi (@SushilModi) April 24, 2014
11.30 am: Narendra Modi begins roadshow in Varanasi before filing his nomination papers.
10.35 am: 
Thousands of Biharis have thronged Varansi to take part in this historic moment of filing of nomination by Namo.He will create history.

— Sushil Kumar Modi (@SushilModi) April 24, 2014
10.25 am: Narendra Modi reaches Varanasi, to begin his roadshow shortly before filing his nomination papers. Thousands of people wearing saffron caps, Modi masks and holding BJP flags, have lined up along Nadesar, Andhrapaul, Lahurabeer and Cant area in the heart of the city through which he will carry out his road show before filing the nomination.
10.20 am: AAP leader Arvind Kejriwal sits on dharna to protest against attack on Somnath Bharti.
.@ArvindKejriwal sitting on sadhna at Assi ghat in protest of attack on Somnath Bharti! pic.twitter.com/0bx91RPnV0

— Aam Aadmi Party (@AamAadmiParty) April 24, 2014
10.10 am: 
which is a secular party tell me? Communal means 'of the community, not sectarian! words don't mean anything. Secular is what secular does

— shazia ilmi (@shaziailmi) April 24, 2014
9.40 am: Following the court order, a joint team of Bihar and Jharkhand police raided the house of Bihar BJP leader Giriraj Singh to arrest him for his alleged hate statements but could not find him.
FULL STORY: POLICE RAID GIRIRAJ'S HOUSE TO ARREST HIM
9.00 am: BJP Prime Ministerial candidate Narendra Modi will be filing his nomination papers today, the last date of filing papers. A retired high court judge who is the grandson of noted educationist Madan Mohan Malaviya will be among four prominent personalities to propose Narendra Modi's nomination for Lok Sabha polls here. A renowned singer from Benares, a weaver and a boatman will be among other proposers of Modi's candidature.
8.45 am: 
Show me one party that's secular Vasundaras speech starts and ends w I'm a thakur ki beti, jaat ki Bahu, gujjar ke sambdhan Vote 4 me

— shazia ilmi (@shaziailmi) April …continued »