April 24 elections roundup: Four policemen, two polling officers killed in Maoist attack
(@narendramodi) April 24, 2014
3.06 pm: Facing imminent arrest for his alleged hate speech, BJP leader Giriraj Singh today applied for anticipatory bail in the district court here hours after a joint team of Bihar and Jharkhand police raided his house to arrest him.
3.00 pm:
Sivaganga (TN): P Chidambaram casts his vote pic.twitter.com/pfkmh3IEmd

— ANI (@ANI_news) April 24, 2014
READ: Over 36 pc voter turnout recorded in Uttar Pradesh till 1 pm
2.50 pm:
An elderly woman being taken by her grand son to a voting booth in South Chennai LS Constituency on Thursday pic.twitter.com/aq0kzNE8XB

— Doordarshan News (@DDNewsLive) April 24, 2014
READ: Chhattisgarh witnesses 35 per cent voter turnout till 1 pm
2.43 pm: SP has done a lot of work in Benares, I am sure people will vote for secular leaders: Akhilesh Yadav.
READ: Around 37 per cent voting recording in Bihar by 1 pm
2.34 pm:
Guwahati: PM Manmohan Singh casts his vote pic.twitter.com/iL2bJFtlOW

— ANI (@ANI_news) April 24, 2014
2.32 pm: The Gujarat govt doesn't consider those who earn Rs 11 a day as poor, you tell me whether this is heaven? : Sonia Gandhi in Valsad (Gujarat)
2.27 pm: He just worries about his seat, doesn't worry or care about the poor: Sonia Gandhi in Valsad (Gujarat).
2.25 pm: 
Sonia Gandhi: We gave you RTI, want to know why did it take 10 yrs for Gujarat Govt to bring Lokayukta pic.twitter.com/89cQmOZKa4

— ANI (@ANI_news) April 24, 2014
2.05 pm: Narendra Modi files his nomination papers from Varanasi Lok Sabha seat after a massive roadshow.
1.50 pm: I hope God will give me the strength to serve this holy ground and mother Ganga will bless me: Modi in Varanasi.
1.48 pm: I wish Varanasi emerges as the spiritual capital of the world: Modi outside Varanasi Collectorate.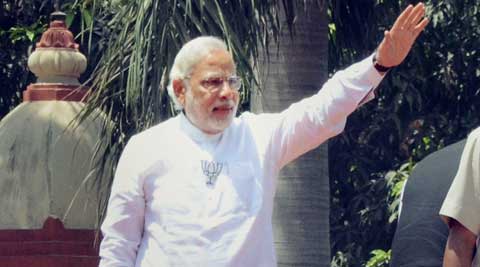 1.46 pm: Technology upgradation, branding and holistic approach needed for the development of the country, says Varanasi.
1.45 pm: After coming to Varanasi, I feel that neither I have been called by someone nor I have been sent here, rather I have been invited by Maa Ganga, says Modi ahead of filing nomination papers.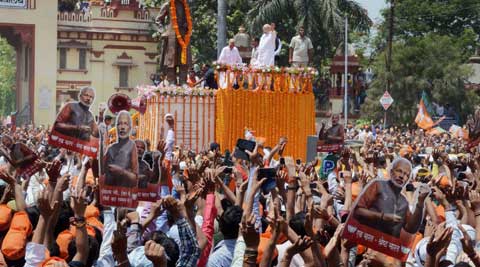 1.36 pm: After displaying show of strength on Varanasi roads, Narendra Modi reaches collector's office to file his nomination; is accompanied by Amit Shah, Mukhtar Abbas Naqvi and Ravishankar Prasad.
1.2o pm: EC issues show cause notices to Union minister Beni Prasad Verma and BJP leader Vinay Katiyar for controversial remarks on Narendra Modi.
12.55 pm:  Prime Minister Manmohan Singh breaks his silence, says Modi-wave creation of the media.
READ FULL STORY: PM DISMISSES MODI-WAVE
12. 35 pm: BJP President Rajnath Singh confident on Narendra Modi's victory from both Vadodara and Varanasi Lok Sabha seats.
Modiji contesting elections from Varanasi and Vadodara and both the cities have a capital V in its name.

— Rajnath Singh (@BJPRajnathSingh) April 24, 2014
V also stands …continued »