April 24 elections roundup: Four policemen, two polling officers killed in Maoist attack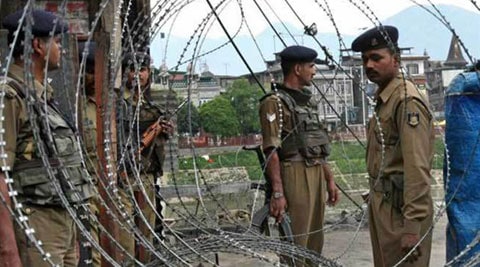 Get all the latest news throughout the day:
9.00 pm: Four policemen, two polling officers die after Maoists blow up police vehicle in Dumka, Jharkand
8.35 pm:  Suspected militants attack polling team, one polling officer dead and five injured in Shopian, J&K. 
8.02 pm: Samajwadi Party supremo Mulayam Singh Yadav today seemed to defend party leader Mohd Azam Khan on his controversial remark over Kargil war by making a reference to contribution of Muslims in "saving Indian borders"
7.45 pm: With her party facing the heat over the Saradha chit fund scam during the Lok Sabha elections, Chief Minister Mamata Banerjee today said she never did politics for money.
6:55 pm: Sonia Gandhi on Thursday slams Narendra Modi on his home turf, said his party does not believe in 'Ganga -Jamuni tehzeeb'.
6:45 pm: EC should take cognizance how about Modi's roadshow in Varanasi on Thursday revolved around religious contexts focusing on one particular religion, said Ajay Maken of Congress
6:23 pm: After Varanasi road show Narendra Modi, addressing a rally in Darbhanga, said that the voters who have exercised their votes on Thursday have clearly showed their intention to change the government at the centre.
5.20 pm:
Mumbai: Shahrukh Khan casts his vote pic.twitter.com/Ra64SBfhXc

— ANI (@ANI_news) April 24, 2014
5.15 pm: Congress star campaigner Priyanka Gandhi will tour the Lok Sabha constituency of her brother Rahul for two days from April 26.
4.30 pm:
Narendra Modi addressing a rally in Saharsa (Bihar) pic.twitter.com/B9d9dczGZH

— ANI (@ANI_news) April 24, 2014
4.22 pm: Ajay Maken to lead Congress delegation to EC and complain against Modi's nomination today.
4.10 pm: Congress says telecast of Narendra Modi's roadshow in constituencies going to polls today violated model code, demands registation of FIR.
3.56 pm: The Economic Offences Unit (EOU) of the Bihar Police today arrested Lok Janshakti Party (LJP) state general secretary Lalan Singh on charges of extortion and criminal intimidation.
3.39 pm: Senior BJP leader Murli Manohar Joshi congratulated party's Prime Ministerial candidate
Narendra Modi on filing his nomination today in Varanasi and claimed his victory was certain in the temple town.
3.35 pm: A police constable was today injured during a clash between Maharashtra Navnirman Sena
(MNS) and Shiv Sena workers after both parties alleged that cash was being distributed to voters in suburban Trombay, police said.
3.33 pm:
Every voter must make an effort to vote, that is why I am here : Sachin Tendulkar pic.twitter.com/lf55X0Dj4b

— ANI (@ANI_news) April 24, 2014
3.23 pm: Foreign currency worth Rs 92 lakh was today seized by Bihar police from an SUV at Anjanipur Chowk in Vaishali district in poll related checking to curb misuse of money and liquor in the Lok Sabha elections.
FULL STORY: Narendra Modi files nomination papers from Varanasi
3.19 pm:
Mumbai: Uddhav Thackeray casts his vote pic.twitter.com/Y5PGegjOuW

— ANI (@ANI_news) April 24, 2014
3.15 pm: Congress complains to EC against Narendra Modi's roadshow in Varanasi: TV reports.
3.10 pm:
Thank you Varanasi. No words will describe the affection you have showered today. Truly touched pic.twitter.com/IPKGGIUJTH

— Narendra Modi …continued »