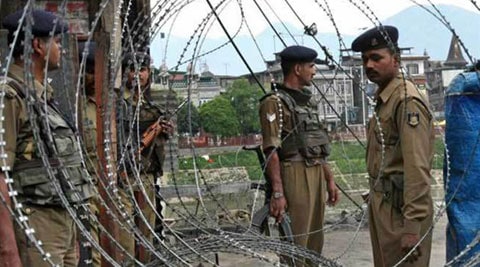 Get all the latest news throughout the day:
9.00 pm: Four policemen, two polling officers die after Maoists blow up police vehicle in Dumka, Jharkand
8.35 pm:  Suspected militants attack polling team, one polling officer dead and five injured in Shopian, J&K. 
8.02 pm: Samajwadi Party supremo Mulayam Singh Yadav today seemed to defend party leader Mohd Azam Khan on his controversial remark over Kargil war by making a reference to contribution of Muslims in "saving Indian borders"
7.45 pm: With her party facing the heat over the Saradha chit fund scam during the Lok Sabha elections, Chief Minister Mamata Banerjee today said she never did politics for money.
6:55 pm: Sonia Gandhi on Thursday slams Narendra Modi on his home turf, said his party does not believe in 'Ganga -Jamuni tehzeeb'.
6:45 pm: EC should take cognizance how about Modi's roadshow in Varanasi on Thursday revolved around religious contexts focusing on one particular religion, said Ajay Maken of Congress
6:23 pm: After Varanasi road show Narendra Modi, addressing a rally in Darbhanga, said that the voters who have exercised their votes on Thursday have clearly showed their intention to change the government at the centre.
5.20 pm:
Mumbai: Shahrukh Khan casts his vote pic.twitter.com/Ra64SBfhXc

— ANI (@ANI_news) April 24, 2014
5.15 pm: Congress star campaigner Priyanka Gandhi will tour the Lok Sabha constituency of her brother Rahul for two days from April 26.
4.30 pm:
Narendra Modi addressing a rally in Saharsa (Bihar) pic.twitter.com/B9d9dczGZH

— ANI (@ANI_news) April 24, 2014
4.22 pm: Ajay Maken to lead Congress delegation to EC and complain against Modi's nomination today.
4.10 pm: Congress says telecast of Narendra Modi's roadshow in constituencies going to polls today violated model code, demands registation of FIR.
3.56 pm: The Economic Offences Unit (EOU) of the Bihar Police today arrested Lok Janshakti Party (LJP) state general secretary Lalan Singh on charges of extortion and criminal intimidation.
3.39 pm: Senior BJP leader Murli Manohar Joshi congratulated party's Prime Ministerial candidate
Narendra Modi on filing his nomination today in Varanasi and claimed his victory was certain in the temple town.
3.35 pm: A police constable was today injured during a clash between Maharashtra Navnirman Sena
(MNS) and Shiv Sena workers after both parties alleged that cash was being distributed to voters in suburban Trombay, police said.
3.33 pm:
Every voter must make an effort to vote, that is why I am here : Sachin Tendulkar pic.twitter.com/lf55X0Dj4b

— ANI (@ANI_news) April 24, 2014
3.23 pm: Foreign currency worth Rs 92 lakh was today seized by Bihar police from an SUV at Anjanipur Chowk in Vaishali district in poll related checking to curb misuse of money and liquor in the Lok Sabha elections.
FULL STORY: Narendra Modi files nomination papers from Varanasi
3.19 pm:
Mumbai: Uddhav Thackeray casts his vote pic.twitter.com/Y5PGegjOuW

— ANI (@ANI_news) April 24, 2014
3.15 pm: Congress complains to EC against Narendra Modi's roadshow in Varanasi: TV reports.
3.10 pm:
Thank you Varanasi. No words will describe the affection you have showered today. Truly touched pic.twitter.com/IPKGGIUJTH

— Narendra Modi (@narendramodi) April 24, 2014
3.06 pm: Facing imminent arrest for his alleged hate speech, BJP leader Giriraj Singh today applied for anticipatory bail in the district court here hours after a joint team of Bihar and Jharkhand police raided his house to arrest him.
3.00 pm:
Sivaganga (TN): P Chidambaram casts his vote pic.twitter.com/pfkmh3IEmd

— ANI (@ANI_news) April 24, 2014
READ: Over 36 pc voter turnout recorded in Uttar Pradesh till 1 pm
2.50 pm:
An elderly woman being taken by her grand son to a voting booth in South Chennai LS Constituency on Thursday pic.twitter.com/aq0kzNE8XB

— Doordarshan News (@DDNewsLive) April 24, 2014
READ: Chhattisgarh witnesses 35 per cent voter turnout till 1 pm
2.43 pm: SP has done a lot of work in Benares, I am sure people will vote for secular leaders: Akhilesh Yadav.
READ: Around 37 per cent voting recording in Bihar by 1 pm
2.34 pm:
Guwahati: PM Manmohan Singh casts his vote pic.twitter.com/iL2bJFtlOW

— ANI (@ANI_news) April 24, 2014
2.32 pm: The Gujarat govt doesn't consider those who earn Rs 11 a day as poor, you tell me whether this is heaven? : Sonia Gandhi in Valsad (Gujarat)
2.27 pm: He just worries about his seat, doesn't worry or care about the poor: Sonia Gandhi in Valsad (Gujarat).
2.25 pm: 
Sonia Gandhi: We gave you RTI, want to know why did it take 10 yrs for Gujarat Govt to bring Lokayukta pic.twitter.com/89cQmOZKa4

— ANI (@ANI_news) April 24, 2014
2.05 pm: Narendra Modi files his nomination papers from Varanasi Lok Sabha seat after a massive roadshow.
1.50 pm: I hope God will give me the strength to serve this holy ground and mother Ganga will bless me: Modi in Varanasi.
1.48 pm: I wish Varanasi emerges as the spiritual capital of the world: Modi outside Varanasi Collectorate.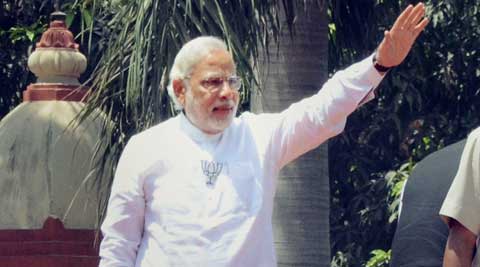 1.46 pm: Technology upgradation, branding and holistic approach needed for the development of the country, says Varanasi.
1.45 pm: After coming to Varanasi, I feel that neither I have been called by someone nor I have been sent here, rather I have been invited by Maa Ganga, says Modi ahead of filing nomination papers.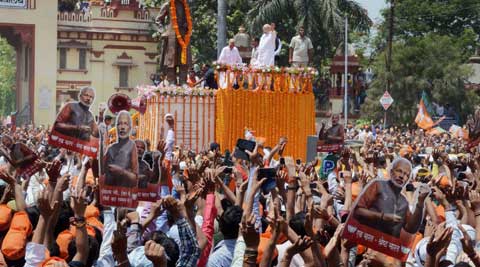 1.36 pm: After displaying show of strength on Varanasi roads, Narendra Modi reaches collector's office to file his nomination; is accompanied by Amit Shah, Mukhtar Abbas Naqvi and Ravishankar Prasad.
1.2o pm: EC issues show cause notices to Union minister Beni Prasad Verma and BJP leader Vinay Katiyar for controversial remarks on Narendra Modi.
12.55 pm:  Prime Minister Manmohan Singh breaks his silence, says Modi-wave creation of the media.
READ FULL STORY: PM DISMISSES MODI-WAVE
12. 35 pm: BJP President Rajnath Singh confident on Narendra Modi's victory from both Vadodara and Varanasi Lok Sabha seats.
Modiji contesting elections from Varanasi and Vadodara and both the cities have a capital V in its name.

— Rajnath Singh (@BJPRajnathSingh) April 24, 2014
V also stands for victory and I am confident about Shri Narendra Bhai Modi's landslide victory from both the seats.

— Rajnath Singh (@BJPRajnathSingh) April 24, 2014
12.10 pm: After filing nomination papers, Narnedra Modi will directly go to Purnea from Varanasi and thereafter he will address three rallies at Saharsha, Madhubani and Darbhanga.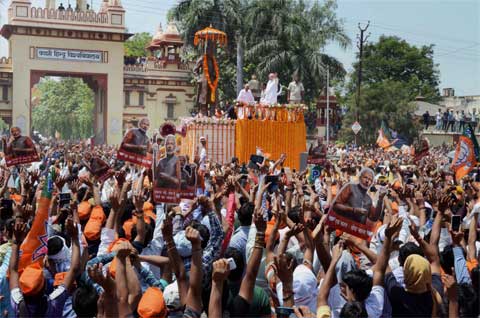 READ FULL STORY: MODI SET TO FILE NOMINATION FROM VARANASI
11.55 am: Aam Aadmi Party founder Arvind Kejriwal has won Time magazine's readers' poll of most influential people in the world, beating heavyweights including BJP's Prime Ministerial candidate Narendra Modi, a survey that turned out to be a "competition" between the two. Kejriwal, 45, took the first place in the readers' poll for the '2014 TIME 100', the annual list of people who influenced the world this past year for better or worse.
11.40 am: 
Kejriwal is much more richer then Narendra Modi.Kejriwal declared 2.14 cr whereas Modi has 1.5 cr.

— Sushil Kumar Modi (@SushilModi) April 24, 2014
11.30 am: Narendra Modi begins roadshow in Varanasi before filing his nomination papers.
10.35 am: 
Thousands of Biharis have thronged Varansi to take part in this historic moment of filing of nomination by Namo.He will create history.

— Sushil Kumar Modi (@SushilModi) April 24, 2014
10.25 am: Narendra Modi reaches Varanasi, to begin his roadshow shortly before filing his nomination papers. Thousands of people wearing saffron caps, Modi masks and holding BJP flags, have lined up along Nadesar, Andhrapaul, Lahurabeer and Cant area in the heart of the city through which he will carry out his road show before filing the nomination.
10.20 am: AAP leader Arvind Kejriwal sits on dharna to protest against attack on Somnath Bharti.
.@ArvindKejriwal sitting on sadhna at Assi ghat in protest of attack on Somnath Bharti! pic.twitter.com/0bx91RPnV0

— Aam Aadmi Party (@AamAadmiParty) April 24, 2014
10.10 am: 
which is a secular party tell me? Communal means 'of the community, not sectarian! words don't mean anything. Secular is what secular does

— shazia ilmi (@shaziailmi) April 24, 2014
9.40 am: Following the court order, a joint team of Bihar and Jharkhand police raided the house of Bihar BJP leader Giriraj Singh to arrest him for his alleged hate statements but could not find him.
FULL STORY: POLICE RAID GIRIRAJ'S HOUSE TO ARREST HIM
9.00 am: BJP Prime Ministerial candidate Narendra Modi will be filing his nomination papers today, the last date of filing papers. A retired high court judge who is the grandson of noted educationist Madan Mohan Malaviya will be among four prominent personalities to propose Narendra Modi's nomination for Lok Sabha polls here. A renowned singer from Benares, a weaver and a boatman will be among other proposers of Modi's candidature.
8.45 am: 
Show me one party that's secular Vasundaras speech starts and ends w I'm a thakur ki beti, jaat ki Bahu, gujjar ke sambdhan Vote 4 me

— shazia ilmi (@shaziailmi) April 24, 2014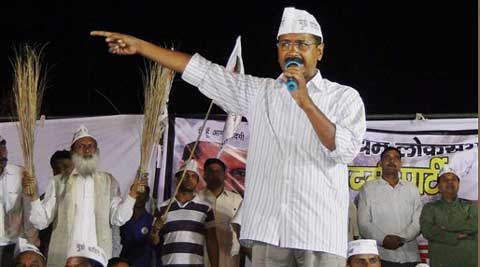 8.20 am: Aam Aadmi Party leader Arvind Kejriwal alleges that the life-threatening attack on Somnath Bharti was done by BJP supporters. "The incidient shows how frustrated BJP is by the support we are getting in Varanasi……Is this the Gujarat model of development which Modi ji wants to implement?" said Kejriwal.
ALSO READ: SOMNATH BHARTI ASSAULTED DURING TV SHOW IN VARANASI 
8.15 am: 
Today There is Martial Law in Varanasi. Money,Muscle power and security guards all around. Why Modi can't mix with people

— ashutosh (@ashutosh83B) April 24, 2014
8.00 am: Samajwadi Party leader Shivpal Yadav expressed his confidence over winning all the seats in Uttar Pradesh. "No other party will open its account," he added.
FROM THE PRINT
Thinking Ahead
With all opinion polls predicting his victory in the elections, BJP's prime ministerial candidate Narendra Modi, it seems, is convinced of his elevation to the top job as a fait accompli. In an interview to ABP News on Tuesday, when he was asked if he would go to the US if elected PM, he responded that it was a "loaded question" and added, "The country's people have selected me for doing the country's work." No wonder, the BJP circles are already abuzz with speculation about the likely candidates for different portfolios.
For all the latest India News, download Indian Express App