April 21 campaign roundup: Congress complains to EC against Togadia, says no action taken against Giriraj either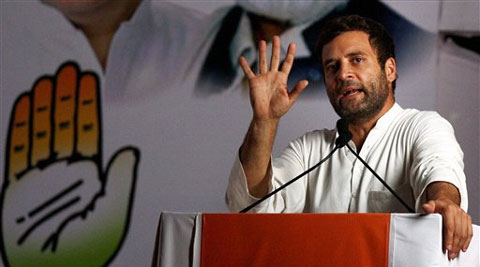 Congress Vice President Rahul Gandhi addresses an election rally in Mumbai on Sunday. (PTI)
Get all the latest updates on Lok Sabha election throughout the day:
9.00 pm:  FIR filed against VHP president Pravin Togadia for hate speech against Muslims in Bhavnagar, Gujarat. Bhavnagar police begin probe into the remarks made Togadia.
7.44 pm: Dubbed as non-secular by the opposition, BJP prime ministerial candidate Narendra Modi today tried to reach out to Muslims, saying change had to be brought in the lives of poor members of the community.
Extremism in any form is bad 4 India. Every vote 4 BJP & it's allies pushes us to this very DANGER.#votefordmk to keep such elements at bay.

— M.K.Stalin (@mkstalin) April 21, 2014
6.42 pm: Congress today approached the Election Commission requesting it not to post government officials having allegiance to RSS, VHP, Bajrang Dal, Sri Ram Sena and other similar organisations on election duty, raising doubts about their ability to conduct impartial polls.
6.16 pm: There is no possibility of any post-poll alliance between BJP and Trinamool Congress, BJP leader Siddharth Nath Singh today said.
People gathered at Nizamabad, Andhra Pradesh. #RahulGandhi will address a public rally here in a short while pic.twitter.com/BaM2hA72gc

— INC Live (@INCLiveTweets) April 21, 2014
5.30 pm: The Election Commission has sought the recording of speech made by VHP leader Pravin Togadia in Bhavnagar in which he allegedly said that people from minority community should be stopped from buying properties in Hindu-dominated localities.
READ: Pravin Togadia under fire over hate-speech, RSS says comments fabricated
4.35 pm: Samajwadi Party supremo Mulayam Singh Yadav today attacked BJP leader Narendra Modi, alleging that over 7,000 farmers had committed suicide in Gujarat during his tenure.
Togadia and Giriraj Singh are the true face of RSS proves that RSS is anti Muslim organisation and fascist.

— ashutosh (@ashutosh83B) April 21, 2014
3.58 pm: Over 800 kg of explosives and 127 improvised bombs have been recovered by security forces from across Naxal violence-hit areas since the Election Commission sounded the poll bugle in the country on March 5.
2.43 pm: A day after shehnai maestro Bismillah Khan's family refused to propose Narendra Modi's candidature from Varanasi, Hindustani classical singer Pandit Channulal Mishra has said that he will be going his proposer for nomination. Talking to the reporters, Mishra said: "Mayor of Varanasi told me Modiji wants me to be his proposer for nomination, I will be going…I am an artist, if Soniaji, Mulayamji would have asked, I would have gone too."
READ FULL STORY: BISMILLAH KHAN'S FAMILY REFUSES TO BE MODI'S PROPOSER
1.15 pm: Notwithstanding BJP's assertion that there will be no witch-hunt if it comes to power, Uma Bharti has said that Sonia Gandhi's son-in-law Robert Vadra will be in jail if NDA comes to power. Bharti also alleged that Vadra had made money by breaking all the norms.
12.20 pm: Narendra Modi addressing rally in Etah.
12.15 …continued »