April 19 campaign roundup: EC discriminates against Samajwadi Party, says Mulayam Singh Yadav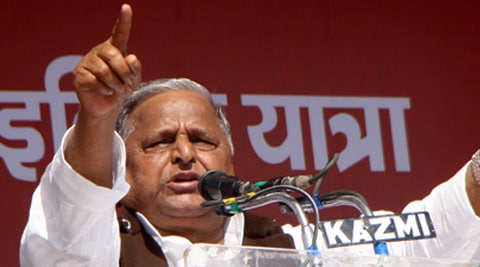 SP supremo Mulayam Singh Yadav at an election rally.  (Express Archive)
Get all the latest election news throughout the day:
9:40pm: Congress candidate Pallam Raju files nomination from Kakinada LS seat; said the Congress was the only party to launch development initiative for the welfare of minorities and the weaker sections of society.
9:20 pm: Senior BJP leader Mukhtar Abbas Naqvi today said terrorism, unemployment and price rise would end if BJP formed the next government in the country.
9:08 pm: Congress plans to go in for the search of new allies to form a UPA-III government and has no intention to support a Third Front government. READ FULL STORY
9:00 pm: BJP leader Bijoy Mohapatra asks EC to probe misuse of govt machinery by BJD during elections in Odisha.
8.35 pm:  BJP today accused the ruling NC of creating an "atmosphere of fear and uncertainty" to discourage people from participating in the ongoing Lok Sabha elections in Kashmir valley.
8.29 pm: Congress today "expelled" 19 leaders including former Union minister Rao Inderjit Singh and two others who contested the April 10 Lok Sabha elections as BJP-HJC alliance nominees.
READ: 'No vacancy' for leadership role for Priyanka Vadra in Cong, says Shashi Tharoor
8.15 pm: Actor-turned-AAP candidate from Chandigarh Gul Panag today campaigned in favour of her party's Amritsar nominee Daljit Singh, and exhorted the people to cast their votes in favour of AAP to "get rid" of SAD, BJP and Congress.
Spent the day campaigning in Assam & Bihar. People's determination to punish UPA is becoming stronger day by day! pic.twitter.com/jfwEdAjxdd

— Narendra Modi (@narendramodi) April 19, 2014
8.12 pm: UPA chairperson and Congress president Sonia Gandhi will be addressing three rallies in the state tomorrow, where the third and the last phase of polling will be held on April 24.
8.10 pm: Ahead of the Lok Sabha and assembly elections in Andhra Pradesh, state DGP B Prasada Rao
today held a meeting to review the law and order situation for smooth conduct of polls.
7.54 pm: Election officials today recommended repoll at 25 polling stations in Patliputra and Munger Lok Sabha constituency which had gone to polls on April 17.
7.53 pm: Union minister and Congress nominee from Jhansi Pradeep Jain Aditya today alleged that by concealing the name of his wife BJP prime ministerial candidate Narendra Modi has committed "a criminal act".
7.39 pm: As part of the Election Commission's efforts to ensure smooth, free and fair elections
in the state, the Deputy Election Commissioner Alok Shukla would review the poll arrangements in Punjab tomorrow.
Stand with the hand. Support #Congress Scene at Rahul Gandhi's public rally in Maldah, West Bengal today. pic.twitter.com/d2ack3EzGl

— INC India (@INCIndia) April 19, 2014
7.35 pm: The Election Commission of India today refused to be drawn into a controversy over allegations levelled by the Samajwadi Party that the poll watchdog was "biased" towards the BJP.
7.10 …continued »