Nandan Nilekani (Cong), Maneka Gandhi, former Prime Minister H D Deve Gowda (JD-S), Union Minister Veerappa Moily (Cong) and Srikant Jena, Supriya Sule and Lalu Prasad's eldest daughter Misa Bharti figure among the 1,769 candidates in the fifth of the nine-phased elections.
So far polling has been held in 111 constituencies in four phases. In the last round, 91 seats went to polls on April 10. Here are the latest updates:
9.00 pm: Seeking to scotch speculation about any change of plan after the elections, BJP president Rajnath Singh has said "only Narendra Modi will be the PM" and expressed confidence that the NDA will reach the 300-seat mark.
7.50 pm: Congress' Ajay Rai who will take on Narendra Modi in Varanasi, Union minister Beni Prasad Verma, two former Uttarakhand chief ministers B C Khanduri and Ramesh Pokhariyal were among the prominent candidates who filed nominations today for the last two phases of Lok Sabha polls.
7.35 pm: Voter turnout was 78.89 per cent in 4 seats of West Bengal, 63.25 per cent in 20 seats of Rajasthan. Voter turnout in 3 seats of Chhattisgarh was 63.44 per cent and in 10 seats of MP 54.41 per cent.  Turnout in 19 seats of Maharashtra was 61.7 per cent, in Odisha's 11 seats it was 70 per cent, in one seat of Manipur it was 74 per cent.
62.52 per cent polling recorded in 11 seats of UP.
Jharkhand records 62 per cent polling in 6 constituencies, Bihar 56 per cent in 7 seats, Karnataka 66 per cent in all the 28 seats.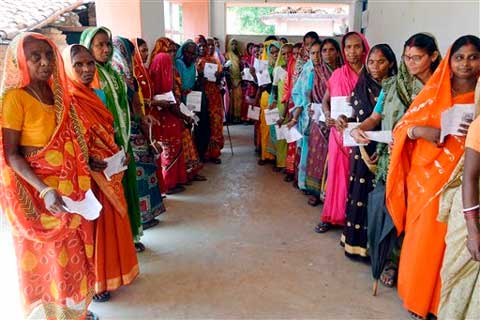 7.11 pm: Ousted BJP leader Jaswant Singh has accused Vasundhara Raje government of misusing government machinery during the Lok Sabha elections and has registered a complaint with Election Commission in this matter.
READ FULL STORY: JASWANT WRITES TO EC AGAINST RAJE
6.30 pm:
Will address Bharat Vijay Rallies via 3D technology. This is the 3rd round of these 3D rallies. Looking forward.

— Narendra Modi (@narendramodi) April 17, 2014
5.43 pm: Over 80 per cent votes were cast in Inner Manipur Parliamentary constituency today, election office sources said. Polling began in 1256 polling stations in the constituency at 7 am and ended at 4 pm.
5.40 pm: BJP candidate Smriti Irani charged Congress Vice President Rahul Gandhi with making a joke of his "family ties with Amethi" which despite being regarded as a VVIP area lacked development.
5.25 pm: Former Uttarakhand Chief Minister Ramesh Pokhriyal Nishank files his nomination papers from Haridwar seat.
5.08 pm: Nearly 72 per cent votes were polled peacefully till 4 pm in the first of the five-phase Lok Sabha elections in West Bengal, which will determine the electoral fate of 47 candidates.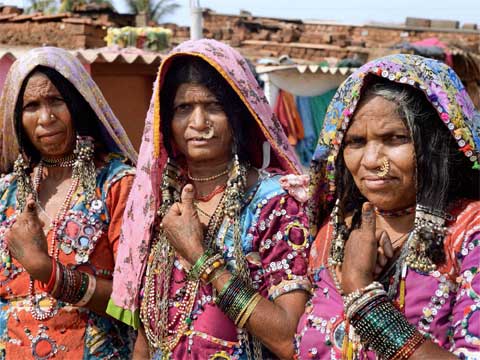 5.05 pm: Uttar Pradesh Chief Minister Akhilesh Yadav has alleged that "affection" for Muslims of BJP prime ministerial candidate Narendra Modi was merely a show off and the people should not believe the BJP leader.
FULL STORY: MODI'S AFFECTION FOR MUSLIMS MERE SHOW OFF, SAYS AKHILESH
5.00 pm: An estimated 58 per cent voters exercised their franchise till 4.30 PM for the simultaneous second and last phase of the elections to 11 Lok Sabha and 77 assembly constituencies in Odisha today.
4.56 pm: A voter standing in a queue to cast his vote today died in the Balasore Sadar assembly constituency, police sources said .
4.53 pm: More than 68,000 officials will be on duty in the six parliamentary constituencies of Mumbai in 9,879 polling centres on April 24, when voting for third and final phase of Lok Sabha elections will be held in Maharashtra.
Freedom Fighter and 1st term Parliamentarian Kandala Subrahmanya Tilak Garu supporting @Loksatta_Party @JP_LOKSATTA pic.twitter.com/T6v60HRes3

— Harshavardhan (@1andonlyharsha) April 17, 2014
4.43 pm: Taking a potshot at Narendra Modi over his meetings with film stars in Tamil Nadu, Congress leader and Union Minister Shashi Tharoor today said it only showed there was no Modi wave and the BJP Prime Ministerial candidate was seeking to cash in on the popularity of actors.
4.25 pm:  The nomination process began in Varanasi for the most keenly watched Lok Sabha elections, with Congress candidate Ajay Rai filing his papers after offering liquor to Lord Kaal Bhairav as per local tradition.
4.16 pm:  An Aam Admi Party candidate was allegedly detained by police today along with his supporters for protesting against the deletion of the names of voters from the electoral roll.
4.15 pm: Terming Narendra Modi as "common candidate" for all corporates and communal forces, CPI-M General Secretary Prakash Karat today said all non-Congress parties should have fielded a consensus candidate against the BJP prime ministerial nominee.
One more pic of the filing of nomination with the RO and District Collector Neetu Prasad pic.twitter.com/NlHXXvAapD

— Pallam Raju (@Pallamrajumm) April 17, 2014
4.09 pm: Chief N Chandrababu Naidu, YSR Congress president Y S Jaganmohan Reddy and his mother Y S Vijayamma were among the high-profile candidates who filed their nominations today for the Legislative Assembly and Lok Sabha elections in Andhra Pradesh.
4.06 pm: In the backdrop of BJP President Rajnath Singh meeting Muslim clerics in Lucknow recently in an attempt to garner their support ahead of the LS polls, Congress General Secretary Digvijay Singh today dubbed the saffron party's 'initiative' to reach out to that community as a big win for the democracy.
4.01 pm: Around 55 per cent of the electorate voted till 3 pm in the second phase of polling for six Lok Sabha seats in Jharkhand.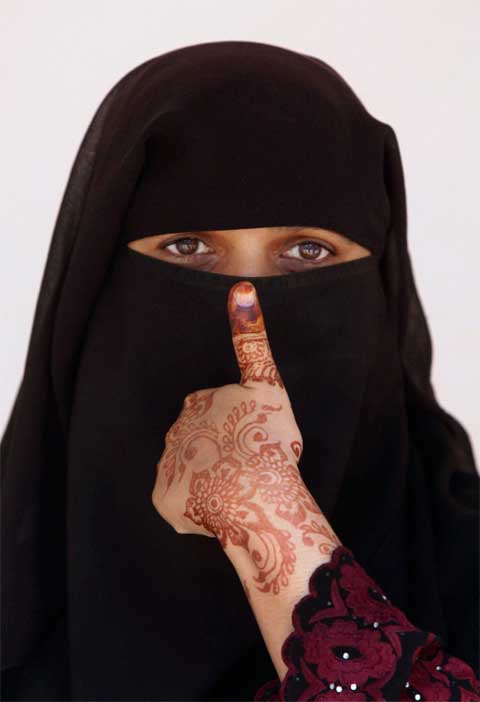 4.00 pm: Congress president Sonia Gandhi will be arriving in Amethi on April 19 to address an election rally for her son Rahul Gandhi.
3.55 pm: Manipur recorded the highest turnout of 62 per cent while Jharkhand recorded the lowest percentage of 28.07 voters exercising their franchise till 2 PM in five states in eastern India that went to polls today.
3.45 pm: An election official changed the direction of EVM allegedly at the request of candidate and Union Minister K H Muniyappa to make it "Vastu" compliant, following which he was shifted from a polling centre in Kolar Lok Sabha constituency.
3.30 pm: An average 31.43 per cent polling was recorded till 1 PM in the 19 Lok Sabha constituencies in Maharashtra where second phase of polling is being held. The highest voter turnout so far was recorded in Kolhapur at 40.65 per cent, followed by Hathkanangale in Western Maharashtra at 39.80 per cent.
3.15 pm: Narendra Modi alleges wrist watches with photos of the Finance Minister were being distributed to voters and demanded a probe by the Election Commission.
3.05 pm: Congress vice president Rahul Gandhi addressing a rally in Khandwa, Madhya Pradesh.
3.00 pm: BJP PM nominee Narendra Modi addresses rally in Kanyakumari, Tamil Nadu.
2.25 pm: Brisk polling is going on in 11 seats in the second phase of polls in Uttar Pradesh with over 38.06 per cent polling till 1 pm to decide the fate of 150 candidates.
2.45 pm: Former Madhya Pradesh Chief Minister Digvijaya Singh cast his vote in Guna, MP.
2.20 pm: Nearly 60 per cent votes have been polled till 1 PM in West Bengal, where polling is going on in four Parliamentary constituencies in the first phase of the five-phase election to decide the fate of 47 candidates.
1.50 pm: BJP on Thursday came out in defence of Amit Shah, saying Narendra Modi's close aide, who was censured by the EC for controversial poll speeches, did not violate the Model Code of Conduct. READ FULL STORY-  Amit Shah did not violate the model code: BJP
1.40 pm:  Counter attack on Rahul Gandhi for asking Narendra Modi to 'stop fooling' the people, BJP leader Arun Jaitley on Thursday said voters are not 'ullus' (fools) if they exercise their vote against the Congress. READ FULL STORY- Voters are not fools: Jaitley on Rahul's 'ullu' barb
1.21 pm: From Nilekani vs Ananth to Misa vs Ram Kripal: The big battles to watch out for in the fifth phase of the elections today. READ – TOP 5 BATTLES
1.19 pm:
ये लोक सभा चुनाव हैं। राहुल जी गुब्बारे, टॉफ़ी आदि की बातों में समय व्यर्थ न करें और यह बताएं कि 10 साल में यूपीए की सरकार ने क्या किया?

— Vijay Goel (@VijayGoelBJP) April 17, 2014
12:36 pm: A total 11.46 per cent voters exercised their right to franchise till 10.30 am on Thursday in Madhya Pradesh, where polling is on for 10 Lok Sabha seats in the second phase, amid reports of poll boycott in a few seats.
12:18 pm: About 14 per cent voting was recorded on Thursday in first three hours of polling in seven Parliamentary seats of Bihar. READ FULL STORY
12:11 pm: Uttar Pradesh records over 27 per cent polling till 11 AM
12:09 pm: About 30 per cent of electorate cast their votes in the first four hours of polling in three Naxal-hit constituencies of Chhattisgarh during the second phase of Lok Sabha election in the state. READ FULL STORY
 12:05 pm: Nearly 29 per cent of the 60,33,310 voters in four parliamentary constituencies of West Bengal cast their votes till 10 am in the first phase of Lok Sabha polls in the state. READ FULL STORY
Polls are about ideology not party.How can we trust a leader to provide security to 126 cr Indians if he could not do so for 6 cr Gujuratis?

— Raj Babbar (@RajBabbarMP) April 17, 2014
11:59 am: We will not let anyone sleep empty stomach, said Rahul Gandhi addressing a rally in Chhattisgarh.
 11:45 am: An election agent of opposition Congress party was on Thursday arrested on charge of damaging EVM in booth- 193 of Mulasahi village under Aul assembly segment in Kendrapara district. There were also complaints of technical snags in EVMs. READ FULL STORY
You can sit home and work for USA companies and you can earn millions. Opportunities are many yet youth are jobless: Narendra Modi

— narendramodi_in (@narendramodi_in) April 17, 2014
11:28 am: Around 15 per cent voters exercised their franchise during first three hours for the simultaneous second and last phase election to 11 Lok Sabha and 77 Assembly constituencies in Odisha on Thursday. READ FULL STORY
 11:14 am: Narendra Modi slammed Jayanti Natarajan during a rally in Tamil Nadu. Modi said 'This lady of Congress caused huge loss to TN & India' and further stated that 'In the name of environment all projects were stalled & Jayanti Tax was being imposed.'
In the name of environment all projects were stalled & Jayanti Tax was being imposed. Green was not about trees but about currency: Modi ji

— narendramodi_in (@narendramodi_in) April 17, 2014
1 lady of Tamil Nadu was responsible for delaying lot of infrastructure projects.This lady of Congress caused huge loss to TN & India:Modiji

— narendramodi_in (@narendramodi_in) April 17, 2014
People are fed up of the Governments that are ruling then for the last so many years: Narendra Modi in TN

— narendramodi_in (@narendramodi_in) April 17, 2014
10:25 am: 10 per cent voters count was registered in Karnataka in the first two hours for 28 Lok Sabha seats. Former Prime Minister and JDS chief H D Deve Gowda (Hassan), former Chief Minister B S Yeddyurappa (Shimoga) and Union Minister M Veerappa Moily (Chikkaballapur) were among the early voters
Unique elections in the history of Indian democracy. Centre stage is overwhelmingly occupied by prime ministerial candidate in opposition.

— ShivrajSingh Chouhan (@ChouhanShivraj) April 17, 2014
People have had enough of unethical compromises and compulsions. Now they want to see politics of commitment. Therefore vote for change.

— ShivrajSingh Chouhan (@ChouhanShivraj) April 17, 2014
10:15 am: 'Ye wave television aur akhbar mein hai, zamin par nahi hai' (The wave is in television and newspapers only and not on grounds), said Sachin Pilot on 'Modi Wave'
10: 12 am: An average of 8.81 per cent voter turnout till 9 AM. READ FULL STORY
10:10 am: Ten per cent of the 8.53 lakh voters cast their votes to elect their representative from Inner Manipur Parliamentary seat till 9 am
on Thursday.
FROM THE PRINT:  Ex-dacoit Malkhan Singh is now BJP campaigner in Chambal. READ: 'We gave instant justice, today's youth can't stand up for their mothers'
Good mor Chandigarh! Vote for a stable India. Vote for a better India. Vote for #congressmuktbharat. Your one vote can make a Majority.

— Kirron Kher (@KirronKherBJP) April 17, 2014
9:52 am: Nandan Nilekani, Congress candidate from Bangalore and his rival and BJP candidate Ananth Kumar cast their vote. "I am very confident that people will vote me to the Parliament", says Nandan Nilekani.
9:40 am: Maoists blew up railway track in Bokaro under Giridih Lok Sabha constituency where polling is on.  A report from Giridih in Jharkhand said the Maoists exploded ten bombs at separate places in Giridih Lok Sabha constituency where polling is on. Polling was unaffected, the officials said. READ FULL STORY
9:30 am: Voting was stopped at a polling booth in Pune. According to reports, the EVMs were malfunctioning.
FROM THE PRINT: The Indian Express travels to constituencies that have seen the sharpest improvement on various social indicators during the UPA years and finds out if that change is an election issue. READ: Healthier babies make not a whimper on campaign pitch
9: 22 am: Anna Hazare casts his vote in Maharashtra
9:17 am: TDP wants changes in BJP candidate for Seemandhra. According to reports,  apart from a few BJP candidates, the TDP chief Chandrababu Naidu is opposed to the influence of Rashtriya Swayamsevak Sangh (RSS) and other forces in the alliance's politics.
FROM THE PRINT: Karnataka, a state that has traditionally bucked the national trend in Lok Sabha elections, goes to the polls Thursday in a single day voting for all 28 seats with 435 candidates in the fray. READ: Caste, local issues are what count
8.52 am:
Polling for 121 Lok Sabha seats, 77 seats for Odisha Assembly & 2 by-elections in WB underway. Urging voters to vote in record numbers.

— Narendra Modi (@narendramodi) April 17, 2014
8.40 am: Lalu Prasad Yadav's daughter Misa Bharti casts her vote in Bihar.
8.34 am:
BJP spams a message about not becoming complacent & that Modi needs every vote. Is a one-man-show the way forward for India? Think & vote.

— Salman Anees Soz (@SalmanSoz) April 17, 2014
8.26 am: Former BJP leader Jaswant Singh has attacked Rajasthan Chief Minister Vasundhara Raje, and reiterated that there is no Modi wave in the country.
From the Print: M K Alagiri, who was recently expelled from the DMK, has hit out at his father and party patriarch M Karunanidhi, saying he has become Stalin's slave. READ FULL INTERVIEW
8.20 am: After casting his vote, BJP leader Ram Kripal Yadav said that he is hopeful that people from the Patliputra constituency are supporting him.

For all the latest India News, download Indian Express App