April 14, Election round-up: BJP workers embarrass Murli Joshi by shouting pro-Modi slogans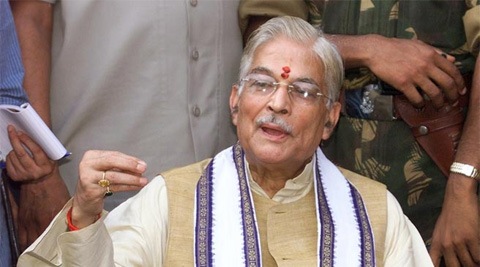 BJP leader Murli Manohar Joshi. (Reuters)
9.59 pm: Arvind Kejriwal takes train to Varanasi, aims to derail Modi march
9.47 pm: Congress demands action against Subramanian  Swamy for comments on Priyanka Gandhi
9.41 pm : Include BJP's publicity expenses in Modi's account: Congress to Election Commission
9.16 pm:
Going to file Nomination tomorrow. Time to see where I stand on gaining #AmethiKaVishwas

— Dr. Kumar Vishvas (@DrKumarVishwas) April 14, 2014
9.03 pm: Aam Aadmi Party (AAP) announced Prashant Bhushan, Ashish Khetan, Rajmohan Gandhi,
Sanjay Singh, Yogendra Yadav and Pankaj Gupta as its star election campaigners for Gujarat.
9.00 pm:
We are fighting in this election for a future where power is not the preserve of a select few, but exercised by the many. #SoniaGandhi4India

— INC India (@INCIndia) April 14, 2014
8.58 pm: Poll violence has so far claimed two lives in West Bengal and left 371 persons injured in 398 incidents, the Election Commission said today.
8.50 pm: Aam Aadmi Party today announced its candidates for five seats — one in Uttar Pradesh and four in Andhra Pradesh.
8.45 pm: Repolling in 22 booths, spread over eight Assembly segments in Odisha, will be conducted on April 17, the day when the second phase of elections will be held in the coastal belt of the state, officials said.
8.35 pm: 
Congress has been binding force that has firmly stitched the concept of strong & unified India #SoniaGandhi4India pic.twitter.com/vJOx93f7JC

— INC India (@INCIndia) April 14, 2014
8.27 pm: As the campaign for second phase of polling in Maharashtra draws to a close tomorrow, in which nearly 3.25 crore voters are expected to decide the fate of 358 candidates, leaders are working feverishly to canvass and take out rallies to ensure maximum support for their parties.
8.10 pm: Poll officials have so far seized unaccounted cash worth Rs 89 lakh in East Godavari district, a senior official said.
8.07 pm: Stating that the country was at a crossroads, Sonia Gandhi today asked the people to choose the path of progress and shun the one propagated by BJP where only caste and religious identity will matter.
READ: BJP workers embarrass Murli Manohar Joshi by shouting pro-Modi slogans
8.06 pm: Congress sought to paint Narendra Modi as anti-Dalit on the anniversary of B R Ambedkar today by citing a book written by the BJP's PM candidate which had spoken of manual scavenging as a "spiritual activity" and said it reflected his "anti-Dalit mindset".
8.03 pm: Former NDA partner JD(U) President Sharad Yadav endorsed remarks of senior BJP leader Murli Manohar Joshi that there was no Modi wave in the country.
7.45 pm: DMK leader M K Stalin today dared AIADMK supremo and Chief Minister Jayalalithaa to resign her post if she could not prove her charge that the power crisis was due to 'some wantonly created technical snags in generation units.
7.39 pm: Congress today re-admitted into the party senior leader Rajkumar Patel, who was expelled in 2009 after his nomination form against senior BJP leader Sushma Swaraj from Vidisha Lok Sabha constituency was rejected.
7.22 pm:  A day after Murli Manohar Joshi said there was no …continued »