April 13 Campaign roundup: Narendra Modi in a hurry to become PM like an 'anxious groom', says Sharad Pawar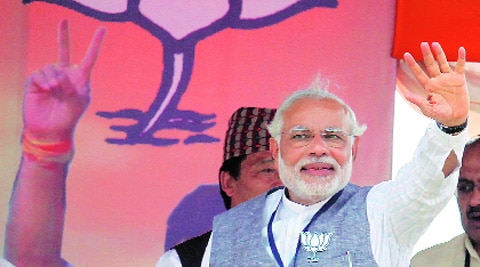 Narendra Modi to meet superstar Rajinikanth in Chennai. (PTI)
10.12 pm: Narendra Modi attacks AIADMK, DMK.
9.54 pm: Congress releases list of 139 candidates for the Assembly polls in Andhra Pradesh.
9.31 pm: Congress today criticised SP leader Azam Khan for raising doubts over the credibility of the EC and stood behind the poll body for its independence.
9.11 pm: Narendra Modi in a hurry to become PM like an 'anxious groom': Sharad Pawar
9.07 pm:  Shazia Ilmi said today that the party chief Arvind Kejriwal had not acted in haste by resigning as the chief minister of Delhi.
8.58 pm: UP govt will fall after Modi becomes PM, claims Uma Bharti.
8.42 pm:  Sonia to address poll rally at Paota on Monday.
8.21 pm: Yoga guru Ramdev, who has pledged his support to Narendra Modi, today claimed  Sonia Gandhi has no love for 'sadhus and saints' of India.

8.26 pm: Manmohan Singh weakest PM of country, said Prabhat Jha.
 8.00 pm: Azam Khan booked for hate speech in Shamli, slams EC panel.
 7.10 pm: District administration has lodged a case against Beni Prasad Verma for his alleged controversial remarks against Narendra Modi.
6:56 pm: BJP Vice-President Prabhat Jha claimed today that his party would win 27 out of the total 29 Lok Sabha seats in Madhya Pradesh.
With Rajinikanth ji pic.twitter.com/ErTqvfr8Lx

— Narendra Modi (@narendramodi) April 13, 2014

Narendra Modi reaches Rajnikanth's residence in Chennai
— ANI (@ANI_news) April 13, 2014
6.18 pm: Mayawati today attacked BJP and Congress for 'double-crossing' the common man by serving the interests of capitalists.
6.16 pm: 116 candidates in fray for six Mumbai LS seats.
6.10 pm: Narendra Modi today charged that Sonia Gandhi's 'blind love' towards her son Rahul Gandhi had left the country in 'ruins' and UPA government was 'remote-controlled' by her.
ALSO READ: Sonia's 'blind love' for Rahul left country in 'ruins': Narendra Modi
6.09 pm:  BJP complains against Congress leaders for poll code violation.
6.08 pm: Sharad Pawar today stepped up his attack on Narendra Modi, saying the BJP Prime Ministerial candidate is 'dreaming' of becoming Hitler and asked people to foil his 'attempt' in the LS polls.
6.02 pm: Will ask EC to add cost of Jaitley's house in his poll expense: Congress.
5.21 pm: Murli Manohar Joshi today said there was no Modi wave in the country but only a BJP wave.
ALSO READ:  No Modi wave in the country: Murli Manohar Joshi
We have been saying for a long time that there is no Modi wave,there is a wave in BJP to sideline senior leaders-Meem Afzal,Cong on MM Joshi

— ANI (@ANI_news) April 13, 2014
5. 19 pm: BJP creating 'Modi wave' through media hype, said Rajiv Shukla.
5.09 pm: Jayalalithaa today said the party was no different from Congress on the emotive Cauvery issue.
5.07 pm: Hectic campaigning for last phase polls in Odisha
5.02 pm: Forty-five cows, 20 calves and a double barrel gun with 50 cartridges are among the possessions of Rabri Devi who is contesting the Lok Sabha polls as a Rashtriya Janata …continued »