April 7 Campaign roundup: BJP talking of minority welfare is like Dracula heading blood bank, says Congress; AAP will not even win a single seat in LS polls, says Kalyan Singh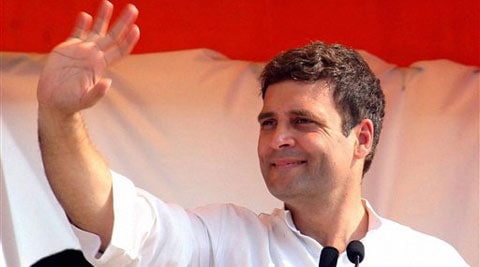 L K Advani is no more its "tallest leader" that he once used to be and has been made a "small leader" by the party said Rahul, as he unleashed a fierce attack against Narendra Modi. (PTI)
9:27 pm:
Narcotics & lot of fake currency is entering through our borders but Centre is watching silently & helplessly. Why? http://t.co/Jo5b3RECeU

— Narendra Modi (@narendramodi) April 7, 2014
9:25 pm:
Campaigned in Haryana & Rajasthan. In both states people want to know what happened to promises UPA made but Cong is too arrogant to answer. — Narendra Modi (@narendramodi) April 7, 2014
8.55 pm:  In poll fray on AAP ticket, former Infosys director V Balakrishnan, once in charge of managing over Rs 15,000 crore of Infosys cash, finds fighting elections more exciting than his job at the IT giant.
8.43 pm: The Election Commission is examining the issue of television channels showing the release of BJP's election manifesto and its contents on a day when polling in the first phase of Lok Sabha elections took place on Monday.
Read: Mamata dares EC, says she will not transfer any official
8.32 pm: Taking a dig at Arvind Kejriwal, senior BJP leader Kalyan Singh today said Aam Aadmi Party will not win even a single seat in the Lok Sabha polls, but its leader was "dreaming" of becoming the Prime Minister.
8.19 pm: Senior leaders Damodar Raja Narsimha, Ponnala Lakshmaiah and Kunduru Jana Reddy figure in the list of 111 Congress candidates for assembly elections in Telangana released by the party tonight, ending two days of suspense. 
8.15 pm: TRS candidate from Chevella Lok Sabha constituency in Telangana, K Visweswar Reddy, has declared that he and his family owns assets worth over Rs 500 crore.
7.54 pm: The BJP urged the Election Commission (EC) to take cognisance of Union Minister Kamal Nath for allegedly spending more than Rs 50 lakh on his helicopter trips in the Chhindwara constituency
7.45 pm: In a rare case of a student locking horns with his mentor, BJP's Kamakhya Prasad Tasa is engaged in a poll tussle with Jorhat's six time sitting Congress MP octogenarian Bijoy Krishna Handique.
7.30 pm: Rs 118 crore out of Rs 195 crore seized is from Andhra Pradesh: EC.
7.19 pm: The Supreme Court said it will consider hearing a PIL on April 11 highlighting the alleged practice of paid news in the electronic and print media.
7.10 pm: Wading into BJP's internal affairs, Rahul Gandhi said L K Advani is no more its "tallest leader" that he once used to be and has been made a "small leader" by the party, as he unleashed a fierce attack against Narendra Modi
7.06 pm: RSS is a political outfit to the core and it should remove the "purdah" of being a cultural organisation, Congress leader Jairam Ramesh said.
6.59 pm: Daily roadshows and and rallies seems to have taken a toll on AAP leader Arvind Kejriwal's health.
6.38 pm:
…..I heard some top …continued »