April 2 Campaign roundup: Congress trying to spread communal disharmony ahead of polls, says Arun Jaitley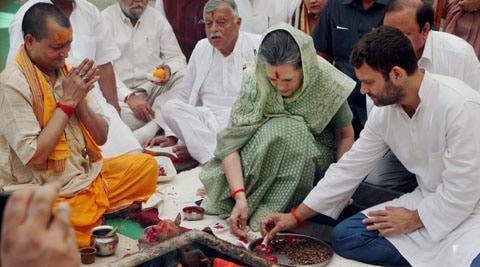 Sonia Gandhi performed a puja in Rae Bareli before filing her nomination.
Get all the latest updates on Lok Sabha elections throughout the day:
10:15 pm: Sharad Yadav on Wednesday launched a scathing attack on both BJP and Congress, saying their 'lofty' slogans will prove futile in the elections.
10:08 pm: Congress trying to spread communal disharmony ahead of polls: Arun Jaitley
10:06 pm:  My son got ticket on his own merit: Yashwant Sinha
9: 56 pm: CPM leaders predicts defeat for Congress-led UDF
9:55 pm: BJP complains to EC over Beni Prasad Verma's remarks against Narendra Modi, seeks action.
9: 53 pm: Congress Minister Jitendra Singh files nomination from Alwar seat.
9:30 pm: BJP likely to stitch an alliance with TDP in Andhra Pradesh
9: 17 pm: Five out of 7 BJP candidates in Delhi facing criminal cases
READ MORE: 20 per cent candidates in third phase have criminal cases
9:00 pm:
Years of Congress rule has harmed India. To undo the harm, bless us with over 300 Lotuses from all over India http://t.co/GRv47rEUiL

— Narendra Modi (@narendramodi) April 2, 2014
8: 58 pm:

Who are Congress' Chowkidars? Those involved in Fodder & Adarsh scams? Will India's coffers be safe under them? http://t.co/qRMHsGfbYy

— Narendra Modi (@narendramodi) April 2, 2014
8:46 pm: NCP president Sharad Pawar today made light of Uddhav Thackeray's remarks that his bid to join NDA was foiled and lavished praise on the Shiv Sena president's estranged cousin, MNS chief Raj Thackeray.
8:30 pm: Sonia Gandhi will visit Jharkhand on April 4 to campaign at Ramgarh under the Hazaribagh Lok Sabha constituency in the state.
8: 10 pm:  Varun Gandhi, who is contesting Lok Sabha election from Sultanpur in Uttar Pradesh said, he has come to put an end to casteism and communalism.
READ MORE:  Varun Gandhi in Sultanpur, woos voters
7: 54 pm: Pawar also attacked BJP's prime ministerial nominee, saying Atal Behari Vajpayee's stature was much higher than Modi and during his tenure the minority community felt safe.
READ MORE:  BJP may emerge leader but fall short of magic figure: Sharad Pawar
7: 41 pm: Manohar Parrikar was present in Ayodhya in 1992 when the Babri Masjid was demolished, says Congress.
READ MORE: Manohar Parrikar was in Ayodhya as `karsevak' in 1992, says Congress
7:34 pm: Seeking to drive a wedge in the UPA alliance in Bihar, the BJP alleged that Congress Vice-President Rahul Gandhi had insulted RJD supporters by neither inviting their leader Lalu Prasad to his rally nor mentioning his name even once.
7: 23 pm: Sonia Gandhi's appeal to Muslim leaders to ensure their votes are not split.
READ MORE: Sonia's appeal to Muslim leaders violation of Model Code: BJP
7: 19 pm: Former judge Fakhruddin to be AAP candidate from Rae Bareli. Adarsh Shastri, grandson of Lal Bahadur Shastri, to contest from Allahabad.
READ MORE: AAP fields former judge Fakhruddin against Sonia in Rae Bareli
7: 03 pm: Narendra Modi to address maiden rally in Ghaziabad on Thursday.
6: 59 pm: Modi slammed the Centre for allegedly selling …continued »