Elections 2014: As political rhetoric hits a new low, here is the worst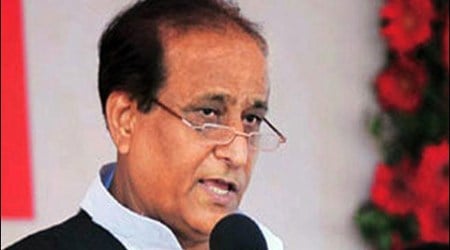 The latest to join the list is Samajwadi Party leader Azam Khan who has kicked up a row with his Kargil remark. (PTI)
The electoral heat seems to have pushed the politicians to a new low. In what may be seen as an all-out effort to score political points, the remarks by the political leaders in the fray against their rivals are getting nastier with each passing day. With personal attacks becoming the order of the day, the political rhetoric has hit the rock bottom. The latest to join the list is Samajwadi Party leader Azam Khan who has kicked up a row with his Kargil remark. As sultry as this election season feels, the political leaders remain unapologetic about their 'language' against rivals.
As the poll season heats up, we take a look at some of the controversial statements by the political leaders during the election campaign that made the headlines
Azam Khan, Kargil remark: Azam Khan dragged the Kargil conflict into the ongoing high voltage Lok Sabha campaign, saying it was "Muslim soldiers" who fought for India's victory in the 1999 Kargil war against Pakistan. "Those who fought for victory in Kargil were not Hindu soldiers, in fact the ones who fought for our victory were Muslim soldiers," he said in a speech laced with communal overtones during an election rally in Ghaziabad on Tuesday night. Khan also went on to say that no one can guard the country's borders better than those from the Muslim community. "Recruit us in the Indian Army. No one can guard the borders of our nation better than us," he said.
Azam Khan, Goonda remark: The controversy-prone SP leader Azam Khan called BJP general secretary Amit Shah a "goonda" (thug) and "qatil" (killer). He also described BJP prime ministerial candidate Narendra Modi as an "enemy of the Muslims". Khan was campaigning for the party's Ghaziabad candidate, Sudhan Rawat, in the Muslim-dominated Masuri area. Referring to Shah as "Goonda No. 1″, Khan said, "Humari majboori hai use goonda kehne ki, kisi qatil ko sharif nahi kaha ja sakta. (I am forced to call him a thug. A killer cannot be called a gentleman)." Khan also said Modi was responsible for the 2002 Gujarat riots. Stating that the man who had referred to Muslims as "puppies" could "never work for the benefit of Muslims", Khan said Modi's policies would only serve to divide Hindus and Muslims.
Amit Shah, revenge remarks: BJP in-charge of poll campaign, Amit Shah triggered a controversy when during a meeting with Jat community leaders in Muzaffarnagar, he said, "This election is about voting out the government that protects and gives compensation to those who killed Jats. It is about badla (revenge) and protecting izzat (honour)." He repeated that while a man could live without food and water, "apmaan ka badla to …continued »