New Delhi |
Updated: March 25, 2014 9:42:39 pm
Some Bollywood potboilers will pale in comparison to the mouth-watering high-profile clashes lined up this poll season. As if the fight between the incumbent Congress party and the challenger Bharatiya Janata Party was not enough, the entry of the dark horse, Arvind Kejriwal's Aam Aadmi Party, has made the battles even more interesting by adding a third dimension in almost all the important constituencies.
As the election fever heats up before the first round of polling, we take a look at some of the high-profile clashes that will not only be instrumental in deciding the future Prime Minister of the country but will also spice up the poll season.
All eyes on Varanasi: After BJP's Prime Ministerial candidate Narendra Modi chose to contest from Varanasi, all eyes are on this temple town in Uttar Pradesh. With AAP convenor Arvind Kejriwal clearing indicating that he wanted to defeat Modi in Varanasi, the theatre of the battle has shifted to what is one of the oldest cities of the world. With 80 Lok Sabha seats at stake, victory in Uttar Pradesh is imperative for the saffron party to achieve its 272+ target.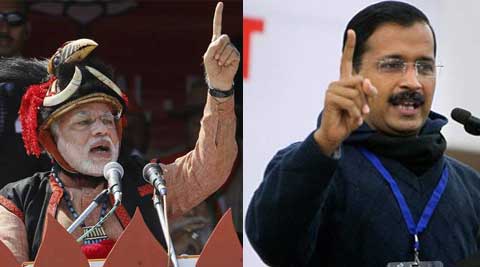 The BJP has won five of the last six elections in the city since its rise on the back of the Ram Temple movement, barring a Congress win in 2004. Murli Manohar Joshi, who wrested back the seat in 2009 defeating BSP's Mukhtar Ansari with a victory margin of more than 17,000 votes, has now been shifted to make way for Modi and create a "ripple effect" in the Hindi heartland. They feel Modi's candidature could result in as many as 24 wins in eastern UP alone. With nearly 16 lakh voters, the holy city has an 18 per cent Muslim population. Modi remains the favourite, but Kejriwal has his share of admirers. And Mukhtar Ansari is still in the race. If Congress too decides to field a big name from the seat, Battle for Benares will be the battle of Elections 2014.
The clash in Amritsar: From one holy city to another. Punjab's Amritsar is winding up for an interesting battle between Congress leader and former chief minister Amarinder Singh and BJP heavyweight Arun Jaitley, who is fighting his maiden electoral battle. Amarinder is the sitting MLA from Patiala and was chief minister between 2002 and 2007.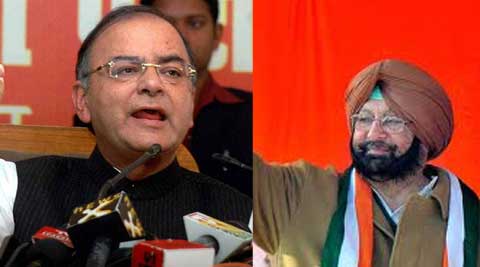 BJP roped in Jaitley snubbing Navjot Singh Sidhu, the sitting MP since 2004. But Sidhu has been vocal against the Akali leadership in the past, and it seems the allies have decided to back someone else this time. It was supposed to have been a cakewalk for Jaitley, till Congress nominated Amarinder, clearly its biggest leader in Punjab, for this race. Despite his reluctance, Amarinder's early Akali roots as well as royal lineage, will stand him in good stead in the holiest city of the Sikhs. Amritsar Parliamentary seat has more than 60 per cent sikh voters and nine Assembly constituencies.
Battleground Kanpur: With BJP shifting veteran leader Murli Manohar Joshi to Union Coal Minister Sriprakash Jaiswal's turf Kanpur, the results from this industrial town will be watched keenly. Surendra Mohan Agarwal of SP, Dr Mahmood Rehmani of AAP and Mohammed Saleem of BSP are the other major contenders here. Joshi was not all that happy making way for Narendra Modi, but BJP workers in the city seem to be rallying around the prominent Brahmin leader and see an opportunity to break Jaiswal's stranglehold. But the three-time Congress MP seems unruffled by the challenge. Incidentally, the seat has a 35 per cent Brahmin vote and equal ratio of Muslim votes.
Star-studded clash in Chandigarh: The stars have descended on Chandigarh, with actors Gul Panag (AAP) and Kirron Kher (BJP) taking on sitting MP and former Railway Minister Pawan Kumar Bansal. The Congress leader has tried to downplay the impact of what he calls "dimpled beauties",but local girl Gul Panag seems to have some ground in City Beautiful. On the other hand, BJP's Kher is finding the going tough as she has been brought in ignoring top local leaders like former MP Satya Pal Jain, Chandigarh BJP president Sanjay Tandon and former Union minister Harmohan Dhawan. Former Miss India Gul Panag was given the Chandigarh seat after Savita Bhatti, widow satirist Jaspal Bhatti, opted out of the race. Bansal won't have it as easy as before, given the fact that he had to resign from the Cabinet in the wake of Rs 10-crore cash-for-post bribery scam allegedly involving his nephew Vijay Singla and nine others. With nearly six lakh voters, the 46 per cent women electorate could be key in Chandigarh.
Daughter vs daughter in South Mumbai: The Mumbai North Central constituency will witness a clash of the daughters with Poonam Mahajan, daughter of late BJP leader Pramod Mahajan taking on sitting Congress MP Priya Dutt, daughter of late actor-politician Sunil Dutt. The battle between the daughters will be an interesting contest since both are trying to carry their father's legacy forward. Names of actor Nana Patekar and former IPS officer Satyapal Singh were doing rounds, but finally the party chose Poonam Mahajan. Poonam, a BJP secretary, has a tough task on her hands as Dutt, had won comfortably last time from this constituency with a margin of 1.77 lakh votes. Dutt had secured 48 per cent of the total votes polled in 2009 when she drubbed BJP's Mahesh Jethmalani who managed to secure just 21 per cent votes. The MNS candidate came in third with 19 per cent votes. With nearly 19 lakh voters, the North Central seat covers Mumbai's affluent suburbs like Vile Parle, Juhu, Bandra and Kurla.
Starwars in Delhi's Chandni Chowk: In the Capital, it will be a triangular battle for prestigious Chandni Chowk as Delhi BJP chief Harsh Vardhan will contest against Union Minister Kapil Sibal and the AAP's Ashutosh. In a seat where Muslims form a fair share of the electorate, the BJP hopes the minority vote will either split between the Congress and AAP or even help the BJP since Harsh Vardhan is considered acceptable over other BJP candidates. Vardhan, who was the party's Chief Ministerial candidate in the Assembly polls, seems confident of wresting the seat from Sibal who has held Chandni Chowk since 2004. Journalist-turned-politician Ashutosh will be making his electoral debut here.
Something new in New Delhi: Another interesting contest will be in New Delhi, where Congress' Ajay Maken, BJP's Meenakshi Lekhi and journalist Ashish Khetan of AAP are preparing for another triangular fight. It was here that three-time chief minister Sheila Dishit was defeated by AAP chief Arvind Kejriwal in the Assembly elections and that seems to have added some spice to what will otherwise be a fight between BJP spokesperson Lekhi and sitting Congress MP Maken. Maken has won the seat two times before, while his challengers are both debutants.
Three-cornered battle in East Delhi: East Delhi Lok Sabha constituency is gearing up for another interesting contest where two-time MP Sandeep Deikshit is being challenged by AAP candidate Rajmohan Gandhi and BJP's Mahesh Giri. The saffron party has tried to win votes from the middle-class by fielding social worker and Art of Living exponent Giri. The AAP on the other hand seems confident about the seat, given its performance in the Assembly elections here. It has fielded Mahatma Gandhi's grandson Rajmohan from this seat.
Keen contest in Ghaziabad: The electoral fight in Ghaziabad will undeniably be intense with BJP's V K Singh pitted against Raj Babbar of the Congress and Shazia Ilmi of the AAP. The BJP has named former Army chief V K Singh as its candidate for Ghaziabad, the constituency vacated by Rajnath Singh in favour of Lucknow.
The throne of Patliputra: It is an emotional fight in Patliputra constituency, where RJD chief Lalu Prasad's daughter Misa Bharti will take on her 'uncle' and for RJD leader Ram Kripal Yadav who has since joined the BJP. Yadav quit the RJD and Lalu after it became clear that he will not get to contest from Pataliputra.
More big fights in coming days
For all the latest India News, download Indian Express App