Election LIVE: BJP's third candidate list out, Ram Kripal to contest from Patliputra against Lalu's daughter
BJP announced its third list of candidates for Lok Sabha elections. (AP)
# BJP announces third list of 74 candidates for Lok Sabha elections.
# Leader of Opposition in Lok Sabha Sushma Swaraj to contest from Vidisha seat.
# SS Ahluwali to contest LS Elections on BJP seat from Darjeeling.
# Ram Kripal Yadav, who recently joined BJP after quitting RJD, to contest from Patliputra against Lalu Prasad's daughter Misa.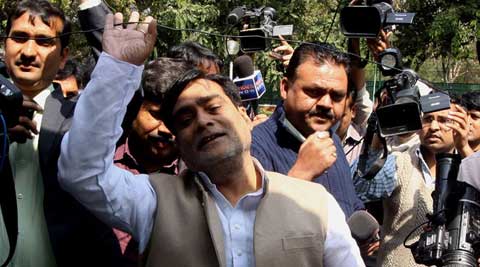 # Rajiv Pratap Rudy to contest from Saran.
# Kirti Azad to contest LS Elections from Darbhangā on BJP seat.
# BJP leader Shahnawaz Hussain to contest from Bhagalpur.
# Candidate for Patna Saheb will be decided in consultation with incumbent MP Shatrughan Sinha, says BJP.
# Congress releases second list of candidates for 71 Lok Sabha seats.
# Union Minister Shashi Tharoor will contest elections from Thiruvananthpuram.
#  Former Railway Minister Pawan Kumar Bansal renominated by Congress from Chandigarh in Lok Sabha polls.
# Raj Babbar to be Congress candidate from Ghaziabad.
Click Here: Complete list of candidates in Congress' second list
# Rita Bahuguna Joshi to fight elections from Lucknow.
# Congress fields actress Nagma from Meerut.
# 35 per cent of youth in in Congress lists of candidates.
# The second list consists of  nine Youth Congress office bearers and 11 women candidates.
# BJP to field Pramod Mahajan's daughter Poonam Mahajan against Congress' Priya Dutt from Mumbai North Central constituency.
# Nandan Nilekani, contesting as Congress candidate in Lok Sabha polls, resigns as Unique Identification Authority of India Chairman.
# FIR lodged against Arvind Kejriwal and AAP members for causing chaos at the Mumbai airport during their roadshow.
Read full story: Arvind Kejriwal booked for chaos during Mumbai visit
PHOTOS: Arvind Kejriwal's Mumbai local train ride creates chaos, mad rush
# Former Miss India and actor Gul Panag joined Aam Aadmi Party (AAP) and will be its candidate for Lok Sabha polls from Chandigarh, a place where she was born and describes as her "family's home".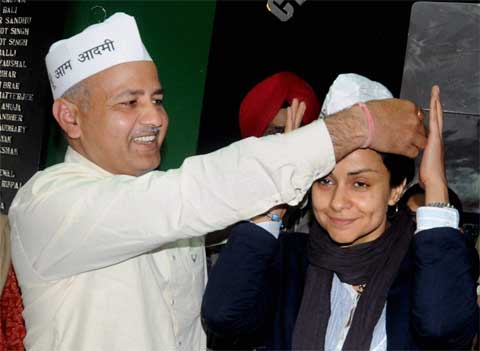 # Panag said that the country is at the threshold of transformational change which is being led by AAP and Arvind Kejriwal.
Full story: Gul Panag declared AAP candidate from Chandigarh
# AAP leader Ashutosh attacks Narendra Modi, asks him how can he fight corruption when he gives ticket to B Srimulu and Yeddyurappa.
# "Modi gives ticket to Yedurappa who was removed from CM seat due to corruption. Modi is desperate to become PM. He can't fight corruption," Ashutosh tweets.
# B Sriramulu to contest …continued »