Narendra Modi's selfie-goal: FIRs filed for 'flouting' poll code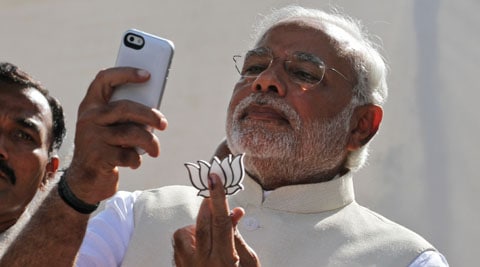 Narendra Modi displayed his party's symbol lotus, after having cast his vote. (AP Photo)
BJP prime ministerial candidate Narendra Modi courted trouble on Wednesday as he displayed his party's symbol and delivered a "political speech" outside a polling booth in Ahmedabad after he cast his vote in the morning. Hours later, the Ahmedabad Crime Branch filed an FIR against him on the orders of the Election Commission.
Minutes after he voted at a booth in Ranip, Ahmedabad, Modi took a selfie, holding his party's symbol — a metal lotus — with his inked finger. He continued to display the symbol as he addressed the press.
"We have registered an FIR against Chief Minister Narendra Modi as directed by the EC under Section 126 (1) (a) and 126 (1) (b) of the Representation of the People Act, 1951, and Section 188 of the Indian Penal Code," confirmed DCP (Crime) Himanshu Shukla. He said a complaint has also been registered against some "media channels" for covering the event.
Earlier in the day, the EC called for action in its communication to the Gujarat Chief Secretary and Director General of Police. Stating that it had "seen the video recording of the address" by Modi, the EC said that "from the substance, tone and tenor of the address" and the "manner in which the symbol, lotus, of the BJP was being displayed by him… thereby displaying to the public election matter by means of television in areas going to polls today", it is "evident" that it "was in the nature of political speech intended and calculated to influence and affect the result of elections in the constituencies going to polls today, not only in Ahmedabad but also in all other constituencies in Gujarat and elsewhere in the country".
The poll panel said it was "of the view that by holding that meeting… when the polling is going on in the entire state of Gujarat and in different parts of the country, Modi has violated the provisions of Sections 126 (1) (a) and 126 (l) (b) of the Representation of the People Act, 1951."
It further directed that "complaints/ FIRs as the case may be" should be filed against Modi and "all others who were involved in the convening and holding of the said meeting". It said "if any restrictions have been imposed by the competent authority in Ahmedabad under Section 144 of CrPC, then complaints/ FlR should also be made under Section 188 of IPC".
The EC also directed that separate complaints/ FIRs should be filed against all the TV channels and other electronic media which carried the proceedings/ images of the meeting and display of election matter.
The poll panel asked the Gujarat officials to send compliance reports by 6 pm, along with copies of the complaints/ FIRs. "We received the EC's order and after going through it we asked the Ahmedabad Crime Branch to …continued »