Narendra Modi 'violates' prohibitory orders to hold Varanasi roadshow, accuses poll panel of being biased against him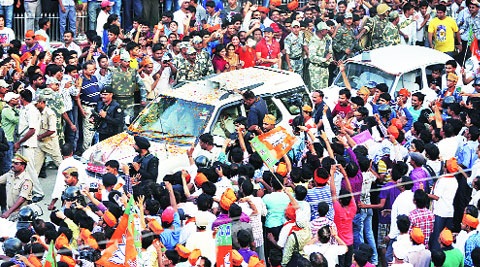 BJP prime ministerial candidate Narendra Modi during his roadshow in Varanasi on Thursday. (AP)
The BJP's prime ministerial candidate Narendra Modi joined his party to launch a scathing attack on the Election Commission Thursday for not being allowed to hold a rally in his constituency of Varanasi and accused it of working "under pressure" and being biased against him.
Effectively violating prohibitory orders in force in the holy city, Modi took on the district administration and the Election Commission by holding an impromptu road-show which drew thousands of frenzied supporters along the 5-km route from the Banaras Hindu University campus to the local BJP office.
Moving in a convoy that crawled through the city also filled with several companies of paramilitary forces, Modi waved at slogan-shouting supporters from inside his bullet-proof vehicle.
Ahead of the show of strength, Modi addressed a rally in Rohaniya on the outskirts of Varanasi and targeted the EC saying it was working "under pressure".
"The Election Commission should introspect. I don't know under whose pressure they are working. My speech is not so important because people will get my message even through my silence," Modi said.
Addressing the Congress, he said voters had decided to defeat the party and the "EC cannot help you win".
He referred to the security concerns cited to deny permission for his rally and attacked the central government saying he had been travelling across the country, addressed rallies in Maoist-affected areas and in Jammu and Kashmir. "Can this government not give security to a person? I am ready to die, why are you worried?" he said.
He claimed that the Union home minister and finance minister had made statements that he faced no security threat, but then suddenly raised the issue of a threat Wednesday. "This is injustice to me, the people of Kashi. they even prevented me from visiting the Ganga."
Asserting that his "sole agenda is development" and that he wants to convert Varanasi into a global tourist destination, Modi underlined the significance of marketing and said the desert of Gujarat was transformed into a saleable commodity after it was advertised by actor Amitabh Bachchan.
He also reached out to Muslims in the city and said the foundation of the textile industry in Surat was laid by weavers of Varanasi.
Senior BJP leaders including Arun Jaitley and Amit Shah had earlier on Thursday launched protests outside Banaras Hindu University demanding the removal of Pranjal Yadav, Varanasi's returning officer for his "partisan approach".
"It is unfortunate that the EC is not concerned about the institution's neutrality. That is why our 'karyakartas' (workers) have to embark on a satyagraha," Modi tweeted before embarking to campaign in eastern Uttar Pradesh.
Earlier in the day, Modi attacked the EC at a rally in Azamgarh too, accusing it of being "partisan" and "biased".
"I say this will full responsibility…the EC is acting in a partisan manner and has failed to …continued »